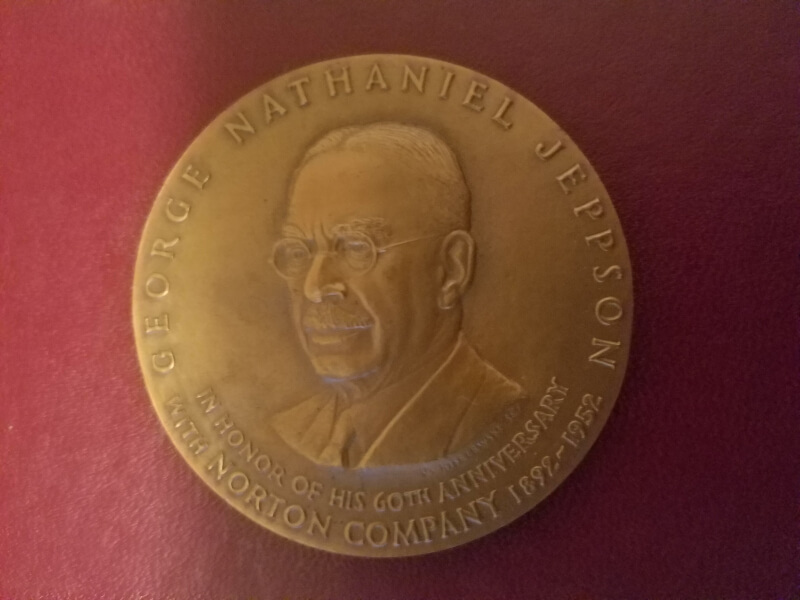 Medal to Honor 60 years of service by George Jeppson !
    George Nathaniel Jeppson !
Found this medal to honor Mr. Jeppson ! 60 years at Norton Company ! 

Thought it was a very interesting medal and bought it. I like to look for interesting medals, especially medals like this that honor someone that had quite a career !  
 Diameter63.0 Weight108.5 
     Mr. George Jeppson was General Manager of Norton, then treasurer, president, and chairman of the board. 60 years of service !
   George Nathaniel Jeppson was born April 14, 1873 in Worcester. His father, John Jeppson, was one of the founders of Norton Emery Wheel Company.   George Jeppson began working for Norton in 1892. He was a student at WPI with the Class of 1897, but did not complete the WPI course, instead continuing with a training course at Norton until 1897, then studying at the Royal School of Mines in Stockholm, Sweden for a year. He became Assistant Superintendent at Norton in 1898, and in 1919 became Secretary and Works Mangager, then in 1932 Treasurer and Vice President, and in 1941 President, retiring from that position in 1946 and becoming Chairman of the Board of Directors   
Below are a couple links to read up on this interesting man.  
http://numismatics.org/collection/1971.79.5   
https://web.wpi.edu/Images/CMS/Library/MS_74_George_N._Jeppson_Papers.PDF