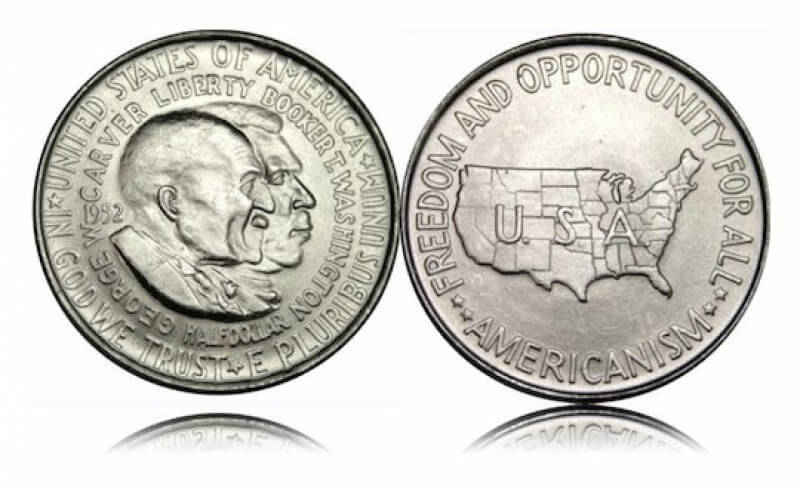 The Carver / Washington Commemorative Half Dollar.
 The Carver / Washington Commemorative Half Dollar.
               George Washington Carver
               George Washington Carver was born around 1864. When George was a baby, he and his mother got captured by night riders. When a brave bushwhacker tried to find George and his mother, the bushwhacker found George, but not his mother.       
               When George got older, he left home and went to school. After he finished high school, he went to study agriculture at Iowa state college.
               One day, after college, he was walking and pulled up some dry vines. He saw pod-like seeds on the root of the vine. George asked a farmer what they were called and the farmer said "Goobers". George asked what goobers were and the farmer said "Peanuts". On his way back, he saw children with crooked legs. He knew the children had rickets. The rickets weakened their bones so their legs were crooked. Rickets happen from not eating enough of the right food.
               George talked to all the farmers and told them to grow peanuts because the children were not getting the right nurturance. The farmer told George that peanuts were useless. So, George made experiments with peanuts and made over 300 things with peanuts. 
               One day a boy named Tommy came to George. Tommy once had polio. George told Tommy that he was wondering if peanut oil would help him feel better. George rubbed the peanut oil on Tommy's legs, and Tommy said that his legs felt much better. George had found a way to help people recover from polio.
George died on November 14, 1915
Booker T. Washington 
Booker T. Washington was born in 1856. When Booker was young, he had to wear a flax shirt and when it was new it was like pin points in contact with your skin, but his older brother John was nice and he would wear it until it was broken in. When Booker was freed from slavery, he went to work in a salt furnace. While he was at the salt furnace, a school was opened, and he was not able to go at first, but then his dad let him come to work in the early morning and go to school in the late morning and early afternoon. He was not able to go to school for very long before he had to go to work in a coal mine. One day in the coal mine he heard about Hampton Normal and Agriculture Institute in Virginia. That day he decided he wanted to go there, but he needed to save money so he could go and that took a while. When he was at Hampton Normal and Agriculture Institute, he met General Samuel Chapman Armstrong, the founder of Hampton Normal and Agriculture Institute. Booker also was the janitor so he could stay at the institute.  When he left the institute, he worked at a school so that other people could get an education, When he found out that other people wanted to go to school but needed to work during the day, he taught at a night school. One day General Armstrong said that he received a letter from a man in Tuskegee, Alabama asking for Armstrong to recommended someone to have charge of a normal school in Tuskegee in Alabama, so, General Armstrong thought that Booker T. Washington would do a good job he sent a letter back saying that he did not know of any white men, but he knew one he could recommend a black man, named Booker T.  Washington. They said send him at once. When he got there, he was surprised to learn that there was not a building for the school to be in. July 4,1881, when he was 25, he founded Tuskegee Normal and Industrial Institute (now Tuskegee University). The school was not much at first, just a little shanty and a church. The day was a day the people were looking forward to. The first students that came were fond of memorizing long complicated "rules "in grammar and math and were not able to apply those rules in their life. While the school was young, one of the most trying experiences was in brickmaking there were three different times that they tried making a kiln and it failed one the times the bricks were almost done and it caved in. But brickmaking became an important industry at the school. Booker also taught the students how to make their own bedsteads, and in the morning, there would be at least two that had collapsed, but they continued to try. Booker T. Washington died on November 14, 1915 when he was 59.      
Isaac Scott Hathaway the designer of the coin
Isaac Scott Hathaway was born in 1872.  When he was nine, he went to a museum with his father where he was viewing busts of famous Americans. He asked if there was one with Fredrick Douglass, his hero. He was told there were "No black sculptors to model busts of famous black people". He decided that he would do that and put them where people would see them. In 1943 he made a bust of George Washington Carver. The Washington -Carver commemorative coin was minted from 1951 -1954. It is 90% silver and 10% copper. Its weight is 12.50 grams. It was minted at the Denver, San Francisco, and Philadelphia mints.