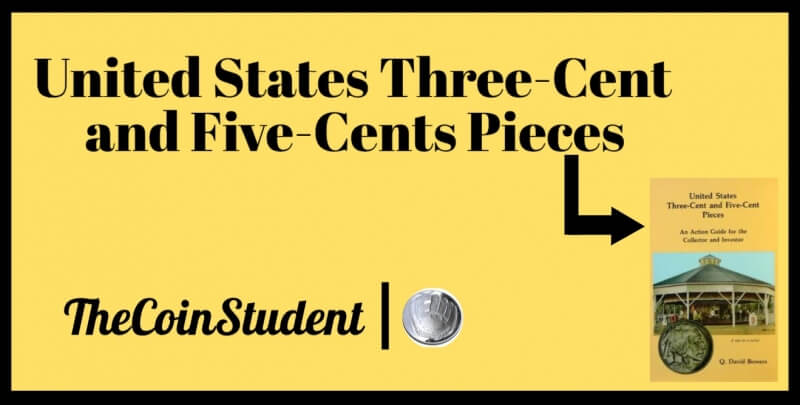 United States Three Cent And 5 Cent Pieces
United States Three Cent And 5 Cent Pieces:
Analysis:
The United States Three-Cent And 5-Cent Pieces by Q. David Bowers is a book that was published in 1985. With that said the cover says that the book is "an action guide to the collector and investor". But due to its outdated price guide (example: an 1885 3 cent piece is listed at a dollar in mint state in this book's price guide, but today the same coin in MS-60 would be worth 3,250!) it really lacks value because of the price guides that it has. But that doesn't mean that the book is not worth reading though. This book contains some fun facts about these coins and some history that is worth paying attention to. Since there are no written reviews about this book I cannot include one, but one thing I can tell you is that the book used sells for as low as $5, making affordability a huge strength of this book. But this doesn't mean this book receives 4 stars for these reasons above. So that can only mean one thing: A recommendation for a better read.
My Recommendation:
After a bit of searching and searching to find the right book I settled on two. The first is The Authoritative Reference on Three Cent Nickels. This book has one review and it is positive as the verified purchaser states: "Outstanding guide. Worth every penny and more. For the novice up to the seasoned investor." A downfall this book has is the price of $30. But it's worth every penny to one person, maybe it could be to you as well… So my second recommendation for a 5 cent reference guide is Nickel Five-Cent Piece: A Date-By-Date Analysis and History. An upside to this book is its price point of $7 and a more current release date of 1991. There are no reviews on it but for the reasons above I would (lightly) recommend it.
Conclusion:
So what do you think? Do you think that nickels and three cent pieces are disrespected by the lack of books published on them? Comment your thoughts below! This has been a CoinStudent book review, have a great day (or night depending on when you are reading this).