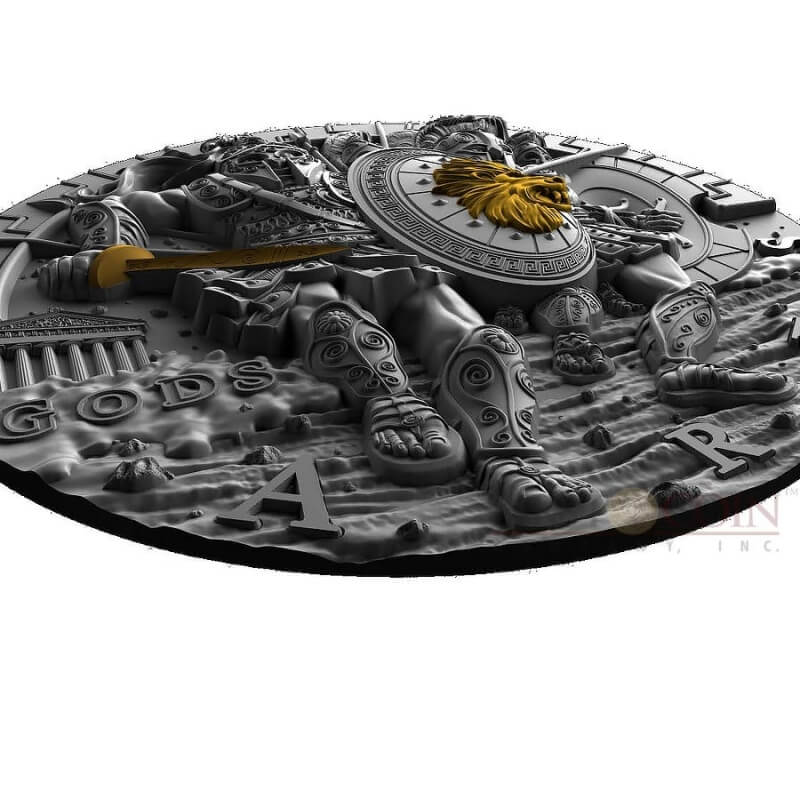 Thousands of years ago the Greeks and Romans feared the gods and goddesses they created. Classical Greek art portrays these deities as powerful beings that are to be respected and worshiped. This coin perfectly honors the Greek god Ares and the power he was believed to possess; the scene on the reverse shows a battle with Ares, fully armored, at the forefront charging, seemingly right off the coin. He brandishes a sword and a shield which has a roaring lion, a symbol of strength and courage. Behind Ares looms a Greek temple, and an army of men loyally following him to war.
The image is reminiscent of the artistry of ancient Greece; with intricate details that rise high off the field, this piece is a true tribute to the history and culture of that ancient Mediterranean civilization.
I have always found high relief coins to be the most stunning when preserved well. The level of detail that is put into their creation is amazing. Whether it be flowing hair lines, complex structures or well defined figures, you have to respect the die engraver with the skill to create such beautiful work.
This coin was struck by the Polish mint for Niue Island, located in the Pacific. It is the first coin of a new GODS series and is sure to be popular.
With a price tag over $200 this coin may not be within everyone's budget, but I know I will be following this series closely simply to admire the craftsmanship behind it, and to the 500 people lucky enough to own one of these pieces, I say congratulations.
I know an article on this was just done in the most recent issue of "The Numismatist" but as soon as I saw this coin I was in awe and had to make a post about it.
Happy Collecting