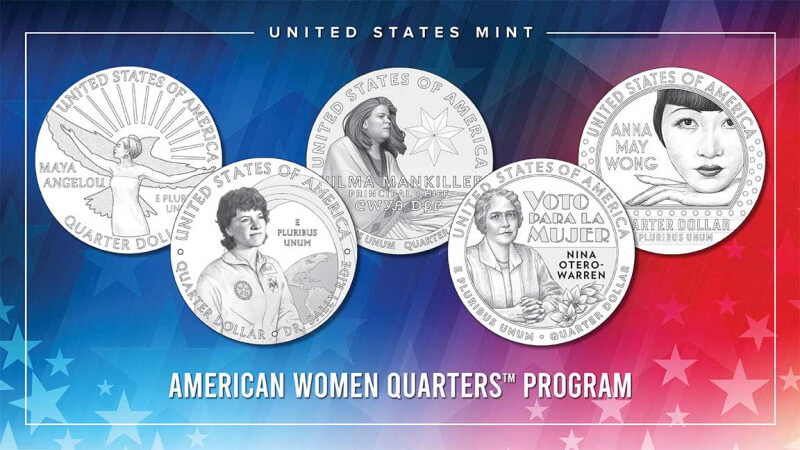 American Women Quarter Program
At my coin club meeting last week, I got a bag of 100 Canadian cents and to my surprise many were dates I already had. I also bought a 1932-D Washington quarter key date in G-6 for $35, and bought the new Wilma Mankiller quarter which inspired me to write this detailed blog on the American Women Quarter Program! 
An Idea 
The Circulating Collectible Coins Redesign Act of 2020 authorized the program. Originally, it was proposed that there would be a 56 coin series honoring a woman from each state and territory, but the upcoming United States Semiquincentennial in 2026 would conflict with that since they were going to have a special reverse design for it. Making the series shorter was the logical thing to do so they changed it to a four year series honoring pioneering women that have made major contributions to the United States and have made big accomplishments in civil rights, abolition, suffrage, government, science, arts, and many more. 
A Notable Obverse 
Not only did they want to add Historic Women on these new quarters, they also wanted a new obverse bust of Washington, since John Flannagan's design had been persisted for 89 years. Many new designs were made for the new Washington but there was one that was very old. That was Laura Gardin Fraser's Washington design. Laura Gardin Fraser is debatably one of the most known U.S. coin designers. Her coin designs include the 1921 Alabama Centennial half dollar, the 1922 Grant Memorial half dollar and five dollar gold piece, and many more notable designs. 
In 1932, the Washington Bicentennial committee had a competition for the new Washington quarters obverse design. Many designs were submitted but in the end, Laura Gardin Frasers design won. They sent the design to the treasury where the current Treasury Secretary Andrew W. Mellon disagreed with it and said that the treasury never approved the design. He held his own competition and personally selected John Flanagan's design. Laura Gardin Fraser was stripped of her design, although it was later used for the obverse of the 1999 $5 Gold George Washington Death Bicentennial coin, which was issued thirty years after her death. Although, her legacy lives on because her design won the design contest in 2022 and you can now find her new obverse design on circulating 2022 coins.
 Each different quarter: Edge: Reeded Diameter: 24.26 millimeters Weight: 5.67 grams Composition: Copper-Nickel alloy
 Maya Angelou 
Maya Angelou is a famous writer, poet, social activist, and teacher. One of her most famous works was an autobiography called I Know Why the Caged Birds Sing. A book that tells about her life which made her known internationally. She was a big activist during the Civil Rights Movement and worked with very famous activists like Martin Luther King Jr. and Malcom X. She also made a poem titled "On the Pulse of Morning", which she recited at U.S. President Bill Cliton's inauguration in 1993. 
Sally Ride 
Sally Ride was an astronaut, physicist, and educator. In 1983, she flew on the Space Shuttle Challenger on the STS-7 mission, making her the first American woman to go to space. In 1984, she flew to space again on the STS-41-G mission, also aboard the Challenger. After her death, she was inducted in the National Women's Hall of Fame. 
Wilma Mankiller 
Wilma Mankiller was a Native American from the Cherokee Nation who was an activist, social worker, and a leader. She was the first woman to serve as Principal Chief of the Cherokee Nation. In the 1960's Mankiller was very inspired by the social movements, she decide to become involved in the Occupation of Alcatraz which was an over a year long protest when Native Americans protested on Alcatraz because they thought it qualified to be reclaimed by the Indians. She became an advocate to improve the image of Native Americans. 
Nina-Otero Warren 
Nina Otero-Warren was a women suffragist, educator, and politician. She became one of New Mexico's first female government officials with the job as Santa Fe Superintendent for Instruction. Otero-Warren was also the first Latina to run for Congress and she ran for a seat in the U.S. House of Reps. as the Republican candidate for NM. After she died in 1965 the Otero Elementary School was made. 
Anna May Wong 
Anna May Wong was an Actress and was the first Chinese-American Hollywood movie star. She was featured in many famous movies including Shanghai Express and Daughter of the Dragon and was known internationally. During World War II she devoted her time and money to help the Chinese against Japan. She is considered one of the best actresses of her time.
 The Future of the Program 
The program will continue with designs in 2023 with Bessie Coleman, an African-American pilot, Jovita Idar, a Mexican-American suffragist, Edith Kanaka'ole, an indigenous Hawaiian teacher and dancer, Eleanor Roosevelt, First Lady and advocate, and finally Maria Tallcheif, a Native American Ballerina. So we will have much to look forward to. 
Thanks for reading my blog and have a great day! 
CheerioCoins