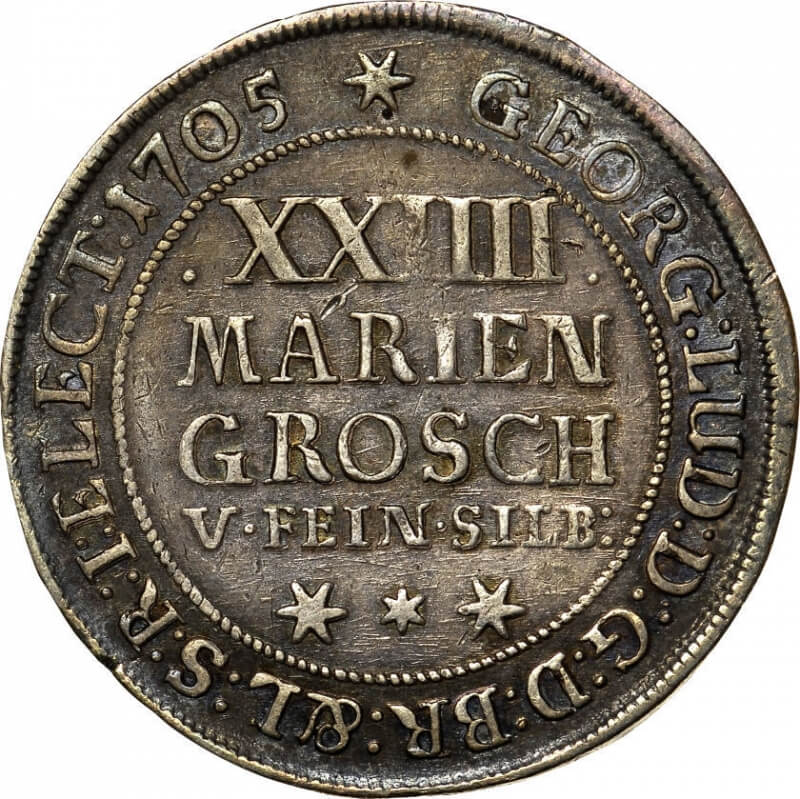 "IN RECTO DECUS" translates as "HONOR IN DOING RIGHT"
Something for us all to strive for.
The story of the "Wildman" coinage is fascinating and worth pursuing. It is probably one of the most interesting symbols in numismatics. Coins with this symbol were minted from the mid-1500's to the beginning of the 19th Century and the symbol appears on various denominations from Brunswick-Luneburg, Brunswick-Wolfenbuttel and other German States.
The Wildman usually is shown with an uprooted fir tree but can appear with signs of the zodiac, supporting a shield with another Wildman and even holding a candle. The source of the Wildman seems to be based on a mythological character that was supposed to have lived in the Harz Mountains during the Middle ages. The symbol has another philosophical meaning that infers that all people have some of the "wildman" in them and thought this side of humanity was responsible for creative activities, the "Wildman" needed to be controlled to avoid his darker side.
This coin was formerly part of the Eric Newman Collection. I have 3 different Wildman coins, although this is my favorite. Partly due to the philosophical message and also because of its provenance.
24 Mariengroschen, or 2/3 Thaler. There were 36 Mariengroschen in a Thaler.
Minted under the rule of Georg Ludwig von Hessen-Darmstadt, Prinz. Born in Darmstadt, Darmstadt, Hesse, Germany on April 25, 1669, died September 13, 1705 during the Siege of Barcelona. He is buried in Barcelona, Spain.