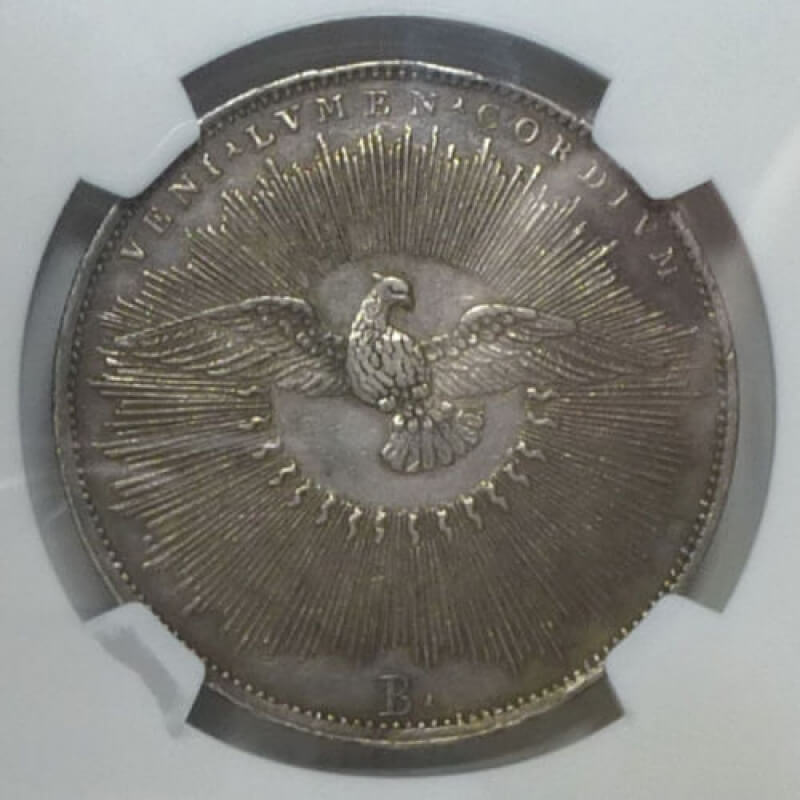 This 1830 coin was struck upon the death of Pope Pius VIII.†He had been a popular choice for pope for many years but had been passed over†several times possibly due to his chronic poor health.†He was finally elected at the Papal Conclave and his coronation was April 5th, 1829. His reign was short due to his death on November 30th, 1830.
Pius VIII was in very poor health from his election until his death one year after the conclave. Prince Don Agostino Chigi, a contemporary of the late pope's and one of the papal nobility associated with the papal court, recorded in his diary:
"Nella sezione del cadavere del Pontefice che seguì ieri sera per quanto si dice, furono trovate le viscere sanissime e solo si è rinvenuta qualche debolezza nel polmone, altri dicono qualche sfiancamento nel cuore; resterebbe perciò a sapersi di qual male sia morto."
(Translation: "During the dissection of the Pope's body, which occurred yesterday evening, as far as they say, only very healthy internal organs (viscera) were found, except some weakness of the lungs, or, according to others, a tired heart; it is therefore impossible to know the cause of death.")
These few words have been interpreted by conspiracy theorists as evidence that the late pontiff had indeed been poisoned. †I find this to be a little unrealistic because he was described as being sickly for years before becoming pope.
The Obverse of this silver coin features the Cardinal Arms and reverse has a radiant dove design.