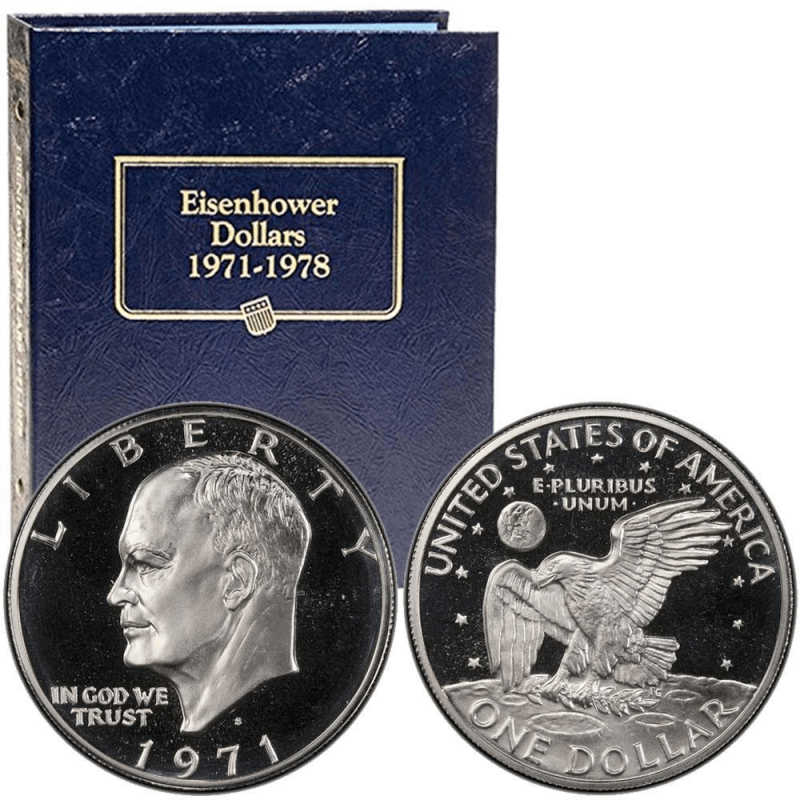 Ameica's Last Large Dollar
In recent years collector interest has shifted towards the Eisenhower Dollar, once overlooked except for those who specialized in this series. Over the past several years I've seen an increase from collectors through forum posts and at coin shows only to see the market place confirm as much in recent years. A look at any major auction house on any given month produces what were once unheard of prices, particularly in high grade. Registry numbers at the top third party graders are also on the rise. This weeks blog entails this curious and under appreciated coin.   Enjoy!
The Eisenhower, or "Ike" dollar as it's commonly referred to, was struck from 1971 through 1978 and offers the collector a wide choice in collectability. For starters, an exceptionally pleasing mint state set in the 65/66 range is well within any budget. For those seeking a challenge this series also has many, many varieties to pursue. This is also a series for those pursuing conditional rarity as so few exist above MS/PF 68. And for those with deep pockets there are two distinct rarities, the one of thirty approximate 1974d 40% silver and the one known 1976 type II no "s" silver in the Mitchell Spivak Collection. No matter your preference, this is a wonderful series to collect as these are showing tremendous long term potential.
How this coin came to be is a bit of a curiosity, not to mention historical in nature. The year was 1969. The United States had been the first country to put a man on the moon. United States Army General and former President, Dwight D. Eisenhower had also passed away. Earlier in the decade, a run on silver due to it's rise in value saw millions of dollar coins vanish from circulation almost overnight. With a near depletion of the denomination meant for commerce, a new dollar became a top priority with the treasury. While the idea of a smaller dollar was beginning to be floated behind the senses, yet again the western politicians through the casino industry lobbied for the standard dollar size. At this point things become cloudy. Was the new dollar a commemoration of the former General and President or of the Apollo Mission? A look at the coins design would suggest both. Apparently, it was the intent of the Treasury Department to honor the Apollo XI landing. With a 40% silver version, should hoarding occur the effects would not disrupt day to day commerce like that of the half. However, Chief Engraver Frank Gasparro's original sketches suggest otherwise as they depicted an eagle reverse more emblematic of the 1800's.  Whatever the case, the chosen design was clearly political as was the Kennedy Half.  All said and done, two years after it's suggestion, the first Eisenhower Dollars entered circulation in November of 1971. The last large dollar, which we may never see again, was struck in 1978.
Thanks so much for reading. If you do not already, might I suggest adding one or all of these beauties to your holdings? Now may just be the time.