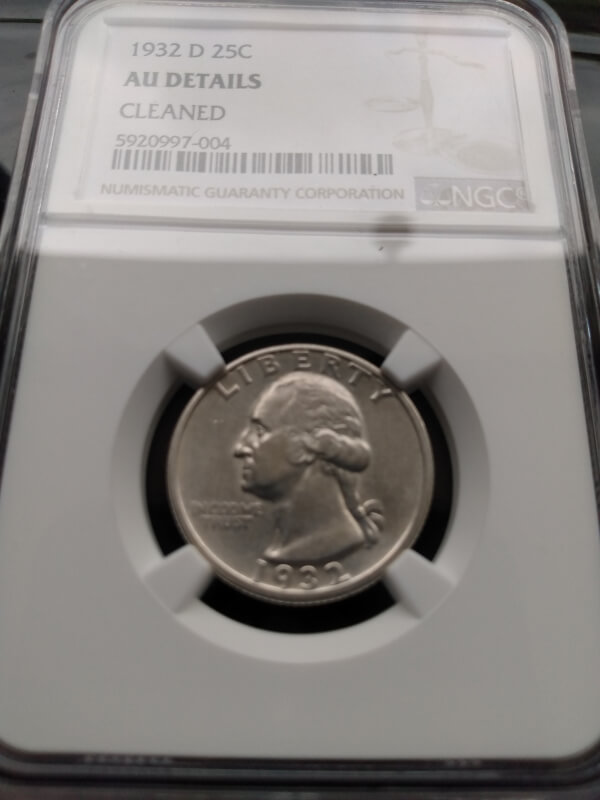 Cleaned, or Details Grade
Today I received the final coin needed for the complete Washington Quarter series, 1932 to date,  by mint mark (no varieties) in AU or higher. For those attempting as much,  this is easier said than done on a working class budget.  To the tune upwards of a few thousand dollars, purchased largely in raw form, and several years if not longer.  Satisfaction somehow seems less descriptive as to that feeling when complete.  With that, the subject of this weeks blog holding the very coin referenced decidedly became a good topic to discuss.                  Enjoy!


As one who truly has a passion for all things coinage, belonging to and participating on a few related forums, the very subject appears quite frequently. Most, but not all, originate from new members of the hobby.  Whether a young collector or old, the posed question asked always seems responded to in a mix of answers, some positive  in nature others with reaction of a coin being destroyed once cleaned. And thereby undervalued, or worse, worthless.  To that end a strong argument could be made in certain instance to be definitively contrary. Coins of extreme rarity, for instance, having only a hand full known to survive or have being struck.  But does it stop there?  What about certain key dates within a series? 


As evident in the included blog image, the 1932d  is the key date (why beating out the only other, San Francisco issue bearing the lowest mintage total is somewhat baffling) to the series.  Of the 436,800 struck, NGC has certified a total of 4,620- 1178 in AU grades and 1106 in mint-state.  Knowing this and the graded figures, buying an example becomes acceptable of sorts. While the price difference  is sometime substantial, other criteria must be taken into consideration when contemplating the purchase. That in question has a very light satin look only visible when angled in a certain way, under equally certain lighting.  This becomes the familiar "eye appeal" commonly known and referred to within the hobby.  Yet quite a few would still argue against adding such a coin to their collection.  Which is all fine and well. To each their own as is said.  Adding to this, a lager percentage of those individuals state a much greater dissatisfaction for an uncertified specimen despite the same value difference and eye appeal factor.


Which brings into question cleaning and what in really means.  All circulating coinage is cleaned.  That very sentence is one which the author has accepted for many years since unless you personally pulled it from a Federal Reserve wrapped roll someone may have wiped it at a minimum. Which by definition becomes cleaned. An easier way of explain this, take the 1932s Washington quarter which I bought in the raw. Although under magnification it shows no evidence of a cleaning agent, buff marks or wipe marks, how many collectors have had this particular coin over those many years? Was it dipped in acetone? A very common process repeatedly advised, yet again falling under the definition of clean.  What becomes even more contradictory are the grading firms which "conserve" a coin.  So the attempted point being, a coin which has been cleaned is possibly acceptable. So long as it's not detrimental to the original state in which it came.  In conclusion, it appears as though the majority against a cleaned and/or details graded coin are perfectionists.  The author is a coin collector first.