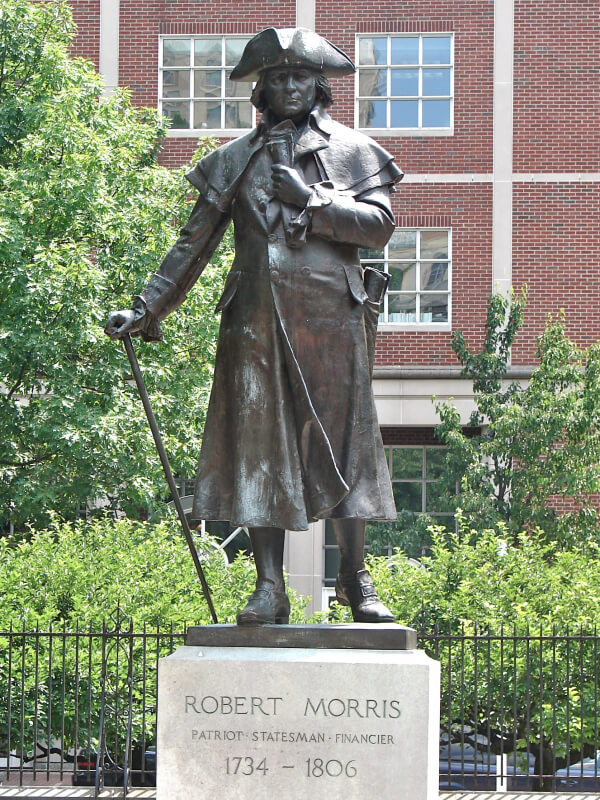 The Man Behind The U.S. Mint
When one thinks of how The United States Mint came to be visions of Thomas Jefferson are surely at the forefront of those thoughts. While indeed he had played a pivotal role in the establishment, credit for it's true creator has become shadowed. An English born Philadelphian of wealth and integrity dedicated not only to the cause of American Independence but a financial stability which must coexist. Enjoy!
Arriving in the American Colonies in 1744 at age 10, and having little interest in schooling, young Robert Morris began apprenticing for Philadelphia merchant Charles Willis and Company in the counting room. With the demise of his employer two years later, at age 18, a partnership was formed with the former's son. Together, the two created a thriving and highly profitable business for thirty-nine years before the Stamp Act of 1765 began hampering profit. With this, it became clear to chose country over king. Because of his skills and knowledge, along with his status within society, he was elected to represent Pennsylvania in the newly formed Continental Congress in 1775. As such, he was almost at once assigned to one of several committees involved with raising capital and provisions in support of the Continental Army. As a signer of the Declaration of Independence,  by the fall of 1776 in became increasing clear that freedom hung in the balance as several of the colonies had failed to fund the war effort. With General George Washington in the early preparations to advance on New York and his army all but depleted, Morris himself loaned the government 10,000 of his own money. Had he not done so the Battle of Trenton and the famous Crossing of the Delaware most likely would have failed. 
As the war progressed he personally funded and oversaw many of the blockade running operations securing much needed foreign capital and provisions. By 1781, with a major victory in the south over Lord Cornwallis, Robert Morris turned his attention to a nation on the verge of true independence. With the Continental Congress in agreement that in order to be a legitimate nation able to sustain itself without foreign assistance, Morris proposed a nationalized bank thereby establishing the full faith and credit with European nations. By creating the National Bank of America in Philadelphia, Congress immediately appointed him Financial Agent. A precursor to Secretary of the Treasury.
On February 21, 1782 Congress passed a resolution whereby approving a mint to coin money. Morris was now appointed Superintendent of  Finance and tasked with preparing a plan for establishing a mint and conducting the same. Although he devised a plan based on a decimal value this was not put into effect due to the government's unstable financial situation. In short, they lacked the much needed precious metals. However, both Thomas Jefferson and Alexander Hamilton, two leading architects of the future United States Mint, pushed the idea forward striking Nova Constellatio's in 1873. The first coins authorized by Congress and struck under Morris' authority as head of finance. The fact remains. All future denomination would be based on Robert Morris' idea.
Morris would later retire from Congress and serve as Senator in the state legislature until, once again, called upon to represent Pennsylvania at the Constitutional Convention in 1787. It was here that General Washington, now the Elected President of the United States, appointed him as Secretary of the Treasury.  But, he declined. Instead recommending Alexander Hamilton and opting to resume representation on the state level.
Robert Morris' devoted service not only the citizens of Pennsylvania, but a entire country, end in sad fashion with the Panic of 1796. With bad investments through deals made on newly acquired lands once owned by England, and unable to pay his debts, he found himself confined to the Prune Street Debtors Apartments until his release in 1801. He would live out his remaining five years alone and in quiet, dying near penniless in 1806.