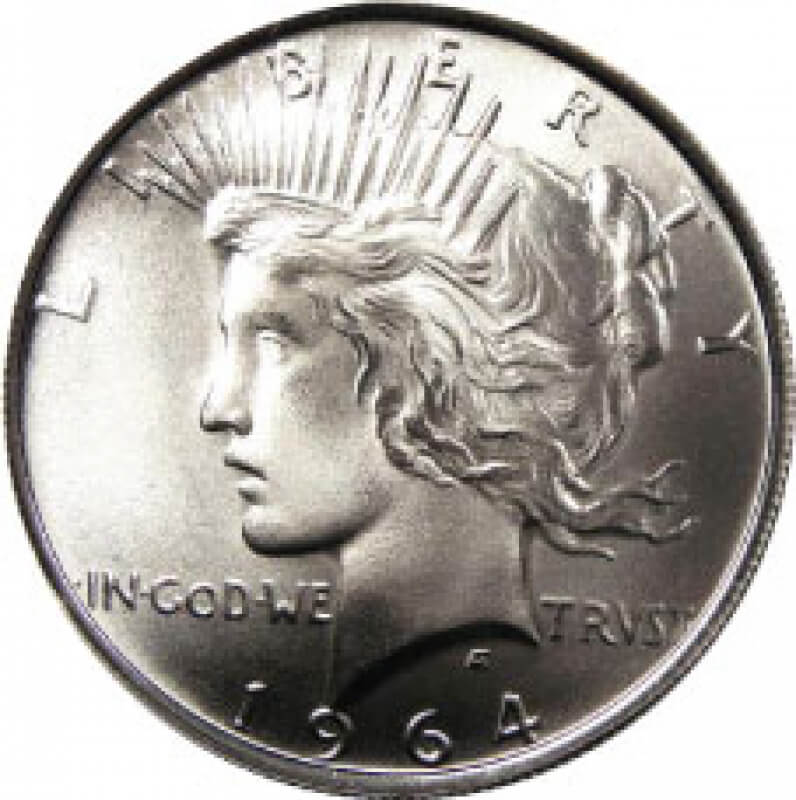 As 2021 approaches, and with specific legislation still pending, the public and collector community will see the first Morgan and Peace Dollars struck in decades. The last Morgan in 1921. While the final Peace struck and circulated was in 1934, this was not the last struck intended for circulation. This weeks blog deals with just that. A coin surrounded in mystery and lure, authorized and monetized, struck in large quantity only to vanish. Or did they?     Enjoy!
Up until the mid-1960's it was possible to receive Morgan or Peace Dollars, both 90% silver, at face value despite a drastic rise in the price of the precious metal. Much like today, the public in general had a dislike for dollar coinage which explains why they circulated in such high quantities for thirty years or longer. With silver being worth more than face value, it wasn't long before people began hoarding them for profit. By 1962-63, banks were struggling to keep up with demand as their vault stores were rapidly dwindling. The greatest demand came from Nevada where Las Vegas and Reno had casinos which relied heavily on them. Aware of the situation and largely through western political pressure, Congress authorized the re-striking of one dollar coins in August of 1964 to alleviate the problem at least in the short term until a solution on the silver content could be realized.
As the mint in Philadelphia began preparations readying dies to strike new dollars, tragedy struck in November with the assassination of President John F. Kennedy in Dallas. Within days, on November 27,  Mint Director Ava Adams authorized sculptor Gilroy Roberts to commemorate the President on a large U.S. coin. With the Peace Dollar already established for the yet to be new dollar, the half was selected with a release in January of the coming year.
It was now late spring of 1965, nearly one year from authorization of one dollar coins for circulations, and none had been struck. Like the one dollar coins, the 1964 Kennedy Halves were of the same composition and disappearing from circulation almost as fast as they were struck and shipped. Although for a different reason, the death of a beloved President still much on the minds of a mournful public making them a commemorative of such.  With pressure from the Treasury and Congress, the coinage presses at the Denver Mint began striking Peace Dollars bearing the date of 1964 as these were the only dies available. With Philadelphia yet to begin (no records of such at the current date) it was highly probable, that since Denver was much closer to Nevada, Director Adams immediately ordered the striking not to include Philadelphia. Which might also explain why nearly 125 million more half dollars were struck at Philadelphia than at Denver.To keep up with demand?. None the less, 316,076 dollars were stuck in two weeks with an estimated thirty of those being trial pieces.
And so the mystery begins. Congress now had a solution to the silver hoarding matter as it related to coinage. Clad coinage. With the exception of the Half Dollar, silver would no longer be used in coinage. On May 24, President Lyndon B. Johnson signed an ordered suspending production and ordered all of the Peace Dollars destroyed. Ava Adams personally oversaw the weighing of both coin and scrap at the Denver Mint as well as their demise to the melting pot. Or were they? In 1970, while doing a routine audit of mint vaults, two of the thirty or so trial pieces were discovered only to meet the same demise as those five years prior. Next, we have the very mysterious Ava Adams herself. In the 1970's, Stacks and Bowers Auctions cataloged and sold a 1964 Special Mint Set from her personal estate. A set which was never officially released, but well known as others have been on the market since. Were there also 1964 Peace Dollars in her collection? During the two weeks that they were struck, Adams authorized the exchange of dollar for dollar by mint employees. Despite being notified in the coming weeks and ordered to return them, is it absolute certainty that all were returned? Remember, the destruction was based on weight. So it would have been easy to slip an older coin into the mix. Further, are there records of transactions as to who and how many were made? Probably not so long as the books balanced.
So, we can conclude that they were authorized and monetized, that they were actually struck. This leads us to the 1964 Morgan Dollar. Yes, you read that correctly. Sort of. In July of 2015 four well respected and prominent numismatists made a fascinating discovering while doing research for a book. Dennis Tucker, Q. David Bower, John Dannreuther and David Sudman were at the Philadelphia Mint acquiring photographs and information for the upcoming A Guide Book of Morgan Silver Dollars. In  a cabinet John and David discovered a Morgan galvano with the date 1964 and having circular marks radiating at the center indicative of master hubs being created. Further searching revealed as much, master hubs. Although no working dies had been found, is it possible that they were made and yet to be discovered? The mint records don't say either way. Drawing from the records on the Peace Dollar, knowing that they existed, one could conclude the possibility. Only time will tell.
My personal thoughts, or belief, is that 1964 Peace Dollars did survive. I base this on the reality of the 1933 Saint-Guadens Double Eagle, a coin that since 1954 has been know to be confiscated if it ever sees the light of day. For this reason they will stay hidden. Why when they were actually monetized as legal tender and released, albeit to employees, is beyond me. No matter the truth, this mysterious coin is by far my greatest treasure story.  
The 1964 image is courtesy of PCGS
The 1964 Morgan galvano and hub courtesy of The Littleton Company.