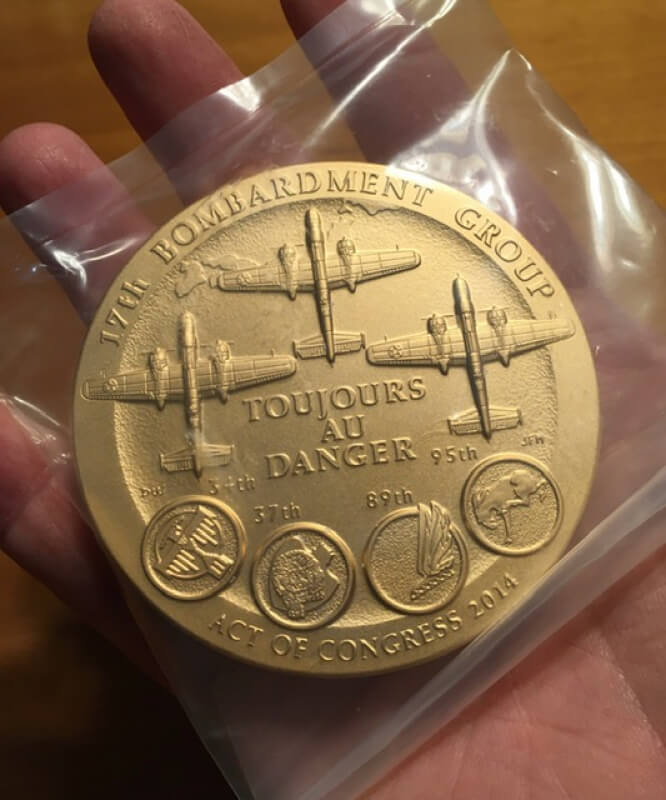 Doolittle Tokyo Raiders US Mint Medal update
[UPDATE TO THE UPDATE:  I added two photos of the actual medal as delivered from the US Mint.  It really is as good as the picture of it on the Mint's website.]
I received my Doolittle Tokyo Raiders 3" medal in the mail last week.

The US Mint 3" medal comes packaged in a small cardboard box just large enough for the large, hefty medal, held shut with folding wire loops.  When you unbend the loops, the box opens clam-shell style, and inside you will find a 3" medal enclosed in a tough clear plastic bag, and two small pieces of plastic stamped "US MINT" that create a display stand when assembled.  This box was packed with some padding material inside a larger shipping box (still small enough to fit in a regulation post-mounted roadside mailbox).  It actually shipped from a fulfillment center in Tennessee.


It's absolutely gorgeous.  I'd post a new photo of it but I'm not taking it out of the sealed bag, so it won't look any better than the mint photo.  It is a handful for a medal.  [UPDATE:  I couldn't resist, I added two photos.]

The little clear plastic stand is a convenience for displaying and practical if you intend to put it behind glass in a display case; but to be honest, this medal deserves something a little more distinctive.  Had I shopped around the Mint store a little more, I would have realized that they sold official US Mint presentation boxes (the velvet velour clam shell things).  I did not order one of those.  Now I hate to pay shipping again to order one separately.  If you order a medal, be advised, the presentation cases do not come with it, you must order one separately if you want one.

I'm very glad I ordered one, especially before the price jumps up in January.  Had I not ordered one now, I probably never would have bought one, except second-hand at a coin shop or show.  I have a feeling that's how most sales of these will occur after January 1.  Maybe it will raise the price for them in the secondary market, which will be good for anyone wanting to sell one.