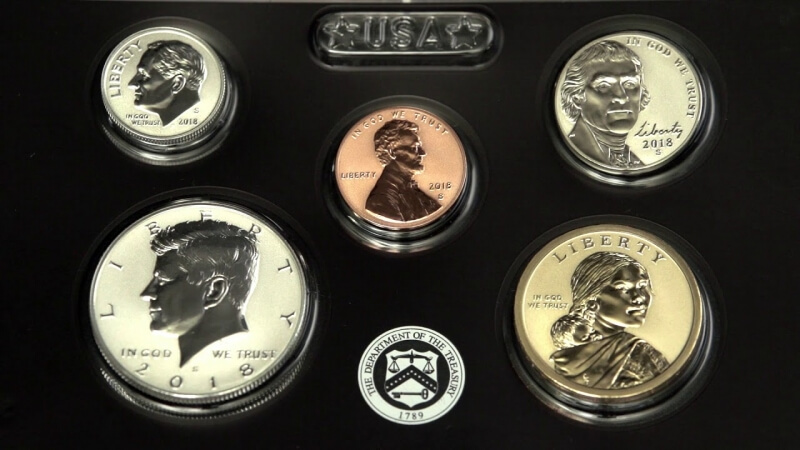 The San Francisco Mint 2018 Silver Reverse Proof Set is about to be released, are you ready?
As the cold weather begins grow warmer and we inch our way through spring, many highschoolers my age are beginning to get excited about summer vacation. As a numismatist, however, I find myself becoming enthusiastic over the release of a certain coin set. I have never seen anything like it! And neither have you. This summer, for unclear reasons, the US Mint will be producing the San Francisco Mint 2018 Silver Reverse Proof Set (Item number: 18XC)[i]. This is the first ever US coin set to contain only reverse-proofs! Furthermore, it may be worth more than just the beauty of these coins themselves. The San Francisco Mint 2018 Silver Reverse Proof Set may possess some value as a highly sought-after collectible: quickly going out of stock, climbing in price, and making a great short-term investment; just like the Truman coin and Chronicles set did.
Because we are talking about investment, we should all have the same basic definition of investment. Here is the definition of invest according to Dictonary.com: "V. to put (money) to use, by purchase or expenditure, in something offering potential profitable returns, as interest, income, or appreciation in value."[ii] The basics of investment are fairly simple: when you think that something will go up in price over time, buying it now and selling it later at a higher price will make you money. Although this sounds simple enough, it can be fairly tricky to make a substantial profit in a small amount of time. As I'm sure many of you know most coinage does go up in value over time. For our purposes, investment will refer to a short-term accumulation of assets (3-5 years or so). This being the case, much said here is speculation.
Now, with all of that clear, let's compare the new reverse-proof set's investability with an existing set. In the August 2015 issue of the Numismatist, there was a very short yet intriguing article. The article stated that, in 2015 the groundbreaking Truman Coin and Chronicles Set went out of stock just 13 minutes after its release in 2015. [You may remember the hype.] Although there were other "Presidential coin and chronicles sets" all containing a reverse-proof presidential dollar, none of them sold nearly as well. Four of these sets were also sold that year all for $57.95. Because they contain the first ever reverse-proof Presidential dollar, the averagely graded Truman Coin and Chronicles Set now sells for around $300. When graded MS-70 it will realize more ($1200-$1400). The second of these "Presidential Coin and Chronicles Sets" to release (the 2015 Dwight D. Eisenhower set) now sells for only about $200 in the average grade. These resale prices come down with the newer and less ground breaking sets.
The San Francisco Mint 2018 Silver Reverse Proof Set does not just have one (as with the Truman set), but four coin series that have never had reverse-proof coins! There have never been reverse-proof Native American dollars, Washington Quarters, Jefferson Nickels, or Lincoln cents. In total, this set will contain eight coins from series that don't contain reverse-proofs yet, and that could be extremely valuable.
I hope I have succeeded in grasping your interest and maybe even set your sights on this fabulous new item of collection. Whether you are interested in investing or just improving your collection, the San Francisco Mint 2018 Silver Reverse Proof Set will most certainly be a set to be remembered. So, do some research, and keep an eye on it. You never know what might be desired around the corner of the numismatic marketplace. As we see with the Truman coin set, these groundbreaking reverse-proofs go out of stock quickly and grow quite valuable. Will you take a chance to make a great investment or will you save your $54.95 for something else?