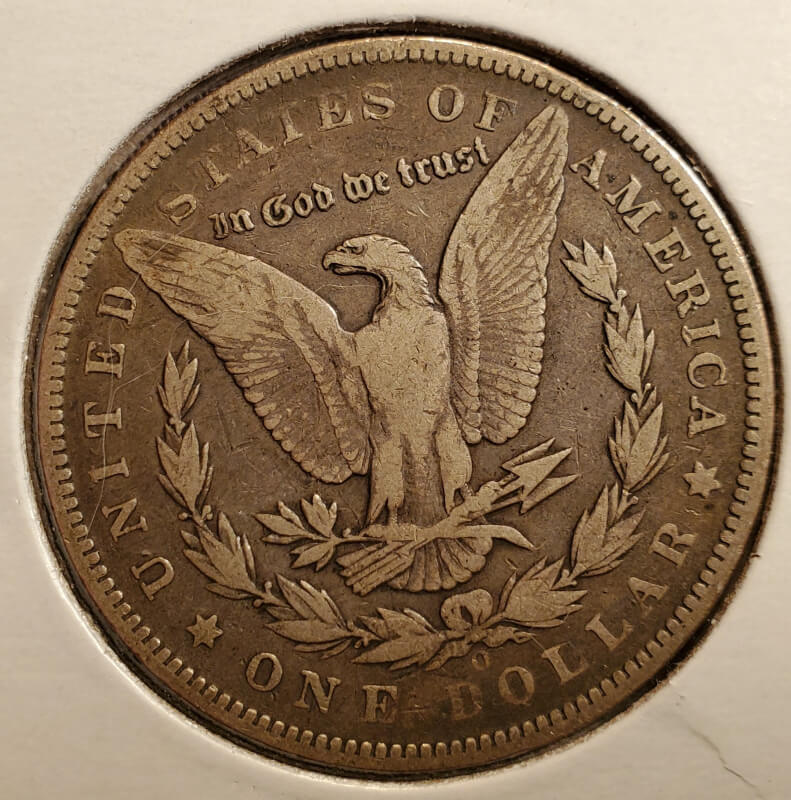 1880 & 1899 "O" Morgan Silver Dollars
As I have mentioned previously, I received some nice coinage saved by my family.  I've had these coins for 40 years & still haven't completely inventoried or cataloged them since I've only been active just over a year.  I wanted to highlight some Morgan Silver Dollars that I found when I opened a storage box this week.  I would have thought they would have been included in the box with the other Morgan Dollars, one of which I blogged about last week, but they weren't, so it was somewhat of a shock to find these Morgans alone in a box full of Mercury Dimes.
The Morgan was minted 1878-1904 & again in 1921, designer; George T. Morgan, Weight; 26.73g, Composition; .900 Silver, .100 Copper, Diameter; 38.1mm, Reeded Edge; Minted in Philadelphia, Carson City, Denver, New Orleans, and San Francisco.  Some were melted down in 1900, many were saved making the Morgan Dollar according to the Red Book, "the most widely collected of all coins of their era."
I was surprised to see that all of these coins were minted in New Orleans "O", maybe that is why they were in a separate box?  I will never know since my Grandfather & Dad packaged them.  Might I say they packaged them well, they haven't been opened in over 40 years or longer, (I don't know when they were packaged originally), and they have been in Alabama, Illinois, Georgia and now Nevada and they look like they were packaged yesterday, no plastic, PVC, or other nasty packaging material.  No sign they have been moved once, much less three times!  They were individually wrapped in multiple layers of plain tissue paper, some of the coins seems to have toned, some not.  I did not take a picture of one of the 1880 and one 1899 "O" Morgan, since they were toned so dark the photo's did not come out well.  But those coins actually look nicer than some of the others, they are beautiful coins, just very dark. 
They aren't errors or any variety coin that I could identify, just plain 1880 and 1899 "O" Morgan Silver Dollars, ranging in my very unexpert opinion from Fine to Very Fine condition.  In the end it will never matter to me what they grade because these are the coins that I associate to nights spent with my Grandfather and Dad when we went through coins and "Old Stuff" together when I was a child.  They will never be sold as long as I am alive, the memories are worth far more than any financial amount to me.
Having said that, I did look in my handy dandy 6th Edition Mega Red and found that they are valued between $45.00 - $55.00 per coin, with silver being @ $24.39 today.  
The only reference I used for this blog was the 6th Edition Mega Red
I hope you enjoy the coins, as I enjoy them.  Every time I go into my Hobby Room and look at the coins, it's like I'm still sitting there with my Grandfather, Dad and sometimes my Uncle.  The memories are priceless.  Thanks for allowing me to remember these memories and share them with you.  Until later, Nuff Said!