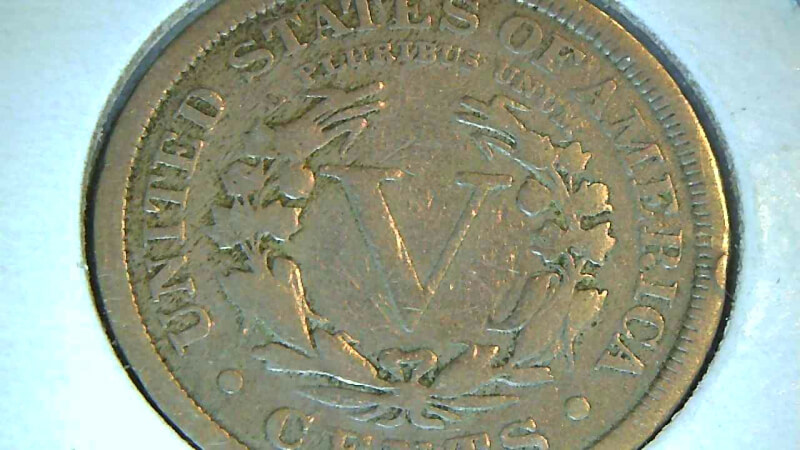 The Nickel Five Cent Coin (From 1866-1938)
            The conflict of the Civil War caused Americans to take many coins out of circulation due to their silver and gold content. This made coins hard to come by, so the mint tried to solve this problem by printing fractional currency. They soon attempted another possible solution.  The Act of May 16, 1866 allowed the production of a five cent coin made out of nickel even though there was a coin of this denomination (the silver half dime) already in circulation.
            This new coin was made with seventy-five percent copper and twenty-five percent nickel. The obverse (front) of the coin had an image very similar in appearance to the two cent coin, which was first issued two years earlier. The reverse (back) depicted a five, surrounded by alternating stars and rays.
Since the reverse side of the coin was so detailed, the dies had to be replaced very often due to the extra pressure needed to make a full imprint of the design on the coin. The following year after the first release of the nickel, the mint removed the rays from the coin's design, making both type one (with rays) and type two (without rays) in 1867.
            The design of the nickel was changed to the liberty head part way through the year 1883. The obverse of the coin had image of Lady Liberty on it. The reverse of the coin had a large V surrounded by a wreath.
Originally the coin did not have the word "cent" on it. Some people would gold plate these coins and use them as a five dollar coin. To stop this from happening, the mint slightly changed the reverse by adding in the word "cents".
Officially, the liberty head nickel series ended in 1912, and the buffalo nickel was produced the year after, but in 1920 a 1913 V nickel was revealed to the public. There are only five known to exist, and are extremely rare and expensive. One specimen sold for a stunning $4,560,000 at an auction in the grade PF-66.
The Indian head nickel (or more commonly called the buffalo nickel) was first struck in 1913. The obverse depicted an Indian with the date. The reverse had a buffalo standing on a pile of earth. The words "five cents" were located on this mound.
After release, the mint realized there were two main flaws to this design. First of all, the dies that made these coins were wearing out exceptionally fast. Secondly, the words "five cents" were positioned on the mound of earth beneath the buffalo, and that made them susceptible to being rubbed off. Attempting to fix this, the coin was slightly changed, though this remedy did not fix either problems.
The last buffalo nickels were minted in 1938. In that year, the mint started to produce the Jefferson nickel.
Works Cited
Garrett, Jeff. A Guide Book of United States Coins 2021, 74th ed. Pelham, Whitman Publishing LLC, 2020
Klein, Christopher. "The Hidden History of the Nickel."  History, https://www.history.com/news/the-hidden-history-of-the-nickel. 6/27/2022
Guth, Ron. "Shield Nickel." PCGS, https://www.pcgs.com/coinfacts/category/shield-nickel-1866-1883/81. 6/27/2022
"How the Shield Nickel Rebuilt U.S. Currency." Blanchard, https://www.blanchardgold.com/market-news/how-the-shield-nickel-rebuilt-u-s-currency/. 6/27/2022
The Liberty Nickel Collector Society "1883-1913 Liberty Head Nickel." The Liberty Nickel Collector Society, http://www.libertynickels.org/intro.php. 6/27/2022
"The History of the Liberty Head Nickel." A Very Special Coin Collection, http://www.acoincollection.com/history-of-the-liberty-head-nickel/. 6/27/2022
"The History of the Liberty Head Nickel, Part 2." A Very Special Coin Collection, http://www.acoincollection.com/history-of-the-liberty-head-nickel-part-2/. 6/27/2022
"The History of the Buffalo Nickel/Indian Head Nickel." A Very Special Coin Collection, http://www.acoincollection.com/history-of-the-buffalo-nickel-indian-head-nickel/. 6/27/2022