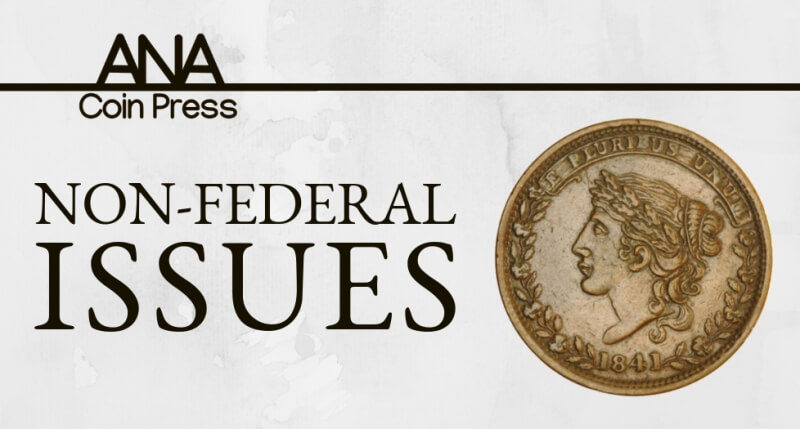 Non-Federal Issues

Mitch Sanders | June 2019
What defines an American coin? An easy answer is that an American coin is one that says "United States of America" on it. But it turns out that the story of American coinage is actually more complicated, and more interesting, than that.
You can see this in the trusty and comprehensive Red Book (A Guide Book of United States Coins). About 50% of its pages are devoted to "federal issues," half-cents to double-eagles, made by the United States Mint since 1793. Numismatic issues, mostly commemoratives and bullion pieces, comprise about another 25%. So that leaves a full one-quarter of the Red Book's listings under the general heading of "non-federal issues" – made by an entity other than the United States Mint and used in territory that was, or would be, controlled by the United States.
The story begins in the British colonies. Britain considered its colonies to be a source of raw materials and a market for manufactured goods – colonial commerce was secondary, and the colonial money supply was barely adequate at best. Circulating coinage primarily took the form of Spanish-American silver pieces, produced in abundance by the Spanish Empire's Latin American mints, that made their way northward. In fact, when Alexander Hamilton determined the physical characteristics of the new U.S. dollar in preparation for the Mint Act of 1792, he used the Spanish 8-Reales coin as his role model.
Though less prevalent, there were also coins from various other nations. In fact, in Benjamin Franklin's autobiography, when he described his arrival in Philadelphia, he stated that "my whole stock of cash consisted of a Dutch dollar, and about a shilling in copper."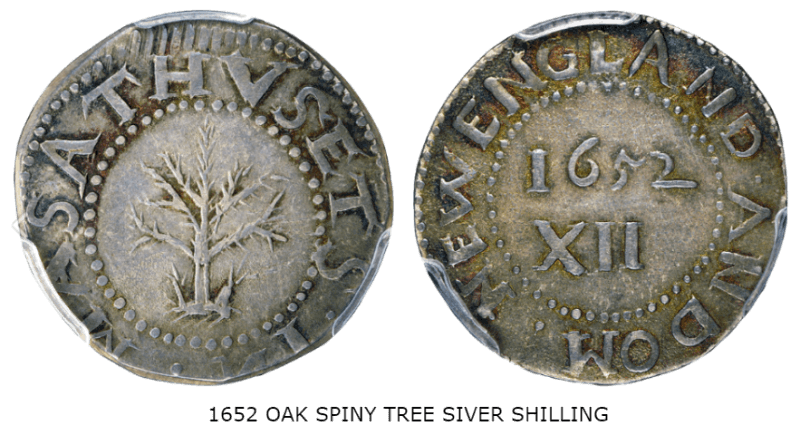 The earliest homegrown issues were the crude 17th-century New England "NE" silver pieces, and their slightly less crude arboreal successors: Willow Tree, Oak Tree, and Pine Tree coinages. As the coins were authorized in 1652, they bore that date for the several decades of their issue. Coins and tokens did occasionally make their way over from Britain, including a substantial quality of British copper coins dated 1749. But only one colonial coin was officially sanctioned: the Virginia halfpenny of 1773, with King George III on the obverse and a royal seal on the reverse.
"Non-federal issues are fascinating collectibles, representing tangible connections to some of the most extraordinary times in our country's history."
After King George's popularity took a nosedive (and after paper money issues by the continental congress wreaked havoc on the economy), several of the newly independent states produced their own small change. Copper coins were issued by Connecticut, Massachusetts, New Jersey, Vermont, and (unofficially) New York before the Constitution of 1787 put an end to such issues. Privately-made tokens, many originating in England and often featuring George Washington, also helped fulfill the needs of commerce before the establishment of the United States Mint.
Later, private coinages followed the nation's gold rushes. In the 1830s Templeton Reid in Georgia and the Bechtlers in North Carolina issued coins made with local gold, before official mints opened in Dahlonega and Charlotte. The "49ers" in California used privately produced coins (some with the approval of an officially appointed assayer), from $5 pieces to huge, octagonal $50 "slugs," as stopgaps before the San Francisco Mint opened in 1854. (Small, fractional gold coins were primarily issued as souvenirs, not for commerce.) Private gold coins were also made in Oregon, Utah, and Colorado – some of the Colorado issues featured images of Pikes Peak created by someone who had clearly never seen the iconic mountain, or even an image of it.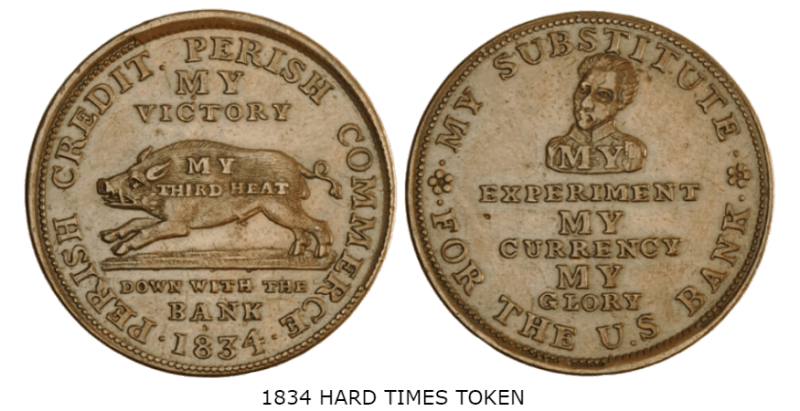 Economic slowdowns and coin shortages have also inspired various substitutes for federal issues. The Hard Times Tokens of the 1830s were issued as a consequence of the Panic of 1837. Many tokens present a satirical view of the issues and personalities of the day. Messages about Andrew Jackson and the Bank of the United States are historical curiosities today, but would have resonated with politically attentive Americans of the "Hard Times" era.
Probably the most prominent private coinage issues are the Civil War Tokens of the 1860s. These are a tangible connection to the most devastating period in our nation's history, as the war impacted every element of society, including coinage. In the North, paper currency displaced gold and silver coins, leaving copper-nickel cents as the only metallic money in circulation. Eventually, cents, too, became scarce, as the U.S. Mint was unable to keep up with public demand.
Beginning in late 1862, privately issued tokens filled the gap. Most were made of bronze, with the same diameter as regular copper-nickel cents, but thinner. Many resembled Mint issues, including issues with Indian Head images that mimicked Chief Engraver James Longacre's official design, and various Liberty motifs. Although not legal tender – some even carried the inscription "Not One Cent" – Civil War tokens worked well enough in a severely cash-strapped economy.
One of the two major types of Civil War tokens, known as "patriotics," presents a coin-sized, contemporary record of the Civil War. Dozens of pro-Union themes and hundreds of different designs can be found, and inscriptions like "Union for Ever," "United We Stand" and "Army and Navy" make the messages even more explicit.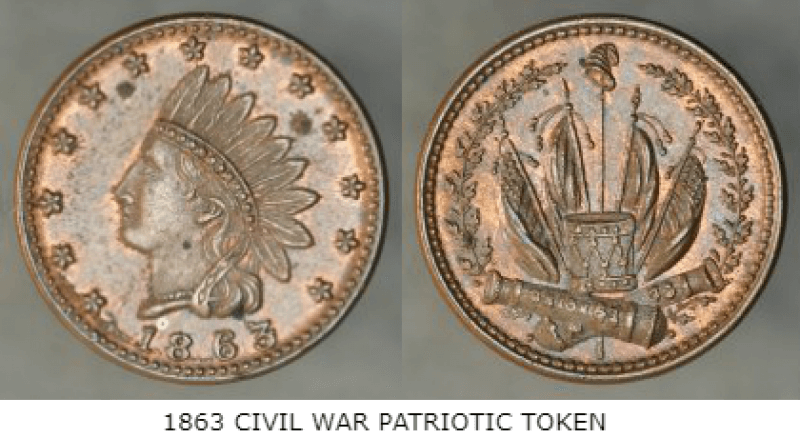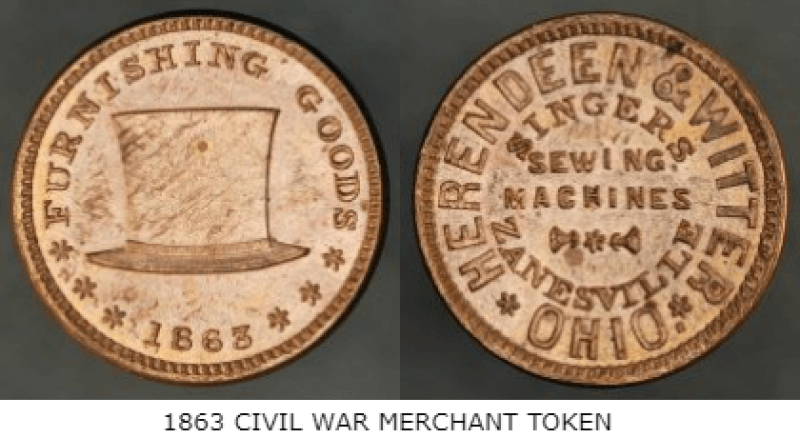 "Storecards," another major type of Civil War token, advertise the merchants who issued them – around 1,500 in all, from just about every corner of the Union. The most numerous came from the cornerstones of commerce: grocers and purveyors of dry goods. Others were issued by druggists and clothiers, brewers and booksellers, hotels and restaurants, and even a few coin dealers.
The era of the Civil War token didn't last long. Starting in the spring of 1864, the United States Mint switched the cent from copper-nickel to bronze, and official coinage flourished, while private tokens were outlawed.
If you're interested in collecting non-federal issues, options are extensive. Spanish-American colonial coins that circulated in the British colonies and the early United States are very common, and many post-revolutionary state issues and tokens are available at reasonable prices. Private gold coins are rare and expensive, though small souvenir California fractional gold coins are affordable. Hard-Times Tokens and Civil War Tokens are abundant, with many examples available quite inexpensively.
Non-federal issues are fascinating collectibles, representing tangible connections to some of the most extraordinary times in our country's history. And, as usual in numismatics, the stories behind the coins won't cost you anything extra.