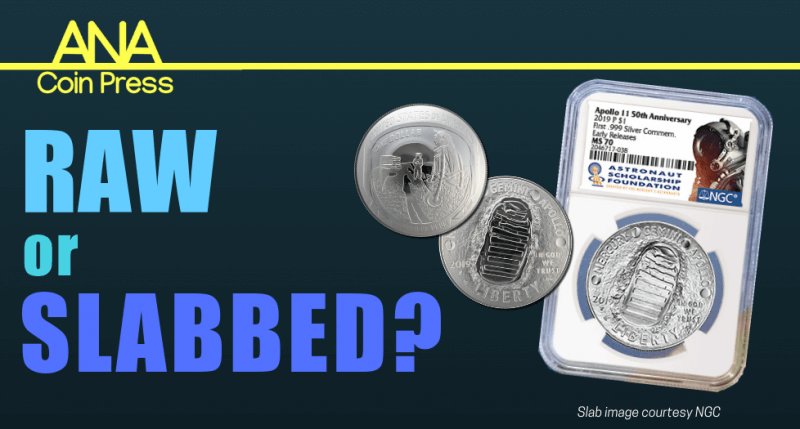 RAW OR SLABBED?
Pondering the question that runs through every buyer's mind.
A coin is, among many things, a handy example of what statisticians call a "random number generator." In practical matters, do you need a fair way to decide who pays for dinner or which team gets the ball first? Flip a coin, and let chance decide your fate.
Sometimes numismatics seems like a game of odds. So much is beyond our control, with seemingly arbitrary factors influencing our hobby opportunities. But, unlike a coin toss, we can influence our destiny by making thoughtful decisions in the face of uncertainty.
One important choice numismatists must make is whether to buy coins "slabbed" or "raw." Slabbed coins have been authenticated, graded and encapsulated in a hard, plastic holder by a third-party grading service, while raw coins have not.
Specimens at the lower end of the price spectrum typically are not slabbed, primarily because the cost is not economically feasible. The story is different for higher-value coins. In fact, I often hear people say that because slabs have been part of the numismatic marketplace for nearly 30 years, most truly nice and valuable coins (at least U.S. examples) are already slabbed. From my experience, that's true. When an expensive coin ($200 or more) is unslabbed, it's tempting to wonder, "Why isn't it?" I believe slabbing is particularly important with regard to three factors:
Counterfeits
In the old days, numismatic deception might have involved gluing or embossing a mintmark on a Philadelphia Mint coin of the correct date to create a 1909-S VDB cent, 1916-D dime, 1893-S Morgan dollar or some other "key" date. Now, well-made fakes from China present an ongoing challenge. Of course, with the abundance of available information, it's easier than ever for hobbyists to identify and avoid counterfeits. But such evaluations often are best left to professionals, and the security of third-party verification makes slabbing essentially a prerequisite for expensive coins.
Pricing
If you are pursuing a higher-grade example that is more expensive than a slightly lower-grade piece, it's worth having a third-party opinion. This shouldn't be a substitute for your own judgment—after all, there is more to a coin than its numerical grade—but it's helpful to have another perspective, especially if one day a potential buyer wants reassurance.
Originality
At one time, cleaning coins was very in vogue, and, unfortunately, the practice has not gone out of style entirely. Coins with altered surfaces generally are authenticated and slabbed as "genuine," but not assigned a grade. Not all slabbed coins have pristine surfaces — it's all too easy to find slabs containing implausibly white coins that have been "dipped" to remove their toning. But, when deciding whether to grade a coin, the standard used by the third-party grading services is "market acceptability." That's a nice characterization for a coin to have.
Encapsulation is not the last word in coin evaluation. Slabs are tools, not substitutes for your own judgment. It's entirely possible that an unslabbed coin is of sufficient quality to be slabbed — or, more importantly, to be worth purchasing.
My recommendation is if you are confident that a coin is truly all it seems to be, then you can feel good about buying it raw. Otherwise, the peace of mind a slabbed coin offers is worthwhile. By carefully considering what and how to buy, your odds of success will be far better than a random coin flip.
NGC is the official grading company of the American Numismatic Association.
Mitch Sanders | Originally printed in The Numismatist