National Coin Week 2020
Inspired by the 100th Anniversary of the 19th amendment and the many contributions of women in society and numismatics, Remarkable Women: Catalysts of Change is the theme for the 97th annual National Coin Week, April 19-25, 2020.
QUICK NAVIGATION
ANA Members: use the ANA Blog to post your writing, research and images celebrating women who have inspired you! Learn more here.
ANA Clubs: register above to receive promotional material and enter the 2020 Club Trivia Challenge! Note to clubs: With many clubs cancelling their April meetings, the deadline for the Club Trivia Challenge has been moved to Friday, June 5.
Check this page soon for daily trivia questions (April 19-25), featured objects from the ANA collection and more.
National Coin Week Trivia
Thank you to everyone who submitted answers in this year's trivia contest, and congratulations to the winners!
April 25 | Trivia Question #7: This activist played a vital role in the beginning of the Canadian Civil Rights Movement. Her decision to challenge an unjust conviction proved unsuccessful, but the trials were covered across the country and led to mass-mobilization against Jim Crow laws and discriminatory practices. Name this inspiring Black Canadian, featured on the front of this note. *Images courtesy of the Bank of Canada.
Answer: Viola Desmond (1914-1965). In 1946 her refusal to move from her seat at the Roseland Theatre in Nova Scotia led to a conviction for tax evasion in the amount of one cent. In 2010 she was granted Canada's first-ever posthumous pardon. Pictured: $10 bank note, Canada, 2018, vertical. The back features the Canadian Museum for Human Rights in Winnipeg. 2018 IBNS Banknote of the Year. Learn more.
DAY SEVEN WINNER IS JANET SMITH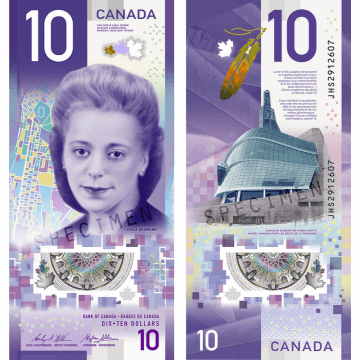 April 24 | Trivia Question #6: This astronomer and suffragist is known for her pioneering work on star classification, cataloging more than 350,000 stars under a system that heavily influenced modern astronomy. She was the first woman to be awarded an honorary doctorate of science from Oxford University, and worked to increase visibility and esteem for other female scientists. Name this influential astronomer, featured on the reverse of this coin.
Answer: Annie Jump Cannon (1863-1941). Her Harvard classification system was the first to organize stars by temperature and spectral type. Cannon was an active member of the National Women's Party, an organization crucial to the adoption of the Nineteenth Amendment. Pictured: American Innovation $1, Delaware, 2019. Cannon was born in Dover.
DAY SIX WINNER IS DANIEL LIPTON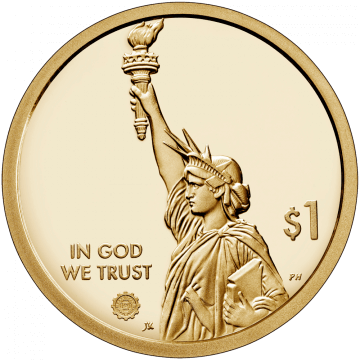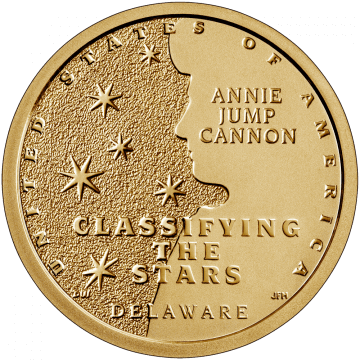 April 23 | Trivia Question #5: This week the United States Mint released the designs for the Women's Suffrage Centennial commemorative dollar (designed by Christina Hess, sculpted by Phebe Hemphill) and silver medal (obverse designed by Beth Zaiken, reverse designed by Patricia Lucas-Morris, sculpted by Renata Gordon). What two prominent suffragists are featured on United States coinage? *Images courtesy of the United States Mint.
Answer: Susan B. Anthony, SBA $1, 1979-1981, 1999; and Alice Paul, First Spouse series gold $10, 2012. Paul's coin represents the administration of Chester A. Arthur, who was a widower. Learn more.
DAY FIVE WINNER IS WILLIAM MYERS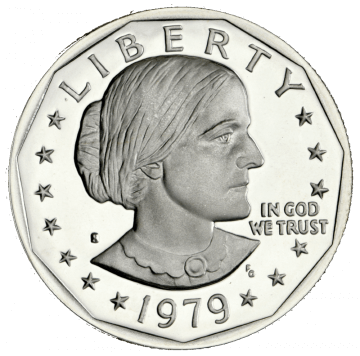 April 22 | Trivia Question #4: This woman was the first female president of her country, gaining office after leading a non-violent revolution that ended a longtime dictatorship. Moving quickly to reduce her office's power while restoring civil rights and implementing a new constitutional government, she modernized her nation despite several coup attempts. Name this politician and revolutionary, featured on these objects.
Answer: Corazon Aquino (1933-2009). After her politician husband Benigno Aquino was assassinated in 1983 she became the leader of a movement to oust Philippino dictator Ferdinand Marcos, culminating with the People Power Revolution in 1986 that ended his reign. Aquino was 1986's Time Person of the Year. Pictured: 1992 10,000 pesos, Philippines, gold; and 2016 500 pesos. Coin images courtesy of Heritage Auctions.
DAY FOUR WINNER IS NATHAN FAZEKAS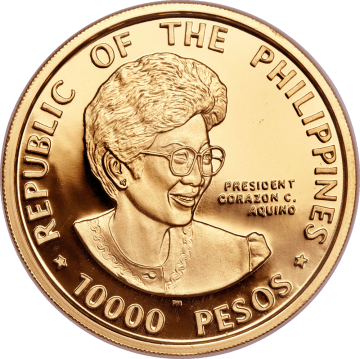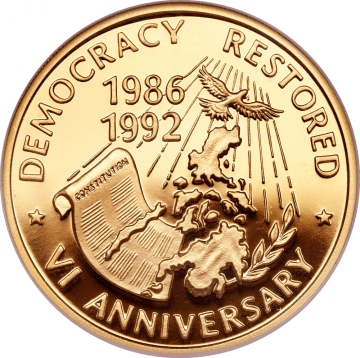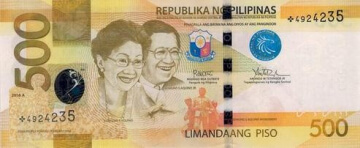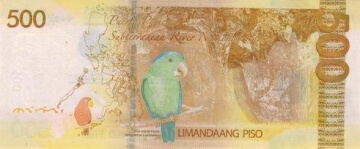 April 21 | Trivia Question #3: This humanitarian, diplomat and author served as U.S. Delegate to the United Nations General Assembly, chair of the UN Commission on Human Rights, and chair of the Presidential Commission on the Status of Women. She was controversial for her early support of the Civil Rights Movement, but in later life her endorsements were considered crucial for political candidates. Name this human rights champion, featured on the obverse of this coin.
Answer: Eleanor Roosevelt (1884-1962). The wife of President Franklin D. Roosevelt, she was the longest-serving First Lady (1933-1945), and used this platform to host radio shows, hold press conferences, and publish books. Pictured: 2014 W $10, gold, First Spouse series.
DAY THREE WINNER IS CATHERINE HOYLE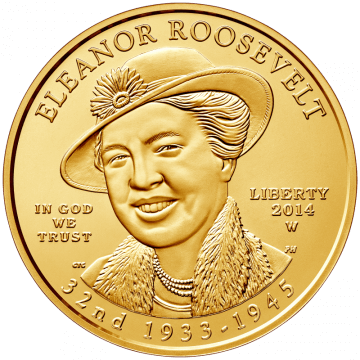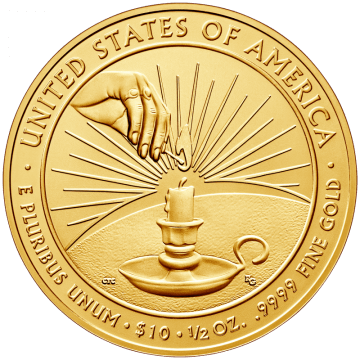 April 20 | Trivia Question #2: This woman is the only person to win the Nobel Prize for two scientific fields: Physics and Chemistry. She is best known for her groundbreaking work on radioactivity, a term she coined. During World War I she developed X-ray equipment for use at field hospitals, and the two institutes she helped found remain leading cancer research facilities. Name this trailblazing scientist, featured on the obverse of this coin.
Answer: Marie Skłodowska Curie (1867-1934). Born in Warsaw, the majority of her research was conducted in Paris. She named the first of the two elements she discovered polonium, after her native land. Curie's death was the result of radioactive exposure during her career. Pictured: 1984 100 francs, France, silver. Images courtesy of NGC.
DAY TWO WINNER IS JUSTIN IRVINE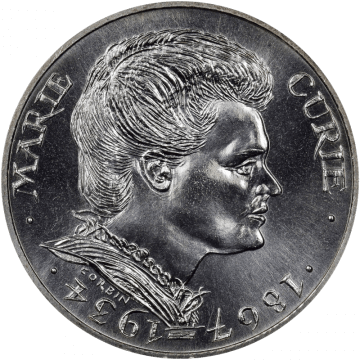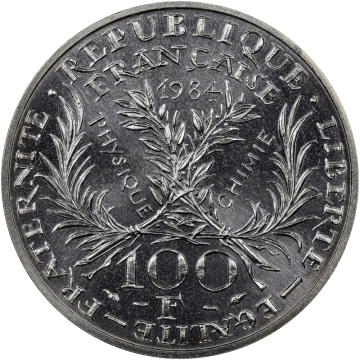 April 19 | Trivia Question #1: Among the most influential leaders in history, this empress came to power by overthrowing her own husband. Her 34-year reign is considered a golden era, with advances in medicine, education, economics, architecture and the arts. Considered an enlightened despot, she saw her empire become one of Europe's great powers. Name this 18th century leader, featured on these objects.

Answer: Catherine II, "The Great." Born in Prussia, she ruled the Russian Empire from 1762 to 1796. Pictured: 1766 gold 10 rubles and 1910 100 rubles. Images courtesy Heritage Auctions.
DAY ONE WINNER IS CHRISTOPHER BUJNOWSKI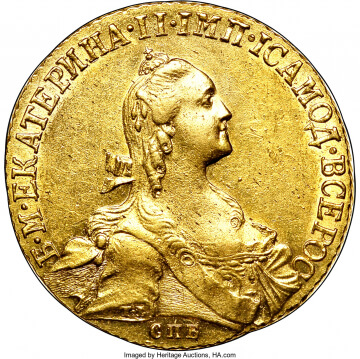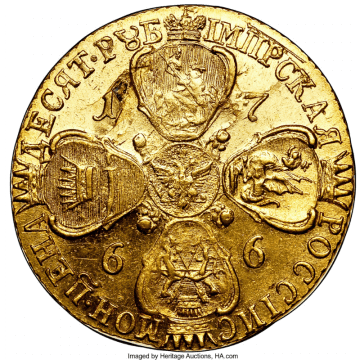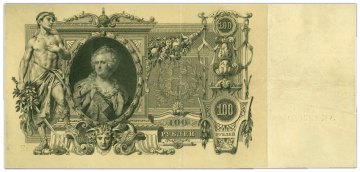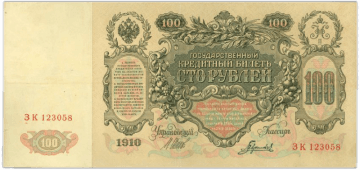 The History of National Coin Week
The history of National Coin Week began in 1923, when American Numismatic Association Governor Julius Guttag suggested to the association's President, Moritz Wormser, that a week-long event should be established "to attract the general public to our hobby and consequently increase our membership, and aid in our science." That December, the first announcement of a "Coin Week" was made in The Numismatist and scheduled for the week of February 9-16, 1924.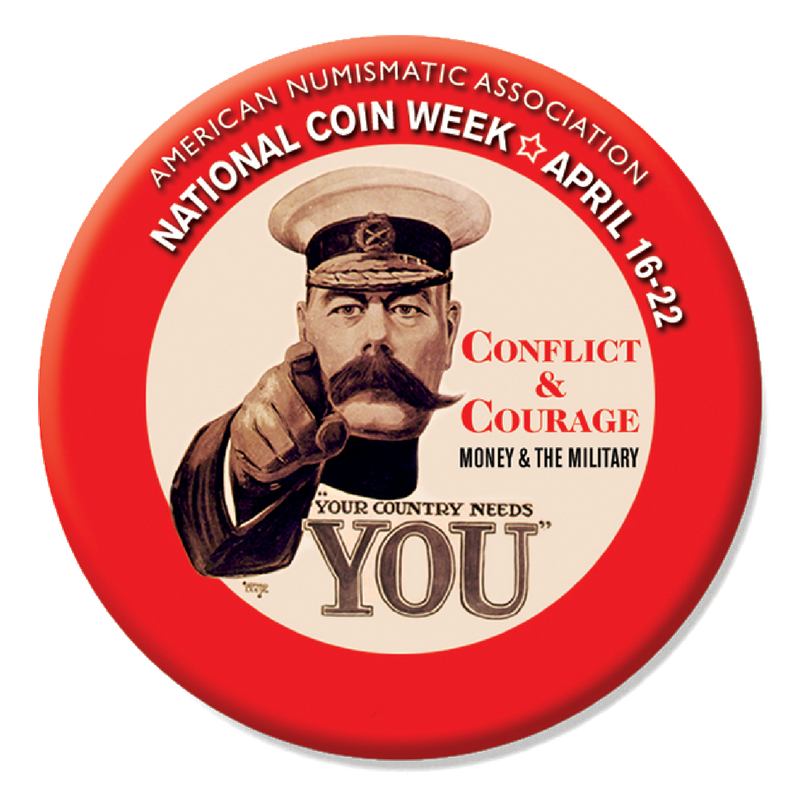 The first National Coin Week was a success, and discussion ensued in 1924 about establishing an annual event. The following year, the name was changed to "Old Coin Week," and the event was planned for February 15-21. In 1925 Wormser said, "Let us all work together for the accomplishments of the principles for which the American Numismatic Association was founded: To disperse numismatic knowledge . . . to demonstrate that numismatics is an educational and entertaining pursuit . . . and to imbue other collectors with your own enthusiasm and love for the subject."

Coin Week enjoyed successful observances in 1926 and 1927 under President H.H. Yawger. But, from 1928 to 1938, the association did not actively promote the event, and it existed in name only. In 1939 member Lee Hewitt of Chicago proposed that the American Numismatic Association reinstate Coin Week as "National Coin Week." President J. Henri Ripstra confirmed a new March date and announced that prizes would be given to clubs and individuals who accomplished the most during the week. In 1942 the observance was moved to the third full week of April, where it has remained ever since.
About the American Numismatic Association
Our Mission
The American Numismatic Association is a nonprofit organization dedicated to educating and encouraging people to study and collect coins and related items. The Association serves the academic community, collectors and the general public with an interest in numismatics.

The ANA helps all people discover and explore the world of money through its vast array of educational programs including its museum, library, publications, conventions and seminars.
LEARN MORE
Explore Other Great Resources
The Great American Coin Hunt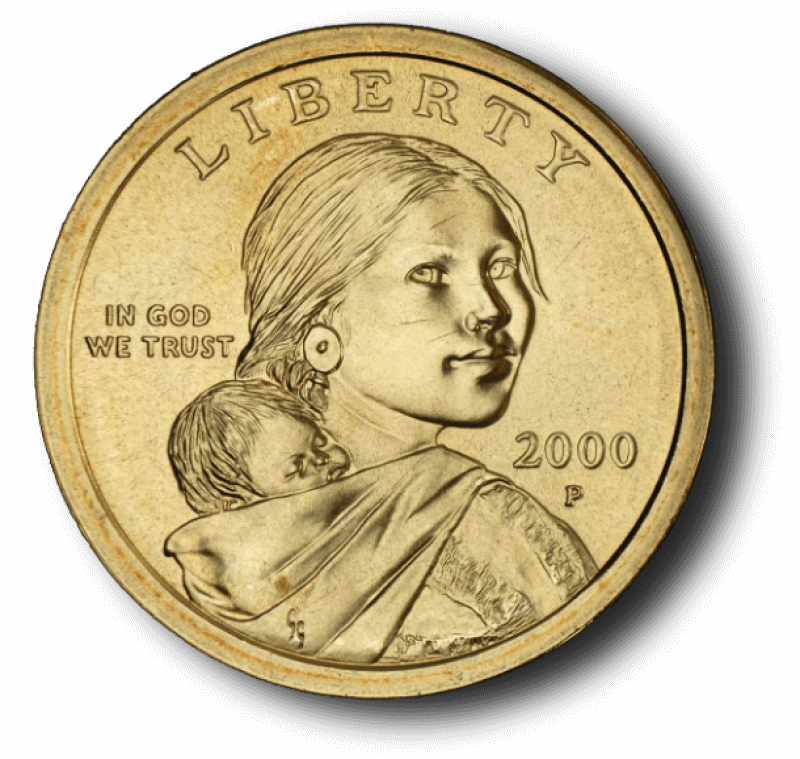 The Great American Coin Hunt encourages coin dealers to give away rare coins on social media posts that will include vintage silver US coins. They will also be giving away Whitman blue book albums for parents to give to their kids to fill. Those pledging to give away coins or coin albums will be using the hashtag #GACH2020, #RoundTableLife and #GachIsBack in their posts on Facebook and Instagram. All treasure hunters have to do to be eligible to win is like and share the posts they find. The original poster will then choose a winner at random and announce it on their posts!
Those interested in participating are encouraged to follow Great American Coin Hunt on Facebook and Instagram as organizers will be sharing information, clues and posts during National Coin Week.
The Great American Coin Hunt on money.org!
Thanks to those who participated in the coin hunt on money.org! The winner has been selected and informed.
Objects from the ANA Collection