Coin Grading, Problem Coins & conservation
In conjunction with the Pacific Northwest Numismatic Association Fall Convention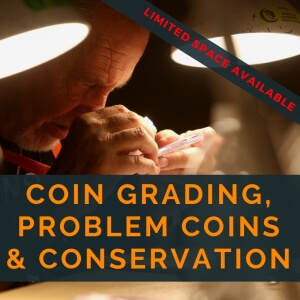 Coin Grading, Problem Coins & Conservation (2-Day Seminar)

The biggest mistake collectors and dealers make is buying coins they shouldn't have purchased in the first place —coins that have grade, surface or conservation issues that they didn't see.

This 2-day seminar will help students avoid costly mistakes by developing their grading skills and teaching them to spot a wide variety of surface problems, enhancements, alterations and conservation issues that can adversely affect a coin's grade.

The material covered is comprehensive and suitable for novice and experienced collectors. The seminar uses images, discussion and hands on examination of hundreds of certified graded and details graded coins in the ANA's Grading Sets.
Instructor: Brian Silliman, professional numismatist, Brian Silliman Rare Coins, and former NGC grader/conserver and ANA authenticator/conserver.
Time: 9 a.m. to 5 p.m., Thursday and Friday, October 18-19, 2018
Tuition: $259 for ANA and PNNA members; $359 for non-members. Register by Aug. 31, 2018, for a $25 early enrollment discount. Take another $40 off if you're an ANA Life Member!
Location: Portland, Oregon
LIMITED SPACES STILL AVAILABLE
SCROLL DOWN TO REGISTER ONLINE