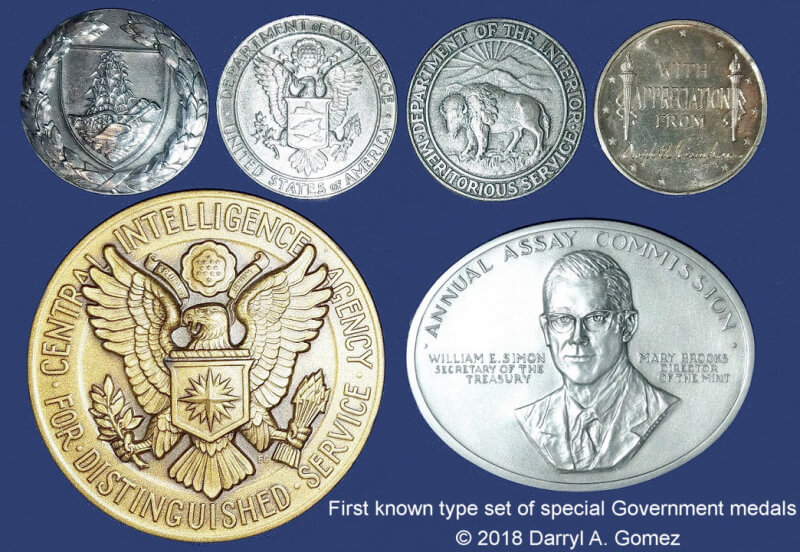 Forming a New Category of U.S. Mint medals
Throughout my ANA blogs I had a sprinkling of related research discussions on the topic of special Government medals. In August of this year, I shared a snapshot of my ongoing research at the ANA World's Fair of Money. If you saw my exhibit, you will have to remember that it all started with my original 2013 research of the "President Eisenhower Appreciation medals" (aka POTUS sGm series) and then slowing engulfing more and more related knowledge. The Manufacturing Triad of the U.S. Mint was the turning point in expanding my research from a single medal series into six different medal series. With the exception of the U.S. Assay Commission medals, these medals series have been undocumented. All share a common thread, each were a product of the U.S. Mint function to Manufacture Special Medals for U.S. Government agencies.
The image you see is the cover photo of my literary work from the ANA exhibit. To the best of my knowledge this is the first type set of the six known U.S. Government agencies that procured non-wearable medals (aka table top medals) from the U.S. Mint. All are in my personal collection.

A quote from my in-progress book:
"Each newly identified U.S. Government agency medal series should now be looked upon as a "series level" numismatic discovery since they are not organized as an official medal series by the U.S. Mint. The numismatic community should be on notice of this U.S. numismatic phenomena in establishing a new U.S. Mint medal category, special Government medals, that was caused by the U.S. Mint through its function to Manufacture Special Medals for U.S. Government Agencies."