The Numismatist Digital Archives
More than 100,000 pages of numismatic history at your fingertips!
NOT A MEMBER? JOIN NOW!
The American Numismatic Association is excited to announce its digital archives of all volumes of its flagship publication, The Numismatist. ANA members can access every issue of the magazine, from 1888 to the present.
Helpful search features guide you to the information you seek, including relevant links to useful resources, an easily accessible table of contents, and indices with live links.
The online editions look exactly like the printed originals, allowing you to experience The Numismatist in its historical context—something the average website can't offer. Each archived page can be downloaded and printed, as well as bookmarked, cited and referenced by registered users.
Thanks to the ANA's strategic partnership with Walsworth Publishing Company, The Numismatist digital archives is available to you any time. The database is powered by Exact Editions, known for its user-friendly content management platforms. To gain member access to the archive, you must register first. Simply follow the easy steps below:
Step One: Registration
1. Click here to be redirected to the Exact Editions registration page.

2. On the Exact Editions registration page, you will be asked to enter the following: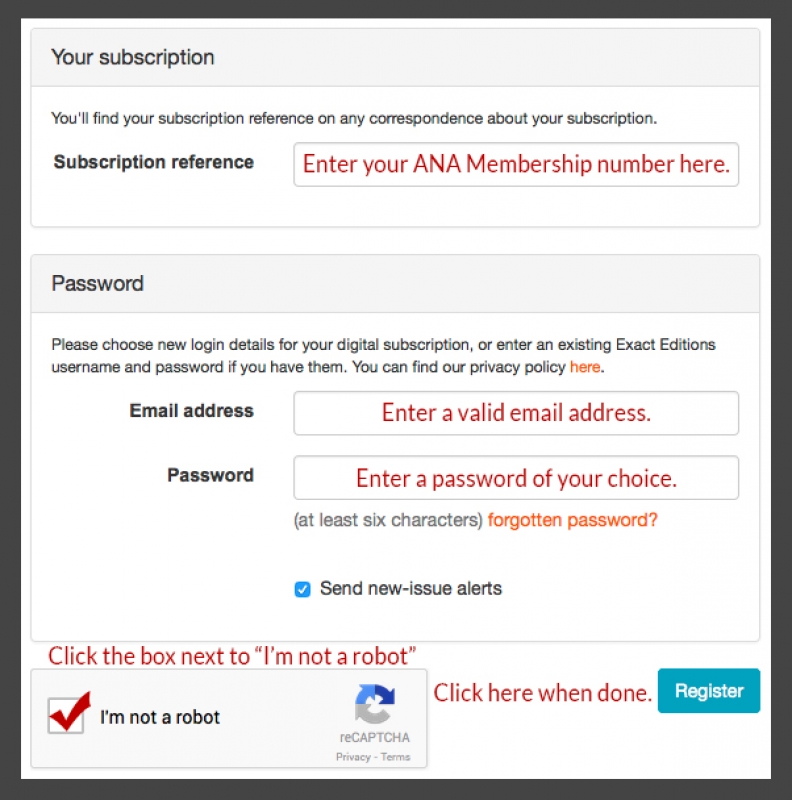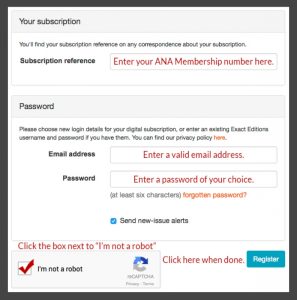 You can find your number at money.org by accessing "My Account" under the "My ANA" drop-down menu, or by contacting

membersonly@money.org

.

Lapsed members who rejoin should allow seven business days before their access to the digital archives is active.
3. Once you have registered, you will be redirected to Exact Editions. At The Numismatist homepage, you will be able to access every issue and page of the archive through your browser.

4. You also can access the archive on your iPad, iPhone, Android or Kindle Fire. Download the apps at The Numismatist homepage at Exact Editions.
Quick Access for Registered Users
To access from money.org:
Click here to

be redirected to Exact Editions

At Exact Editions, you will need to enter:
Frequently Asked Questions
For their generous moral support and material contributions to The Numismatist digital archives, the American Numismatic Association thanks David Fanning, David L. Ganz, Wayne Homren, Patrick McBride, Fred Michaelson and W. David Perkins.