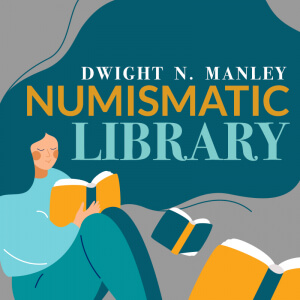 Dwight N. Manley Numismatic Library
---
IMPORTANT UPDATE: Remote lending and copying services from the ANA's Dwight N. Manley Numismatic Library will resume on a limited basis beginning March 18. (The library has been closed for COVID precautionary measures.). There will not be any in-person services at this time. We ask patrons for their patience as turn-around times will be slower than usual while the ANA continues working with reduced on-site staffing. Please email library@money.org with questions.
---
ANA members can access the world's largest numismatic lending library and its more than 128,000 books, auction catalogs, periodicals and DVDs online at money.org. The library features resources and materials on subjects including but not limited to coins, paper money, tokens, medals, military orders and decorations, and stocks and bonds.
How do I set up an account?
There are two ways to set up a library account.
Set up your account online. To accomplish this, click the "Search Library Catalog" link and follow the step by step instructions.
Call the library at 719-482-9821, 9843, or 9859. You may also send an email request to library@money.org. You'll need to give your full name, ANA membership number, full mailing address and phone contact information.
How do I place a request?
There are three ways to place a request for materials.
If you have setup an online account, you can click the "Request Item" or "Hold" buttons in the online catalog. This action will automatically place a checkout request via email to the library.
Email a list of requested items to library@money.org. Please include your name and ANA membership number so your request can be verified.
Call the library at 719-482-9821, 9843 or 9859.
How do I find books and other materials to checkout?
Search the online library catalog for available materials and check them out with a request directly through the online catalog system.
You can also request materials by email or phone.
Books, auction catalogs and DVD presentations can be can be checked out and will be shipped via USPS media mail.
PowerPoint presentations can be viewed directly from the online catalog.
Portions of periodicals can be photocopied or scanned, but not checked out. (For photocopying, scanning and other research requests, please see the Research Services page.)
Can't find the item you're looking for?
If you are having difficulty finding what you are looking for, please email the library at
library@money.org
or call the library at 719-482-9821, 9843, or 9859 and a library staff member will assist you.
How long can I keep my checked out items?
Library materials are checked out to members for a eight-week period. Your can call or email the library to renew items for another eight week period (as long as no other member has submitted a hold on the item/items).
How do I return my items?
Simply repackage the items (reuse the original box if it is serviceable), attach the new return mailing label that was provided with your shipment, along with the insurance form and bring it to your local post office.
Can I purchase an item I have checked out from the library?
Library materials are not for sale, with the exception of our annual book sale that is held during the ANA's premier educational event "Summer Seminar." Deaccessioned, surplus and specially donated materials are available at the annual book sale. You MUST be present to purchase items.