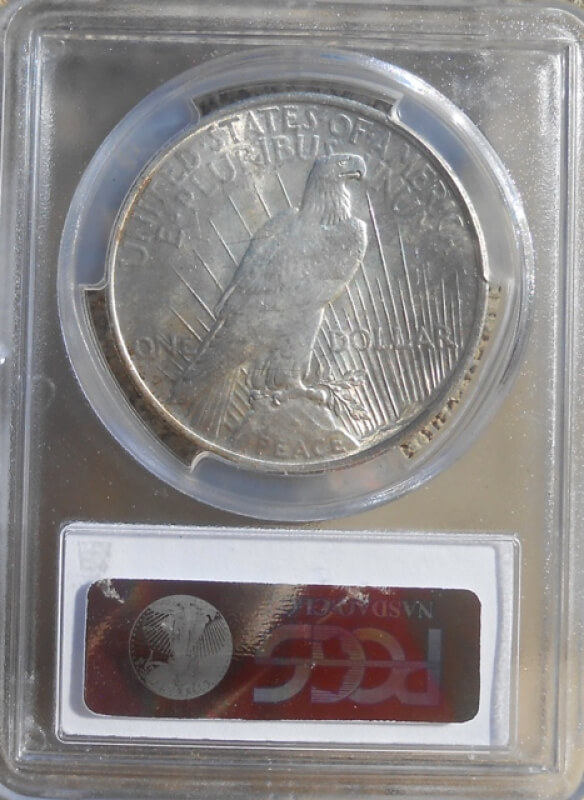 A NORMAL PEACE DOLLAR VAM-'23 1W
   My next blog is about a "normal" Peace Dollar VAM, in that any VAM is normal. I am using the word "normal" to mean a VAM that is not, currently, in any Top 50, Elite 30 or any other additional designation. This VAM is a 1923 VAM 1W. This variety is also known as the Die Break Hair Rear. Some of the readers here may know that I am working on collecting a Top 50 and Elite 30 sets. This is neither. I found this specimen while looking through some of the aforementioned sets. I thought it is a beautiful coin and does exhibit a nice die break. So here it is.
   This variety was discovered in August 2003 by Larry Briggs. It has a R-2 interest number, meaning it is a minor die variety with some interest to variety collectors. I does have a rarity number of R-6. This means it is considered very rare with only several hundred in the wild. All in all, not bad.
  The die break is located in Miss Liberty's hair bun, in the rear as was stated. A die break is a gap in the die resulting in a raised area in the coin and must be visible to the naked eye to be listed as a separate VAM. I hope you can see it in the photos below. That's it for this VAM. I am hoping to have a little surprise for the reader in my next VAM blog. I hope you enjoyed this short blog. Please feel free to comment. Thanks for looking.
SOURCES:
VAMWorld 2.0
COMPRHENSIVE CATALOG AND ENCYCLOPEDIA OF MORGAN AND PEACE DOLLARS-Leroy Van Allen &  A.  George Mallis
SILVER DOLLARS & TRADE DOLLARS OF THE UNITED STATES-Q. David Bowers
VARSLAB.COM
A GUIDE BOOK OF PEACE DOLLARS-Roger W. Burdette