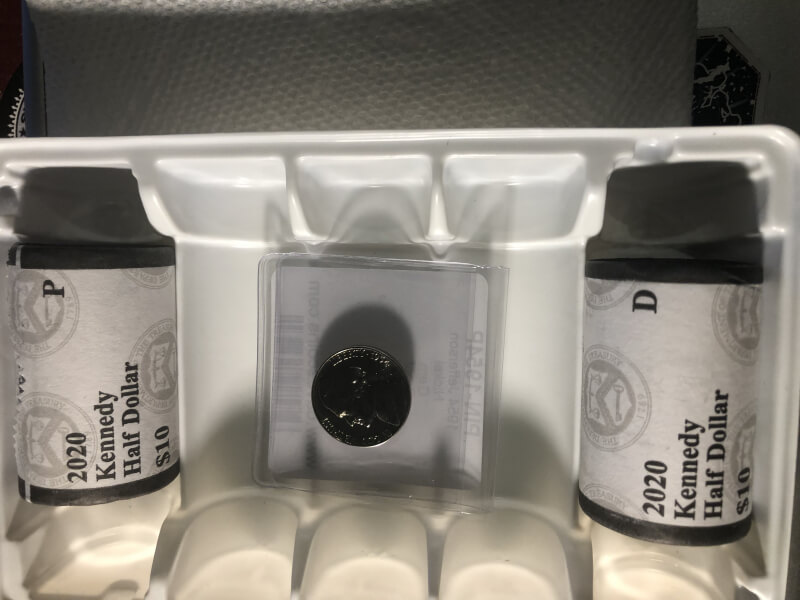 Birth Year Sets vs U.S. Mint Proof Sets
     Hello Friends and Family ! 
 It's been a while since I've been active here, but it's been for good reasons. Being from the south, spring and summer are my most active times of year and this year is no different than other years, except for the obvious (coronavirus)! Now let's talk a little about reasons for collecting birth years sets and U.S. Mint sets. Today's post involves the 1954 nickel and the 1954 Franklin half dollar. For the past year or so I've collected the 1961 Mint set, the 1962 Mint set, the 1999 Mint sets (P, D, and S/Silver) the 2019 Mint set, the 2020 Mint set and now I've completed a 1954 birth year set. I thought long and hard about just buying a U.S. Mint set for 1954 but ended up wanting to pick coins that I liked instead. The only coin I had a problem with was the Franklin half dollar. Mark, my local coin dealer showed me various options which was a good thing. The one that I really wanted was just out of my price range. I'm still considering upgrading it at a later date. I settled on the affordable one in the pictures. Don't get me wrong, the one that I picked is a nice coin, just not the one that I really wanted. All the gem proofs were $60 and up! The 1954 nickel is a different story. It's a very nice coin and one that fit my birth year set perfectly.
Most folks know that I've been shopping for a 2012 Silver Proof set for a while now. This U.S. Mint proof set cost "almost" as much as the price I paid for my key date 1998 Kennedy half matte satin finish set! Naturally I went with the best price for the complete 14 coin set which came in at $235 ! I watch quite a few Youtube videos, and I recently watched one from CoinHelpU and he addressed the topic of collecting U.S. Mint sets. I found this video both helpful and quite informative. I also take into consideration the old saying "if you see it on the internet, it's true" ... :-))  ! Daniel Malone the owner/operator of https://portsmouthcoinshop.com/  is both knowledgeable and and in my humble opinion, honest. He talked about the advantages and disadvantages of collecting U.S. Mint proof sets. I do realize the reasons dealers buy these sets in bulk and then "crack out" the coins to resell at a price where they can afford to stay in business. Since I'm just a beginner at collecting, I'm not considering buying "in bulk".  I do want nice coins in my collection though. Case in point is the last U.S. Mint set I purchased is a 2009-S Silver Proof set. Being a beginner, I didn't research the product before I purchased it. I bought it because it was affordable and I was/am still considering collecting these sets, but not for monetary profit. I was pleasantly surprised when I received it. What I hadn't realized is that it was the bicentennial year for the Lincoln cent. I'll post pictures of this and the 2012-S Silver proof set when I receive it along with pictures of my other U.S. Mint sets I have collected so far. I may even include a picture of my entire birth year set. Does anyone here collect U.S. Mint proof sets? If so, could you share the reason that you collect them? My learning curve would benefit from this information and I'm sure would help me make an informed decision as to whether collect these sets.
In closing, I received my email from the https://www.money.org/ about the https://www.money.org/wfm/news  and I'm getting a "little" excited about the prospect of traveling to Pittsburgh this coming August. I've talked to my little sister about attending with me, but she's still on the fence. She assured me that she will make a decision when she has more information also. I've only been to one coin show, and it was our local show, so I can imagine what a National show is like! Enjoy the pictures and as always, stay SAFE, healthy, and coronavirus free!  P.S. We've installed a new ceiling, so I'm trying to catch up with my collecting activities! More to come soon!
Charlie aka slybluenote