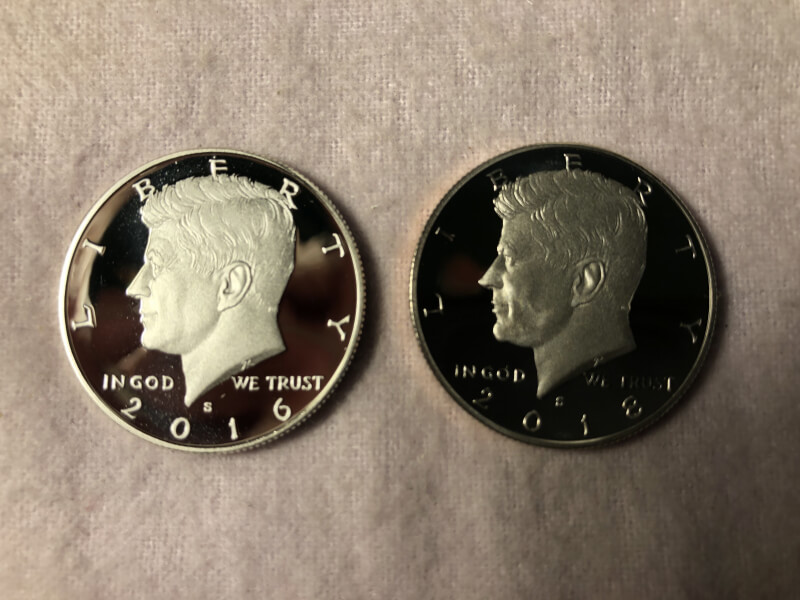 Top O' the morning folks!
     As the title suggests, I'm down to 2 coins for a complete collection of Kennedy Half dollars, and 1 of those is on order as we speak. Earlier this morning I ordered a 2017-S Silver Kennedy Half and so now the only one left to obtain is the 2018-S Silver Kennedy Half. This past weekend I have been doing a little "tidying up" my collection. It contains a total of 187 coins currently, with 2 to actually have in my hands. This also does not count the 2 "RFK" commemorative dollars and the "First Lady" medal that accompanies some of the sets. As Mokie stated in a previous post, the closer you get to the end, the more the anxiety mounts. Also of importance here is the "patience" factor, which has never been one of my strong suits! I mention this so that young numismatists will take this advice into consideration while building their collections.
     The 2 coins that I'm previewing today, I received Sat., 15 Aug. 2020. They are the 2016-S Silver Kennedy Half and the 2018-S clad Kennedy Half. Of course I paid a little more for the 2016 silver coin, $53, than I did the clad, $37. They are both very nice looking coins and I'm proud to have them as part of my collection. The 2016-S silver proof has a mintage of 419,256  of which only 3,363 have been certified. The 2018-S clad proof has a mintage of 535,221 and 12,004 have been certified. This info comes from the Mega Red which I purchased a couple of weeks ago. I got a steal from Mark Caiello (my local coin dealer) and only paid $40 for the Mega Red and also purchased Modern U.S. Proof Coin Sets for $10! So I actually got 2 books for the price of 1! I have to agree with MikeB on the Mega Red. It contains info which is invaluable to collectors for sure! It's the reason I broke down and purchased it.
     After consulting the Mega Red and of course A Guide Book of Franklin & Kennedy Half Dollars, I examined these 2 coins and decided that if I were independently wealthy, I would certainly send them off to be graded. As Long Beard stated in his blog recently, I'm just not sure the price justifies the results. And like Bama, I'm just CHEAP! LOL. These 2 coins are definitely proof 67 or higher in my humble grading opinion. Now it's back to finding the final 2018-S Silver Kennedy Half, the last one to make my collection complete. As it appears currently, I may end up having to buy the 2018 Silver Proof set. This is starting to look like it's going to be hard to find just an individual coin for sure. As I've previously said, I'll be blogging again with pictures just as soon as I finish "The Home Stretch"! Just as a side note, I saw a coin shop online advertising the other day for a set of 1997 to 2005 San Francisco set of Kennedys for $695 ! It makes me wonder if I'm sitting on a Silver mine here! LOL Stay safe, HEALTHY, and coronavirus free my fellow collectors and numismatists!
Charlie aka slybluenote