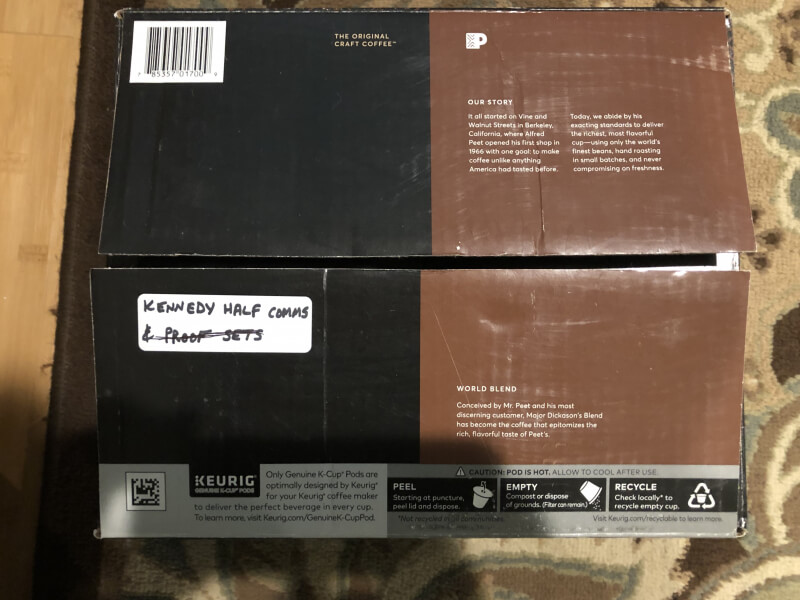 Good morning folks!
     As promised, here is a preview of my complete collection of Kennedy Half dollars. There are a couple of disclaimers though. The pictures here don't include the Kennedys that are in proof sets although the numbers stated are inclusive. I started with some 1964 coins that my granny and my step father left me. I began to get aggressive with this collection in December 2019. Unlike some sets, this collection includes all San Francisco Kennedys also. All coins not in slabs are contained in proof sets, complete with COA's.
    I'll start with my briefcase which houses 3 Littleton boxes that contain 20 coins each. Box 1 contains 1964 to 1972-S, box 2 contains 1972-D to 1979-S (Type 1) and box 3 contains 1979-S (Type 2) to 1985-P. The briefcase also contains the poster that I made to accompany this collection. I wanted it to be "Top Shelf" for my girlfriend! The total number of coins in the briefcase is 59. The next part of this collection is the 2 Red Boxes. Red Box number 1 contains 65 coins, dated 1985-D to 2003-S, silver. Red Box number 2 contains 57 coins dated 2004-P to 2020-S, gem proof, dcam. Lastly, the Coffee Box is the "crown jewel" of this collection. It contains 60 coins. The main attraction of this box is the 1998-S, matte finish along with the RFK commemorative silver dollar, the Camelot set along with another RFK silver dollar, the Presidential coin with the first lady medal, a 1987-P,    4 rolls of 2019 and 2020 P & D's, 3 graded coins (Charlie Duke included), and 11 extra coins that I purchased in error. There are 29 Kennedys that are in proof sets for a total of 207 Kennedy Half dollars in this collection.
     Another disclaimer is that I still need to post pictures of the 2018-S, silver Kennedy and the 2012-S, clad Kennedy in the "collections" portion of ANA website. For all the young numismatists out there, this just shows that it can be done with enough perseverance. Although 99% of this collection hasn't been "professionally graded" the majority of these coins are in really great condition. This collection is an item that I would be proud to display at any show! So now, if I blog about a Kennedy Half dollar, it will be a variety coin for sure. I'm considering the accented hair 1964 as we speak  :-))  Remember, storage and care of your collection is of the utmost importance!
     Until next time folks, enjoy the pictures, and stay safe, HEALTHY, and coronavirus free!
Charlie aka slybluenote