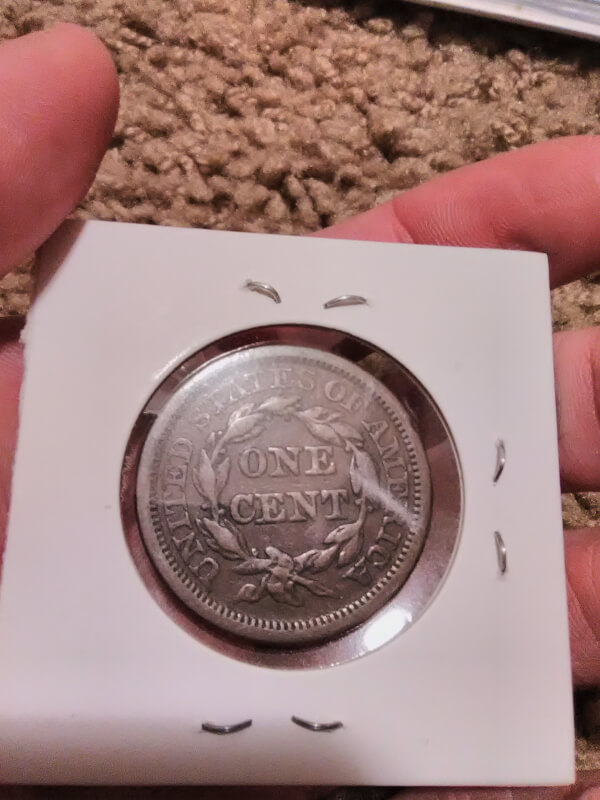 My Large Cents and Half Cent
Good evening my fellow numismatists!  Before I get into my coins, I first have an exciting announcement!  I have an article appearing in the March/April edition of the Errorscope on the 1960 D/D Cent on page 25.  Keep a close eye out!!  
Now for my coins.  I recently completed the first few requirements for my EAC (Early American Copper) Project the ANA makes available to us YNs.  If you have not completed it, I highly suggest you do.  This meant that my previously rough Large Cent type set was in for a massive upgrade.  I sent in my forms, and got my coins within the same month.  I received an 1824 Coronet Cent, an 1845 Braided Hair Cent, a 2000 Steam Press Commem with BEAUTIFUL toning, and a Coronet Cent reference guide that goes over the different errors/varieties that exist in every year.  I was able to use this book to identify the date of a cull Coronet Head Cent that I was later able to sell for a $20 profit at $50 due to the rarity of the date.  (It was an 1817 15 star).  I also couldn't help but show you all my cull Draped Bust Cent, as well as my new 1864 2-Cent Penny.  
While my cull Draped bust is not the most pretty coin I own, it IS special.  My budget is extremely low, and this was about all I could afford.  I got this coin in a trade with a fellow YN, and am very happy with my purchase.  I have tried for hours on end to figure out the date, but I was not able to come up with anything concrete.  I believe it is from the 1790's but cannot figure out the last digit.
The 1824 Coronet Head is in very nice condition, although it seems like it was cleaned.  It has a subtle pink coloration that appears to me to be chemical residue, however it could simply be toning.  I plan on investigating this coin much more carefully.  Unfortunately, It has no special varieties or errors,  but it is the best condition Coronet Head Cent that I own.  

The 1845 Braided Hair Cent is in WONDERFUL condition.  I have put it at around 40 or so.  I have yet to pull out my loupe for it, so that number might be off.  Regardless, it is a wonderful coin with an amazing strike.  It has a low mintage of 3,894,804, and I love this coin with all my heart.
I am normally not that interested in commemoratives (although I have a healthy bid on one of the commemorative coins for the monthly YN auction) but I like this 2000 Steam Press Commem. for the amazing toning it has.  It is my favorite toned piece I own, however that 1970-S Proof cent for last month's YN auction comes in as a pretty darn close second.
The 1864 2-Cent Piece is another favorite of mine.  I love obsolete denominations in coinage, and it is from the Civil War era.  On top of this, the 1864 2-Cent was the first coin to debut the motto "In God We Trust" which was added in light of the Civil War which had just barely concluded, leaving a battered, broken, and bruised nation in its wake.  Some would argue that the US took decades to recover.  
Thanks for reading, and thanks to all those who donate to the ANA (both coins and money) for making things like the EAC Project and YN auctions possible.  We recognize you out there!  Have a good weekend, and stay safe!  Catch ya later!