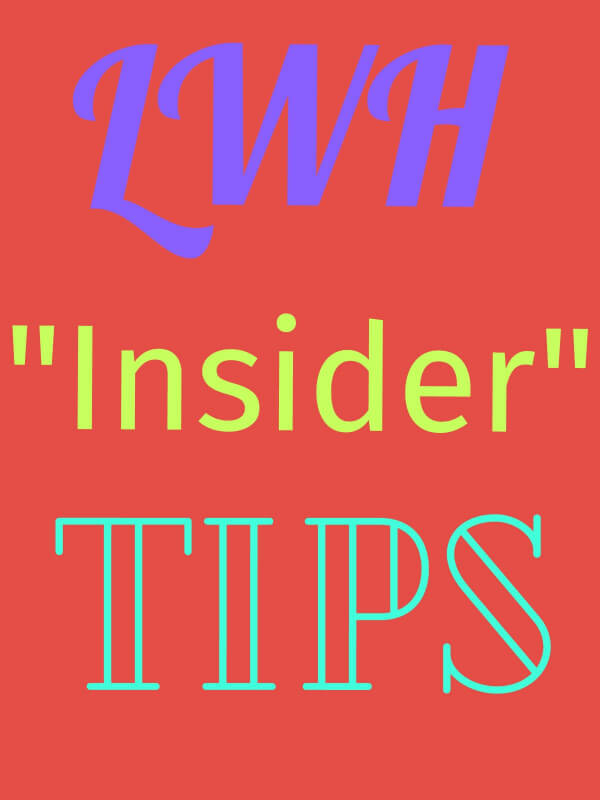 LWH "Insider" Tips; ANA Member Blog, Part One
Before proceeding to the blog, let me say, sorry that this blog is appearing a day after my last; however, I originally planned yesterday's blog to appear earlier this week, but conflicting events meant I was unable to do so. I am publishing this today, it's regularly planned date, in a hope to get back on schedule. Part two will probably appear either Sunday-Monday, or possibly next Friday, it depends, and my other blog series will continue it's once a week installments. So sorry if it seems a little much, but it should cool down soon.
This is part one of a two part blog
Welcome to the official "LWH 'Insider' Tips", though granted by "Insider" I mean that I am merely an ANA website user, or in other words, inside the ANA community. Anyhow, whatever you decide I really am, I still intend to convey a few 'tips' and suggestions. These are aimed at the new ANA website user, occasionally for YN members specifically, but on the whole to all new users of all ages will the advice apply. While these tips are aimed at the new user, anyone can read them, comment on them, possibly adding a few related ones of their own in the comments, and of course, use them. No one is obligated to make use of my tips, I am merely putting them out there for the benefit of those who wish to employ them.
Today's tips are not the only ones. There will be(presumably) future "LWH 'Insider' Tips" blogs on other topics. Now having completed the introduction to the series, let's proceed to this blog's tips.
You may have noticed, or heard of, the ANA member blog. This is where any ANA member user can publish blogs on numismatic related topics. A great way to share experiences, knowledge, and experiences, along with learning from other members blogs, publishing a blog is definitely something ANA users should all try to do. A very beneficial aspect of the ANA website, the ANA member blog is a brilliant thing for all users. Now let's proceed to the "LWH 'Insider' Tips" for using the ANA member blog.(Please note, the numerical order of the tips do not denote anything to do with ranking)
1). Read the "ANA terms and conditions" before publishing.
This is important to ensure that you are abiding by the simple rules for publishing blogs on the ANA website. For example, there have been cases where users attempted to use blogs to sell/advertise products, which, even if the product is numismatic related, is against one of the terms put forth in the "ANA terms and conditions". It's easy to follow the reasonable rules, just make sure you know them.
2). Keep an eye on recent posts by other users.
Even if you don't consistently read other blogs, at least pay attention to the topics of them. One thing you do not want is to publish a blog that is dramatically similar to a recent one. Granted, this is not as big a deal on broad subjects, or things like sharing experiences, but if it is a more specific, generally researched, informative blog for instance, then writing immediately on that topic after another member just did does not appear good. An example would be; if a user publishes a blog the life and work of James B. Longacre, and then you proceeded to publish a blog shortly afterwards on the same topic, it would not look good. An example where it would not be an issue repeating a topic(so long as you published an original blog, not an imitation) would be; if a user publishes a blog on their opinion of the design of the Washington quarter, and shortly afterward you expressed yours in a blog you publish. Basically, if it is on personal experience(like how you began collecting) or opinion, then repeating the topic is fine. But if it is a research/informative 'fact' blog, then do not repeat the topic unless you have the authors consent. In order to avoid to appear as 'stealing' blog ideas/topics, always pay attention to recent posts by other users.
3). When possible, provide a bibliography.
If you have employed resources other than your brain, which is perfectly fine and generally considered diligent work, you always should mention them, whether at the end of the blog in a formal bibliography, or when information from the resource is used in the blog by stating it inside the symbols, ( ). Either way is fine, though if there are numerous times where a resource is employed, than a bibliography at the end of the blog would be simpler. Providing a bibliography of either form is important, for besides helping your readers who wish to further read on the topic, credit is given where credit is due, safeguarding yourself against accusations of plagiarism. Resources are great, just ensure you always mention them when used.
This concludes part one; part two will be here soon!