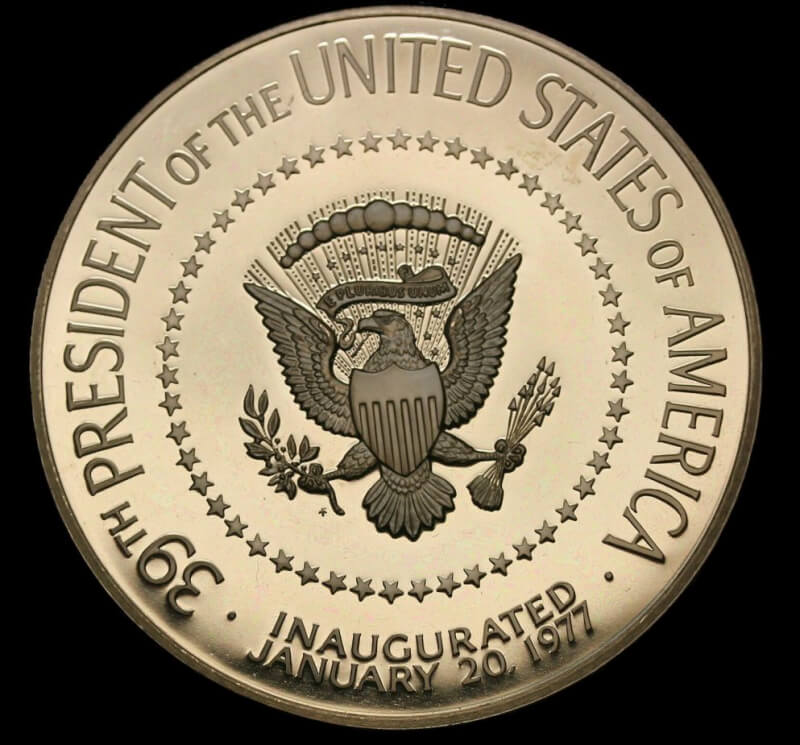 Coin Thoughts #90 by "SUN"
OFFICIAL JIMMY CARTER INAUGURAL MEDAL

Discouraged by Franklin Mint's bidding war for the 1973 Nixon Inaugural Medal (See Coin Thoughts #86), The Medallic Art Company did not try hard to win the contract to strike the medal.  Franklin Mint realized that it paid more than $300,000 too much for the 1973 Nixon contract, offered $500,000 to the Carter Inaugural Committee, thus winning the contract.  Georgia sculptor, Julian Hoka Harris, had started working on the medal portrait even before Jimmy Carter was elected.  Harris chose to show the new President in a contemplative mood, without his famous smile.  Just over 50,000 bronze medals were produced in antique or proof finish. This medal and the 1973 Nixon medal were the only Official Inaugural Medals struck by the Franklin Mint.

Designer:  Julian Hoka Harris
Company:  Franklin Mint
Mintage: 70mm bronze, 29,801 Proof   
                                                       21,633 Antique                                                                                                                                                                                                                                                      
References:
Collector's Guide Presidential Inaugural Medals  and Memorabilia by H. Joseph Levine
The President's Medal 1789-1977 by Neil MacNeil