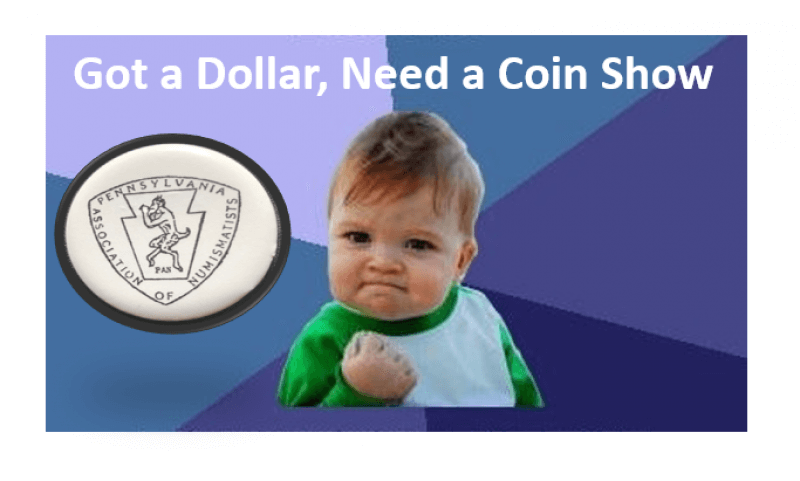 What are You doing this Mother's Day Weekend???
| Mokie
Well it's a little late this year, the show begins in only about 49 hours but here is my Top Six reasons you should attend the Pennsylvania Association of Numismatists spring show on May 6th, 7th, and 8th.
1.         Covid protection protocols will be in place, all attendees will have their temperatures taken by a registered nurse, all attendees, volunteers, and dealers will be masked, and the bourse will be well spaced to facilitate social distance. 
2.       Benjamin Franklin will be in attendance and will speak about "Ben Franklin at Independence Hall" on Friday and Saturday.  Ben is also available for selfies and autographs. 
3.     Some character named Malcolm Johnson will speak about the "Irradiated Dimes of the Atomic Age" on Friday.  This presentation has been recently expanded to cover our nation's experience during the early days of the Cold War.  
4.      We will have 150 dealers present with a wide variety of items from currency, to slabs, to medals, for the discerning collector.  ANACS will also be present to slab your treasures at their usual value pricing. 
5.       The fabulous PAN KidZone will still be following Covid protection protocols but that will not prevent our 50 lot KidZone auction or distribution of Lincoln Cents and Lincoln Folders.  In case you don't know, the Kids use free auction dollars they earn for various things.  The bidding can be very spirited. 
6.       As always, Parking is FREE at the Monroeville Convention Center and entry to the show is also FREE.  I think we can all agree that the price is right.
The Venue:   Monroeville Convention Center, 209 Mall Blvd, Monroeville, PA  15146
The Time:       6  May - 12PM to 6PM    7  May - 10AM to 6PM    8 May  10AM to 4 PM
The Purpose:    Fun and Numismatic Fellowship
So make it a memorable Mother's Day Weekend and Bring the Kids as well.  We're going to have a blast!!!