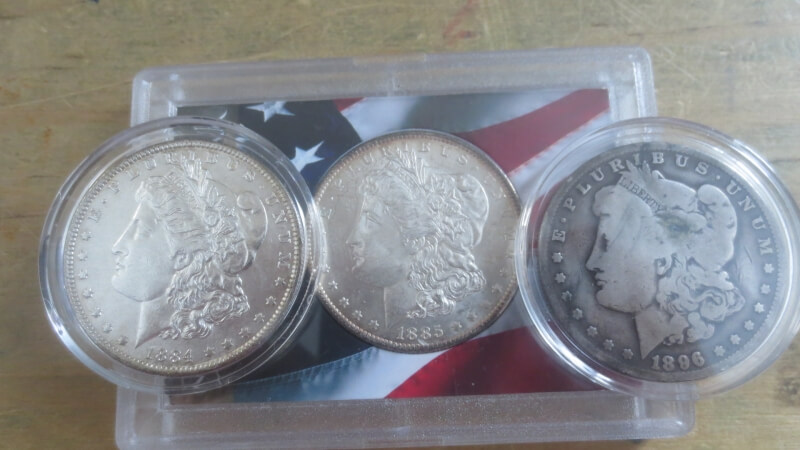 I am new to ANA but I have been a collector for 19 months, so I want to show you guys what's in my collection:
In the cover picture, I have my three 'O' Morgan Dollars, dated 1884-O in VF, 1885-O in AU-55 or 58, and 1896-O in AG-3.
The next picture is my Proof Set of Westward Journey Nickels.
The next picture is some of the best coins in my collection: 1973-S Proof Set; 1905-O Micro o Barber Dime, BU Jefferson Nickels, dated 1941 and 1946, and crusty 1853 Large Cent in F-12 condition, and a couple of other ones.
The last picture is my Coins of the Twentieth Century Folder, where I have an 1883 IHP, 1941 BU Wheat Cent, 1943 AU Steel Cent; 1960 BU Memorial Cent, 1912 VG V Nickel, 1936 Buffalo Nickel, 1965 BU Jefferson Nickel, 1943-S War Nickel, 1914 F-15 Barber Dime, 1944 F-15 Mercury Dime, 1946 VF/XF Roosevelt Dime; Dateless 'S' SLQ, 1964-D AU Silver Quarter, 1964 and 1967 Halves, 1902 Morgan Dollar, 1972 and 1976 Eisenhower Dollars, and 1979 and 2000 Dollars.
Other coins in my collection are 3 Barber Dimes, 3 Mercury Dimes, 6 Roosevelt Dimes, 2 Washington Quarters (Silver), 300 Wheat Cents, 1 Shield Nickel, 50 Liberty Nickels, 95 Buffalo Nickels, 11 War Nickels, and about 100 Other Coins.