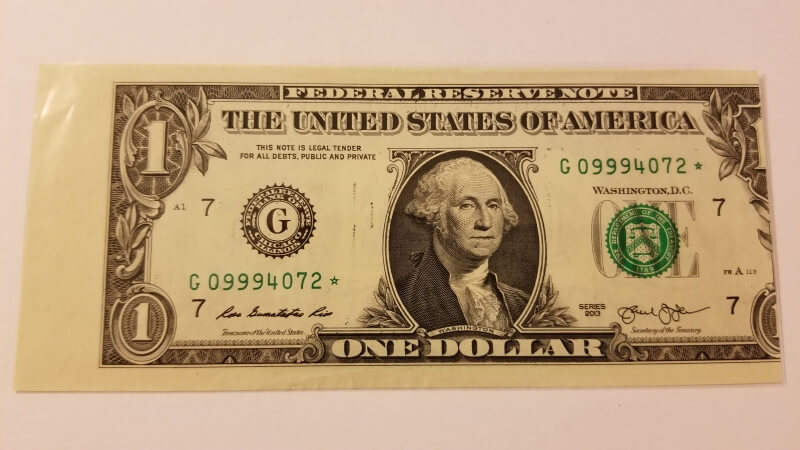 2013 Star Note Major Misaligned Front and Back
Recently, when breaking down BEP banded dollar bills, I found a major misaligned 2013  Star Note Dollar bill. The bill is misaligned both front and back.  It's serial number is G09994072* . Luckily it was next to 2 other, normally aligned,  star notes with sequential serial numbers to the misaligned star note. The other note's serial numbers are as follows, G09994070* , and G09994071*.   As I continued breaking down the banded dollars, I found that each $100 band (of the $1000 brick) each had 3 star notes in it. Thankfully, I was able to acquire all 30 bills for my collection(G09994070-4072 through G09994970-4972)! I began to struggle in determining the bills value. I could not locate any information on a misaligned bill both front and back let alone a misaligned star note.
I took the bills to a local coin and paper money shop to get some help in figuring out their value and ran into another hurdle. The employee conferred with  everyone in the shop and, after reviewing a spiral bound book on mint errors, indicated that the bill only could have been made by cutting an uncut sheet.  I told him my story and after explaining how I was the one that cut the wrapper off the BEP brick before counting the bills, he believes the bill needs to be graded and authenticated  before it can be valued.
So before I send in my bills to be graded, I am looking for some recommendations. I'm certain of the authenticity of the bills both from my personal experience finding the bills, and knowing that the star notes in each sequential series came from 3 different sheets of replacement notes. I am interested in having the bills graded together either with it's sequential bills, or sister sheet notes. What do you guys and gals recommend? Also, any recommendations on further information to have to build my authenticity case would be greatly appreciated!
Thanks for reading!!!Charles
UPDATE! I was able to finally upload pictures to help clarify the story. Also, I ended up acquiring the banded singles that led to the discovery!