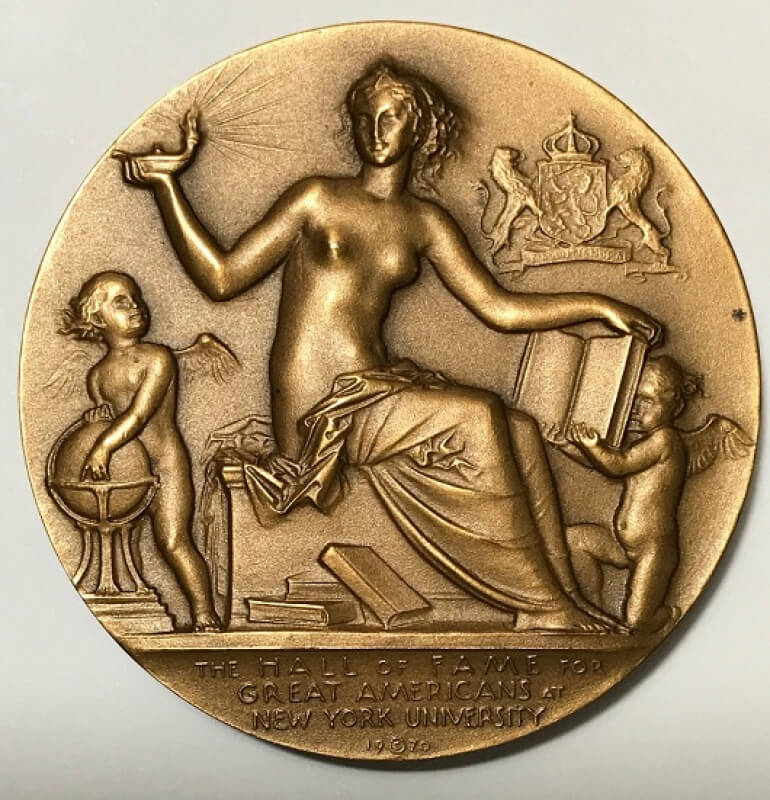 C. Paul Jennewein's Medals
C. Paul Jennewein's life as an artist is a classic success story. As a clever young boy in Germany he was apprenticed at 13 to sculptural artisans where he rapidly learned the techniques of casting, modeling, and painting. His life from then until his death in 1978 at age 87 was marked by a series of artistic accomplishments.
Several of his medallic works, including the inaugural medal for President Truman, are collector's treasurers. He sculptured some medals to the Hall of Fame for Great Americans at NY University Series, one of them, the "John Lothrop Motley Medal" (1970).
John Lothrop Motley (1814 –1877) was an American author, best known for his two popular histories The Rise of the Dutch Republic and The United Netherlands. He was also a diplomat, who helped to prevent European intervention on the side of the Confederates in the American Civil War.
He used "Cleo, the Muse of History" to represent the work of Motley. In her hands, she holds the symbol of literature, the book and candle. The globe denotes his many travels. The Netherlands Coat of Arms signifies his great interest in that country