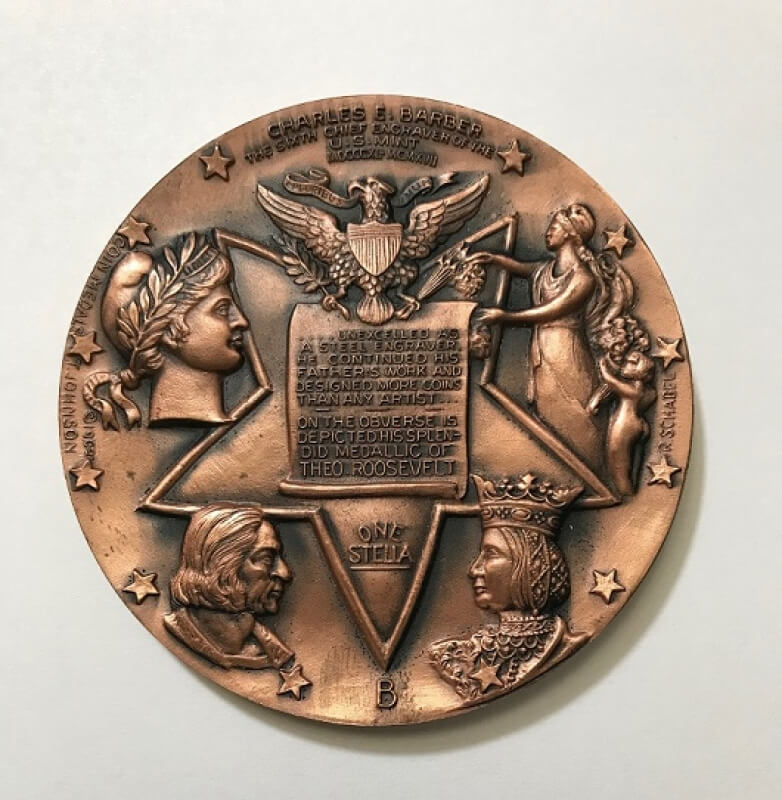 Charles E. Barber Commemorative Medal
This medal was issued to commemorate and honor Charles E. Barber, a master steel engraver and the sixth Chief Engraver on the U. S. Mint in Philadelphia.
The reverse of this medal shows depictions of the familiar "Barber Head", and other symbols relating to Barber. His Columbia is shown casting flowers to this medal to commemorate him, while originally she cast them on the opening of the Panama Canal. Queen Isabella of Spain is shown, the only foreign monarch ever portrayed on a United States coin. While a six-pointed star has always been used on U.S coins, Barber was the first to use the five-pointed star on his 1879 $4.00 coin, and later on the reverse of his 1892 coin series. His initial B is found as a very small letter on his coins, but most of his medals bear his first initials and last name in full.
The sculpture modelling and die-engraving on the Barber medal were done by Robert Stephan Schabel.
The Barber medal was planned and designed by Toivo Johnson.
This medal was struck in the shops of the Medal Arts Company in Rochester, New York in 1962.