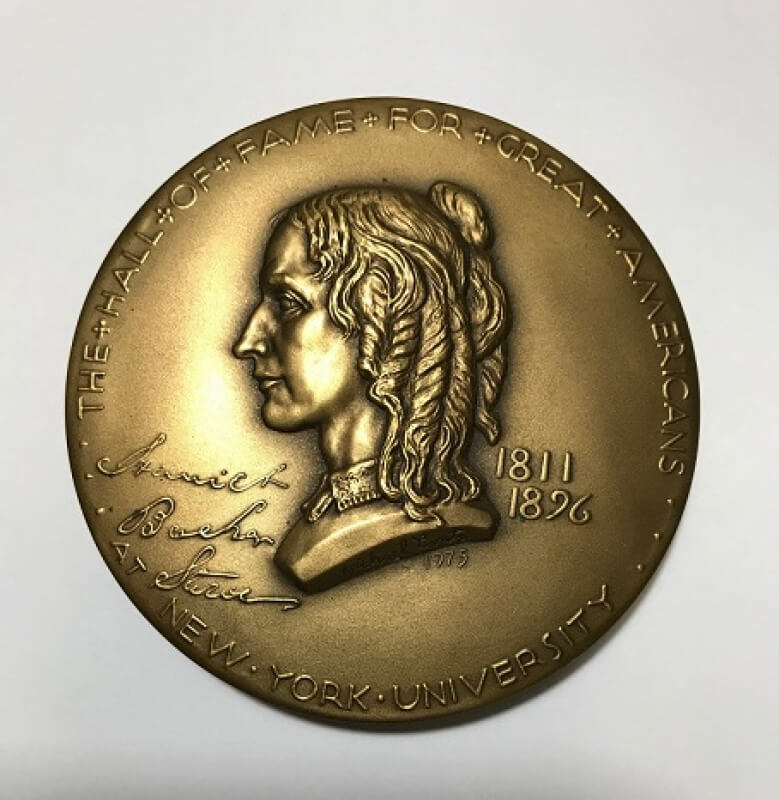 The Harriet Beecher Stowe Medal
"The little woman who started the Big War"
That was what Abraham Lincoln called Harriet Beecher Stowe, author of "Uncle Tom's Cabin", the famous novel which bitterly slavery in 1852. Within five years it sold half a million copies in the United States. It was also in great demand in England, and eventually was translated into many languages.
A medal honoring Harriet Beecher Stowe was issued by the Hall of Fame for Great Americans in New York University as a part of a series of medals commemorating each of the immortals enshrined there.
The medal was minted by the Medallic Art Company from a design by Michael Lantz, noted artist and former President of the National Sculpture Society. The medal bears a sensitive portrait of Harriet sculptured in high bas-relief. On the reverse is the moving figure of a freed slave girl, who is lifting her arms to the heavens, looking toward a bright future; in the background are the whip and a chains from which she has been unshackled.
The medal was struck in both silver and bronze editions.
Source: The Numismatist, September 1976