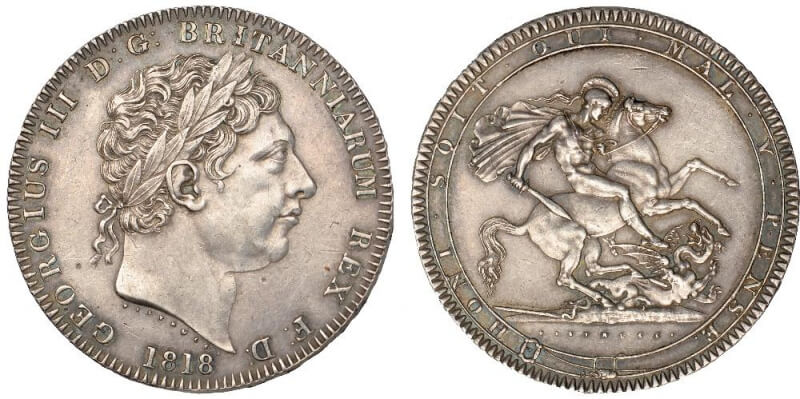 Benedetto Pistrucci and the Waterloo Medal
This is a re-write of a blog I wrote about 2 years ago.á

The Battle of Waterloo was fought on Sunday, 18 June 1815 near Waterloo in Belgium, part of the United Kingdom of the Netherlands at the time. A French army under the command of Napoleon Bonaparte was defeated by two of the armies of the Seventh Coalition: an army consisting of units from Britain, Ireland, the German Legion, the Netherlands, Hanover, Brunswick and Nassau, under the command of the Duke of Wellington, referred to by many authors as the Anglo-allied army, and a Prussian army under the command of Field Marshal Bl├╝cher. The battle marked the end of the Napoleonic Wars.
On 28 June 1815, ten days after the Battle of Waterloo in June 1815, the victorious general, the Duke of Wellington proposed to Frederick, Duke of York that bronze medals be presented to the British soldiers at Waterloo, silver to their officers and gold to the sovereigns of the victorious nations, and to their generals and ministers. Wellington's brother was William Wellesley-Pole, the Master of the Mint, and Wellesley-Pole at once ordered designs prepared for the soldiers' medal. In early 1816, it was decided that officers and soldiers alike would receive their medal in silver, and it was produced in large numbers by the Royal Mint for the military. The Royal Academy was taxed with recommending a design for the gold medal; they selected a sketch by Sir John Flaxman, but no action was immediately taken.
In 1816, George, Prince Regent (later George IV), pressed the idea of a commemorative medal to be presented to the victorious generals and national leaders of the Battle of Waterloo. It was decided to give this medal in gold to the heads of state and in silver to the victorious generals. Others to be honored would receive the medal in bronze. Flaxman's design was to be used.
Wellesley-Pole in 1819 instructed Benedetto Pistrucci to engrave Flaxman's work to make steel dies for the medal. Pistrucci, an Italian who had come to Britain in 1815, was performing the duties of Chief Engraver of the Royal Mint. He believed he had been promised the title, which as a foreigner he was ineligible for, and this would be a longtime grievance for him. Pistrucci refused to engrave Flaxman's model, unwilling to copy the work of another artist. This refusal angered the Royal Academy. Pole instead asked Pistrucci to prepare a design of his own, and in a day, he had produced wax models, about which the Prince Regent was enthusiastic. In August 1819, Pole received instructions from the Treasury to employ Pistrucci to produce the medal. The fee was £2,400, to be paid in installments. Pole promised an advance that would allow Pistrucci to bring his family from Rome.
A little history of Benedetto:
Benedetto Pistrucci was born in Rome on 24 May 1783, second child and son of Federico Pistrucci, Senior Judge of the High Criminal Court under the papal government, and Antonia. His elder brother Filippo displayed artistic tendencies from a young age, but Benedetto showed mainly a disinclination to study. Federico Pistrucci wanted his sons to follow in his footsteps and sent them to Latin schools. Benedetto began his education in Bologna, where the family had property, but the Pistrucci family was forced to move to Rome in 1794 when Napoleon invaded Italy, and the boys were enrolled in the Roman College.
á
Napoleon had put a price on Federico Pistrucci's head, as he had prosecuted Bonapartist rebels, so the family fled Rome when the French advanced towards it, stopping in Frosinone, where the boys were again put into an academic school. Filippo satisfied his father with enough academic achievement that he was allowed to take a job with a painter named Mango. Deprived of his brother, Benedetto became despondent and was eventually allowed to work at Mango's. There, he quickly displayed his artistic talent. Mango told Benedetto of his brother Giuseppe Mango, a cameo engraver in Rome. With the Pope and the French having made peace, the family was able to return there, and Benedetto Pistrucci began his training as a cameo carver. He advanced quickly, also taking lessons from Stefano Tofanelli, and soon Giuseppe Mango was selling Pistrucci's carvings as his own. Realizing that his works were being sold as counterfeit antiques, Pistrucci began placing a secret mark, the Greek letter ╬╗ (lambda) on his creations.
Pistrucci's obvious talent made his fellow apprentices envious, and one provoked a fight with him, stabbing him in the abdomen before Pistrucci fended off the attack. Recovering at home, he taught himself to model with wax.[4] Federico Pistrucci decided his son would be better off with a new master, and secured a position for him with Giuseppe Cerbara, but the boy refused, believing that he would have to work in poor conditions. A place with gem-carver Nicolo Morelli was secured, and Pistrucci also attended the scuola del nudo art academy at the Campidoglio, where in 1800 he took the first prize for sculpture. Pistrucci felt Morelli was seeking to profit from his ability while giving him little training, and left his position at the age of 15. He continued working but from the family home. He was able to pay rent, as he had ample commissions for cameos.
Pistrucci's early clients included two of Rome's major art dealers, Ignazio Vescovali and Angelo Bonelli, and Napoleon's three sisters, Elisa, Pauline, and Caroline. Pistrucci gained prominence by winning a competition to make a cameo of Elisa (the Grand Duchess of Tuscany), working nearly nonstop for eight days to complete it. The Grand Duchess was so impressed by the work that she gave him studio space at her palace. Pistrucci felt secure enough with this patronage that in 1802, he married Barbara Folchi, daughter of a well-to-do merchant. He continued working in Rome, turning out portrait cameos and engraved gems, until 1814.
Bonelli returned from a successful trip to Britain in 1814 and proposed that Pistrucci go back with him, arguing that the artist's future was there. Pistrucci was willing, and after making provision for his family left Rome with Bonelli. They first stopped in Perugia so that Pistrucci could say farewell to his brother Filippo, but found him willing to accompany them. By Turin, Filippo Pistrucci had decided that Bonelli was not to be trusted, and so informed his brother. When they reached Paris in December 1814, the brothers refused to accompany Bonelli further, and after making threats, the dealer departed. Filippo soon returned to Italy, but Benedetto Pistrucci found his name and art were known in Paris and set to work. He was there when Napoleon returned from Elba, beginning the Hundred Days, but worked on, unaffected by the war. He saw Napoleon in a garden, and always having a ball of wax with him, quietly modeled the emperor, the last portrait of him done in Europe. After the Battle of Waterloo in June 1815, Pistrucci began preparations to move on to Britain, but it was not until 31 December that he arrived there.
On arrival at Dover, Pistrucci had difficulty with Customs, possibly caused by Bonelli's malice. Once he was able to, he journeyed to London. He had letters of introduction to several people and Charles Konig, Keeper of Minerals at the British Museum proved a loyal friend. Through Konig, Pistrucci met the famous naturalist, Sir Joseph Banks, who commissioned the artist to do a portrait of him. While Banks was sitting for Pistrucci, the connoisseur Richard Payne Knight came by, anxious to show Sir Joseph a cameo fragment he had purchased, and which he dated to Ancient Greece. After Banks praised it highly, Pistrucci, on examining it, identified it as his own work, displaying the secret mark he had placed on it. The incident increased Pistrucci's reputation in London.
Sir Joseph commissioned Pistrucci to craft a cameo of King George III. As the King was ill with porphyria, Pistrucci modeled the likeness from Marchant's three-shilling bank token, and cut it in red jasper for a fee of 50 guineas. Banks showed the cameo to William Wellesley-Pole, elder brother of the Duke of Wellington and the Master of the Mint, who was greatly impressed by the quality of what he saw. At this time, the Royal Mint was preparing to issue new gold and silver coins as part of the Great Recoinage of 1816, and in June of that year, Pole decided to hire Pistrucci to make models in stone for the new coinage that could be converted into steel dies by the Mint's engravers.
This was the start of a long career at the mint. In addition to the Waterloo medal, Pistrucci designed many of the coins in circulation including the Sovereign which still uses his Saint George and the Dragon design on the reverse. He also accepted numerous commissions for medals and cameos while employed by the mint.
Roderick Farey, in his biographical articles on Pistrucci, described him as "an Italian with a fiery disposition, he had numerous arguments with the authorities but no-one could doubt his genius firstly as a cameo cutter and later as an engraver and medalist." Partly due to his difficulty to get along with his superiors, Pistrucci frequently felt like he was on the verge of having his position terminated. He believed that when the matrices for the Waterloo medal were completed that he would be terminated. Whether or not this is the reason that it took 30 years for him to complete the project is open for debate.
When they were completed, the matrices were so large no one at the Royal Mint was willing to take the risk of hardening them and possibly ruining three decades' work. So only soft impressions were taken, with no medals in gold, silver, and bronze as intended, though replicas have since been minted from other dies. Even if the government had struck the medals, there was almost no one to present them to, for of the intended recipients, all were dead but the Duke of Wellington.
I have included images of some of his other works including early cameos. The cameos are typically only found in museums.
á
Sources:
Wikipedia
Benedetto Pistrucci: Engraver & Chief Medallist of the Royal Mint 1783-1855 by Michael A. Marsh