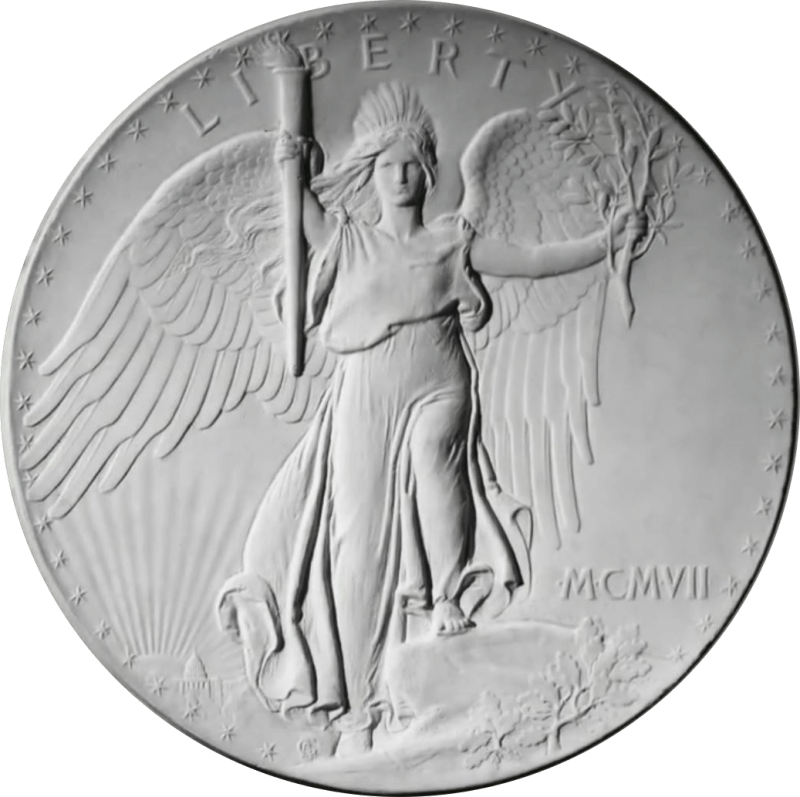 The Saint-Gaudens Double Eagle has quite arguably been the most beautiful design of all United States coinage. To fully appreciate the exquisite beauty, it's simplicity to convey what we as a nation represent upon the world, I present a reflection of the man behind this timeless coin. Enjoy!
Augustus Saint-Gaudens was born March 1, 1848 in Dublin Ireland, of French-Irish decent, and immigrated to the United States with his parents around six-months of age. As a teenager he apprenticed with a jeweler carving cameos of stone, crystal and gem while attending the Copper Union and National Academy of Design in New York City. Both of which still operate to this day. These pieces of jewelry, his first creations as an acclaimed future sculptor, are highly collectible and prized in their own right.
At the time, American art and design was of a Neoclassical theme. While beautiful to behold, it lacked life and movement which conflicted with his visions of what art should be. With most artists travelling to Italy to further their education and studies, Augustus left New York for Paris in 1867. There, he apprenticed with renowned French sculpture, Francois Jouffroy  until unrest from the decades long Anglo-French Wars forced him to travel to Rome Italy in 1870. Furthering his studies  and works, he met his future wife Augusta Fisher Homer, a deaf American Artist, before returning to New York in 1874 where the two would wed on June 1, 1877.
Once again, although much more educated, he began collaborating with other well-known artists of the time. One of his first solo commissions came from prominent New York reformer Edward Pierrepont who requested a bust of himself with a larger than life head. Which Augustus had done but regretted, later on proclaiming that he'd like to get it back and smash it to pieces. His first real work as a sculptor in the United States came in 1876 winning a commission for the Admiral David Farragut Memorial now in Madison Square Garden. Yet again, travelling to Paris where more skilled artist were available to assist on the sculpture at 49 Notre Dame des Champs, Paris. 
Now a nationally known American Sculptor, with many other works to his resume including the famous high relief Robert Shaw Memorial in Boston, little had he known that his namesake would soon span decades and beyond.
The medal pictured is that of President Theodore Roosevelt's 1905 Inauguration created by Saint-Gaudens at the President's request and struck by Tiffany and Company of New York, not the United States Mint as was common. Two were struck in gold, 74mm, and the remainder in bronze. As I am still further researching the subject, I believe this to be the first sculpture created by Augustus Saint-Gaudens in coin format. What ever the case may be, the reverse should be familiar as it is that of the Indian Head Ten Dollar gold. Also of importance for the medal, Saint-Gaudens was designer and sculptor while Adolph Weinman engraved it. Now that's a collaboration!
While I could have expanded tremendously on this fascination individual, simply put- space constrints. What I will add, which is highly unknown in the collector community, is that during that 1905 dinner between the two men discussing a coinage redesign, they discussed a change to the One Cent as well. One can only imagine the possibilities if that had come to fruition instead of the Lincoln design. None the less I hope that this blog insipired you to further examine this or any subject behind the coins you collect. Thanks so much for reading!     
Updated 2/25- One of several obverse designs, this one done in 1907 which I like quite a bit.