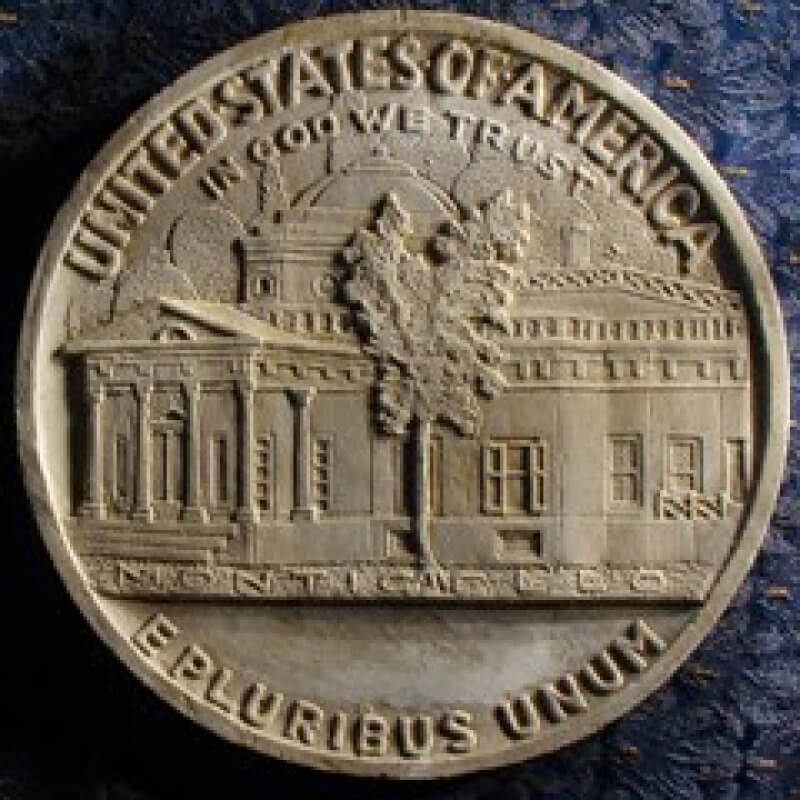 With the release of a West Point (W) mintmark, in three finishes, a first ever in the 82 year series run, this weeks blog topic touches on the creation of the collectible Jefferson Nickel. No other currently struck series has had more design changes, seven in total. With four finishes and four mintmarks. Not to mention numerous varieties and errors, this series offers collectors many possibilities. A series which is fairly easy to complete in mint state grades on nearly any budget. If you haven't, why not start a collection today?   Enjoy!
To understand how a new nickel, and Thomas Jefferson's name attached to it, exists an examination of the years leading up to 1938 must be addressed. From the beginning, in 1913, the Indian Head (Buffalo) Nickel had been plagued with striking problems. Much of the detail, particularly that of the Indian's hair and the horn of the buffalo, had been lost primarily due to the hardness of nickel as a metal. Dies rarely lasted long, often breaking in the process. As the mint tried numerous times to refine these characteristics, or lack thereof, over the years this only compounded matters with even further stresses. With mint officials frustrated and wishing to redesign the nickel all together, little could be done without an act of Congress. Contrary to our current belief towards the Buffalo Nickel, the general public at the time found little enthusiasm in them as compared with today. As 1938 approached, whether the desire came from Mint Director Nelly Taylor Ross or then Secretary of the Treasury, Henry Morgenthau, Jr. to apply the Coinage Act of 1890 for a complete redesign, remains a mystery. That act clear states in section 3510 that the United States mint and the Treasury Secretary may, after 25 consecutive years, change the design of coinage without Congressional approval.
And so, in January the mint began a nation wide artist competition to design a new nickel with the winner receiving a $1,000 prize. German born Felix Shlag would win the competition with designs the newly elected President, Franklin D. Roosevelt highly praised. After all, Roosevelt was a tremendous admirer of Thomas Jefferson. While the Commission of Fine Arts approved his designs, the mint was somewhat reluctant. As trial pieces were being struck, by July, the mint had modified the reverse from it's three-quarter view to a more straight on and removed the palm tree, which they felt did not belong. As such, this popular collector series has endured nearing a century as it is highly unlikely to be retired any time soon.   
As for myself, I have a complete 1938 to current business strike set and near complete mint set/proof set run. Lacking only the matte proof found only in the 1997 Botanical Gardens Coin and Currency set. What do you have?