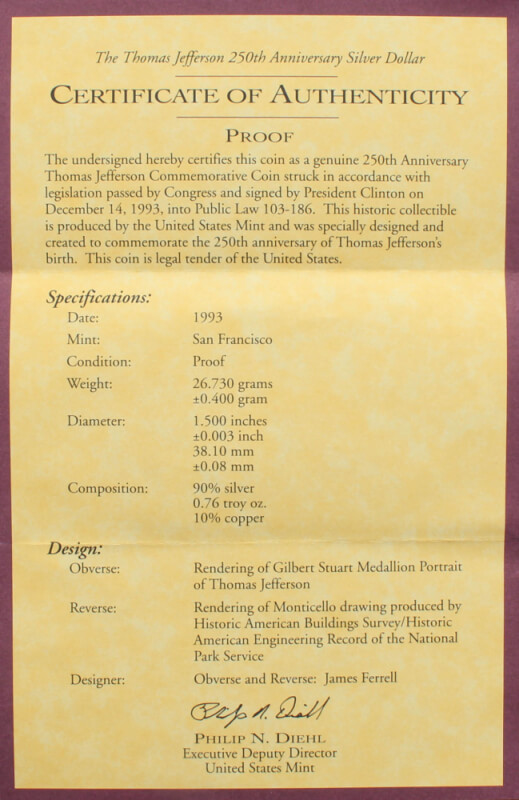 250th Anniversary of Thomas Jefferson's Birth Commemorative Coin
1993, 250th Anniversary of Thomas Jefferson's Birth, April 13, 1793
My wife and I went to vote today.  Reflecting on doing so, I thought of this Man, what he stood for and the many accomplishments he achieved, both during his life and his legacy after.  My Spousal Unit bought me this coin for my birthday this past summer, she knew it was a coin I had always wanted, yet somehow never purchased.
The 1993 Thomas Jefferson Silver Dollar was actually issued in 1994 although the coins are dated 1993. 
Commemorative coin programs are created by acts of Congress to honor a person, place, or event.  Surcharges from the sales of these coins help fund a variety of organizations and projects that benefit the public.  Commemorative coins are only available from the United States Mint for a limited time, as specified by public law.  In the case of this particular coin, public law 103-186.
Engraved by T. James Ferrell, the obverse design of the coin features an image of Thomas Jefferson that was based on the medallion portrait by Gilbert Stuart.  Obverse Inscriptions; THOMAS JEFFERSON, ARCHITECT OF DEMOCRACY, IN GOD WE TRUST, 1743, 1993, LIBERTY
The reverse of the coin features a rendering of a Monticello elevation drawing produced by the Historical American Buildings Survey/Historic American Engineering Record of the National Park Service. Reverse Inscriptions; UNITED STATES OF AMERICA, MONTICELLO, E PLURIBUS UNUM, ONE DOLLAR.
Minted in San Francisco, Composition; .900 silver, Weight; 26.73g, Diameter; 38.1mm, One Dollar Silver Proof; 332,891, One Dollar Silver Uncirculated; 99,224.
In addition, the US Mint offered a special Coin & Currency Set to highlight Jefferson's role in creating America's decimal coinage system.  This set contained the uncirculated Silver dollar, a matte proof Jefferson Nickel, and a 1976 $2 bill, the coins were minted in Philadelphia, 167,703 of these sets were sold. 
Now the surcharges garnered from the sale of the first 500,000 coins issued were to be distributed to the Jefferson Endowment Fund to:  Maintain and support Monticello & its historic furnishings. Surcharges received in connection with all other sales were to be distributed to the Corporation for Jefferson's Poplar Forest, to be used for the restoration & maintenance of the Forest. 
1993-1994 were busy years, as the US Mint issued Commemorative Coins in eight different programs.  This explosion in the number of Commemorative Coins issued per year, led to slower overall sales for each of the issues.  Several of the coins issued during this time carry premiums due to low mintages, a direct result of too many choices, not enough buyers. 
Thomas Jefferson being known for his ability with words actually wrote the first draft of the Declaration of Independence.  It was said "If Washington was the sword of the American Revolution, Jefferson was the pen".  He was the third president of the United States, the first Secretary of State, a diplomat, an architect, a musician, a scientist & inventor.  A strong believer in religious freedom & public education, a founder of the University of Virginia and a lifelong patron of learning & the arts.  He lived to be 83 years old and was a man of complex political and personal views, an idle man he was not!
He was always considered a Common Man's advocate, was opposed to slavery even though it is estimated he owned between 100 - 200 slaves and even proposed slavery be abolished in his home state of Virginia, it failed.
He has been quoted many times on many different subjects.  Most, although certainly not all are compelling quotes.  I strongly encourage any who are interested in reading to do a bit of research on this subject.  His views were sometimes controversial, but always thought provoking.  The only other person I enjoy reading more is Thomas Paine's Common Sense.  
In closing, Thomas Jefferson hated public speaking and disliked public office. He filled two terms as President, one as Sec of State, and served as the Ambassador to France, all due to a deep sense of Civic Duty.  If he were here today, I don't think he would care who I voted for, just that I did, since he would consider that part of my "Civic Duty"
"Nuff Said"
The actual mintage figures and descriptions of this commemorative coin comes straight from the U.S. Mint.  Books; Jefferson on Freedom, Wisdom, advice and hints on Freedom; Thomas Jefferson and the Tripoli Pirates, The Forgotten War, by Brian Kilmeade;  Thomas Jefferson, President and Philosopher, by Jon Meacham.  If that doesn't do it for you, do an e-book search on google or amazon, you can get these and other titles that I've read, some free, some only $4.00 or $5.00