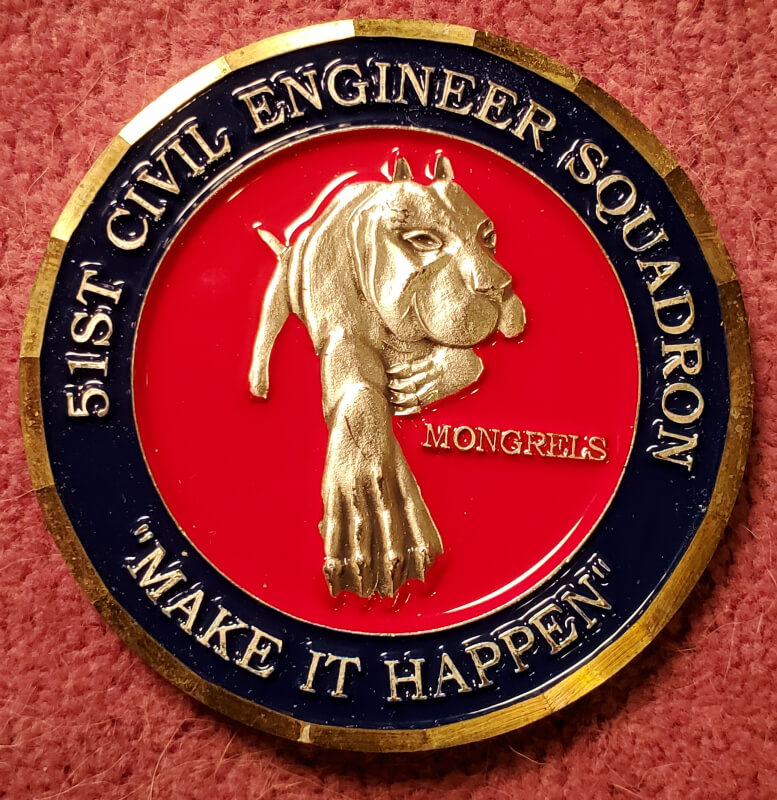 My wife and I were visiting a friend this weekend and she's close to retiring.  She recently rotated back to the area from five years in Korea, She has spent a total of 11 years in Korea and the Pacific Theater.   When conversation rolled around to hobbies, she gifted us some of her old military/unit coins.  She felt that my wife and I  would cherish and take care of these coins and she is seriously downsizing.   When I told her that I intended to share with you guys and gals she was pleased.  She gave me Nine coins, I thought I would share three.  I just randomly selected em, the rest are as interesting, I could post the others at a later time, I will leave that up to the future.  
1.      The Seventh Air Force (Air Forces Korea, 7 AF), is a Numbered Air Force headquartered at Osan AB, South Korea, (ROK) part of Pacific Air Forces (PACAF).  Established in Oct 1940 as the Hawaiian Air Force and as such was a United States Army Air Forces unit in World War II.  It flew and fought in all major Pacific Air Engagements during WWII, including Pearl Harbor on 7 Dec 1941.  The unit returned to Hawaii as a Defense Air Force after WWII, it became the primary USAF Command and Control organization in South Vietnam during that War.
Obverse; a Major General's Flag (Three Stars), with "Commander and 7th Air Force and Air Component Command" surrounding the Flag along the outer rim.  Reverse; "One Team, One Fight, Ready To Fight Tonight" surrounding 7th Air Force and Air Component Command Patch in center. 
2.       51st Civil Engineer Squadron is one of five squadrons, part of the 51st Mission Support Group, 51st Fighter Wing, Osan AB, ROK.  They are responsible for Explosive Ordnance Disposal, Fire Emergency Services, Housing and Environmental Services, Chemical Warfare Section and Operations which takes care of the base facilities, security of personnel, facilities to include all aircraft assigned to the Base.
Obverse; 51st Squadron Mascot a "Mongrel" in center on a red surface, with the legend' '51ST CIVIL ENGINEER SQUADRON" at top, and "MAKE IT HAPPEN" at bottom.  Reverse; "51st Fighter Wing" at top, "Osan Air Base, Republic of Korea" at bottom, "PRIDE " above, "51st Civil Engineer Sq", surrounding the unit Civil Engineering patch.
3.       Sergeants Major Academy token, from The United States Army Sergeants Major Academy, established 1972 at Ft Bliss, Texas, Obverse; "Sergeants Major Academy United States Army 1775-1972" surrounding a Sgt Major's Insignia, Reverse; National Flags of Countries that have sent their equivalent  Senior NCOs to the Academy, surrounding the equivalent to Sgt Major insignia from the U.S. Army,  Marines, Navy and Coast Guard, "2010 READY,  CLASS 60, REVELANT".  Each class participates in the design of their own "Class Coin", so there are subtle differences in coins from different classes.  
We are proud to have been given the honor of preserving these coins.  They will be placed back in 2.5x2.5s and labeled with the information listed above as well as her personal information.  They will hold pride of place along side the collection of our own military tokens and coins.  Just wanted to share these beautiful coins.  We sincerely hope you enjoy seeing them as much as we do.  Later!