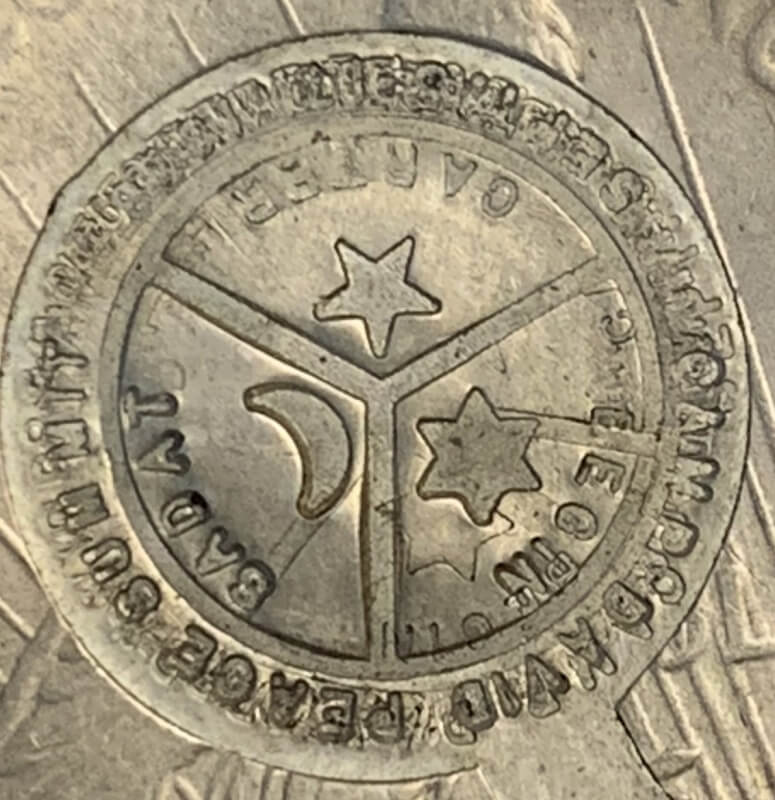 The Camp David Peace Dollar
The Camp David Accords were two political agreements signed by Egyptian President Anwar Sadat and Israeli Prime Minister Menachem Begin on 17 September 1978, following secret negotiations at Camp David under the watchful eye of President Jimmy Carter. The two agreements were signed at the White House and were witnessed by President Carter. The first agreement covered the middle east in general and included provisions for the creation of a Palestinian State, it was not accepted by the Palestinians and was condemned by the United Nations, undoubtedly because the Palestinians were not included in the negotians.  The second agreement included only Israel and Egypt and led to a1979 treaty between the two countries.  This included an exchange of Embassies, trade agreements, cultural exchanges, and ultimately peace.   Despite many political changes since 1978, the agreement still holds true.  Mr. Begin and Mr. Sadat ultimately shared the Nobel Peace Prize for their efforts on behalf of their counties. 
At the time of the signing, designer Mel Whacks was "Inspired to commemorate it" and chose a  Peace Dollar counterstamp to honor the treaty.  The Peace Dollar being very appropriate due to its issuance after World War 1 to commemorate the end of the war.   After some teething problems with his initial counterstamp design (it was too busy), he started working with Mr. Adam Cool who had done similar counterstamping work for the American Israeli Numismatic Association.  A prototype was made and a picture was sent to the coin collector column of the Sunday New York Times.  Mr. Whacks had only planned on counter-stamping 1000 coins.  The publicity from the NY Times article was so effective that overnight, Mr. Whacks received hundreds of orders for his counter-stamped Peace Dollars and pretty soon, his 1000 Peace Dollars were sold out. 
Obverse -  Either a 1922 or 1923 Uncirulated Peace Dollar 
Reverse -  Standard Peace Dollar reverse with a counter stamp CAMP DAVID PEACE SUMMIT SEPT. 5-17, 1978" and featuring the peace symbol, the names of the participants and appropriate symbols: BEGIN + Star of David, SADAT + Crescent, and CARTER + 5-Pointed Star
Purchased at the May 2022 PAN Coin show from Cybercoins Incorporated, Pittsburgh PA

To learn more about the Camp David Peace Accords, visit this site - https://history.state.gov/milestones/1977-1980/camp-david
To learn more about Mr. Mel Whacks  -  Good luck because there is very little information about him on the internet.