ANA Member Club Benefits
Is your club an ANA member? Tap into these great benefits!
ANA Club Membership connects you with more than 300 other coin clubs around the world. Your club gets the support it needs to advance the hobby, promote education and further explore the world of money, promote your events and have more fun.
Starting a new club? Email clubs@money.org for more information on starting an ANA member club.
ANA CLUB APPLICATION
Club Member Benefits, Programs & Services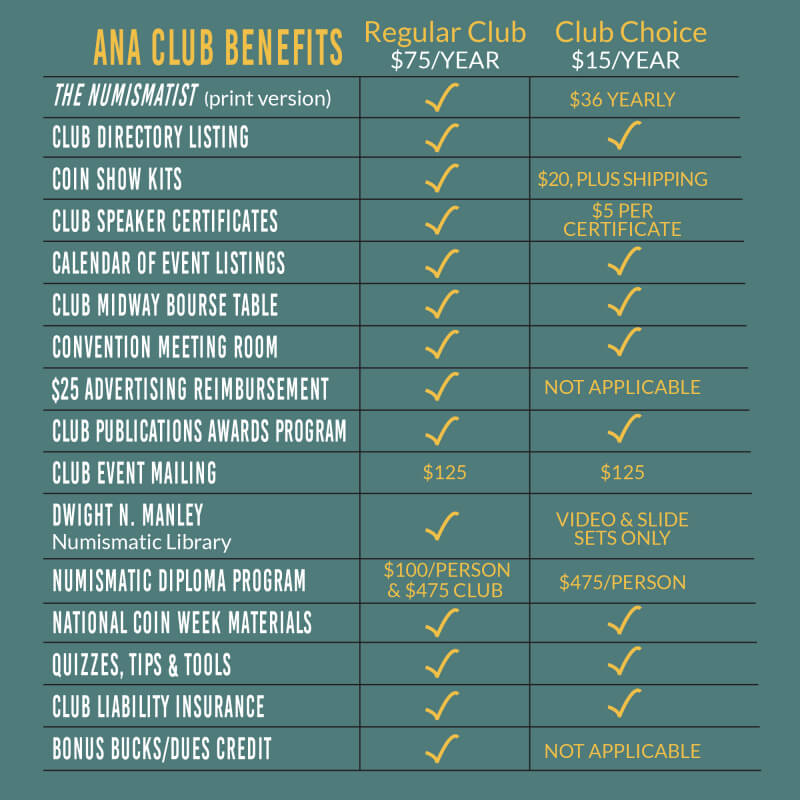 THE NUMISMATIST (print version)
The hobby's premier monthly magazine.
CLUB DIRECTORY LISTING
Exposure for your club on the ANA website, money.org. is an excellent marketing tool for member recruitment.
OUTREACH PACKAGES
Educational and promotional materials to use at your next event to help build membership within your club and the ANA.
CLUB SPEAKER CERTIFICATES
A great way to recognize club speakers, club officers or outstanding club members.
CALENDAR OF EVENTS LISTING
Get your event published on the ANA's website.
CLUB MIDWAY BOURSE TABLE
Free club table at ANA conventions to distribute materials, sign up new members and network (as space is available)
CONVENTION MEETING ROOM
Provided for a 2-hour period at no charge on a space-available basis at all ANA conventions (A/V costs additional).
OUTSTANDING CLUB PUBLICATIONS CONTEST
ANA clubs can submit their regularly issued club publications for entry into an annual contest to compete in four categories: specialty club, regional club, local club and electronic.
ADVERTISING REIMBURSEMENT
Reimbursement of up to $25 per year in advertising expenses incurred by Regular Club members encouraging new club or ANA membership.
CLUB EVENT MAILINGS
ANA will assist you in mailing club event invitations to areas you specify.
(Fee applies.)
ACCESS TO THE ANA LIBRARY
Clubs may borrow books, auction catalogs, and slide/video presentations from the Dwight N. Manley Numismatic Library for research and/or use at club meetings.
NUMISMATIC DIPLOMA PROGRAM
Club members receive a substantial discount on course fees and materials.
NATIONAL COIN WEEK MATERIALS
Celebrate National Coin Week the third week of April by requesting information and materials from the ANA (or download them at nationalcoinweek.org).
QUIZZES, TIPS & TOOLS
The ANA offers a wide variety of resources to help clubs entertain and educate your members at money.org/tools.
CLUB LIABILITY INSURANCE
For single events or annual coverage for meetings and shows, liability coverage is available to clubs through Hugh Wood Inc. at great rates. Visit hughwood.com, call 888-277-6494 or email ANA@hughwood.com.
Regular club members receive $5 off annual club dues for every active ANA member, plus earn "bonus bucks" for recruiting new club members, directory updates, participating in National Coin Week, and attendance by club members at ANA conventions; redeem your "bucks" toward annual dues, gift memberships or the Numismatic Diploma Program.