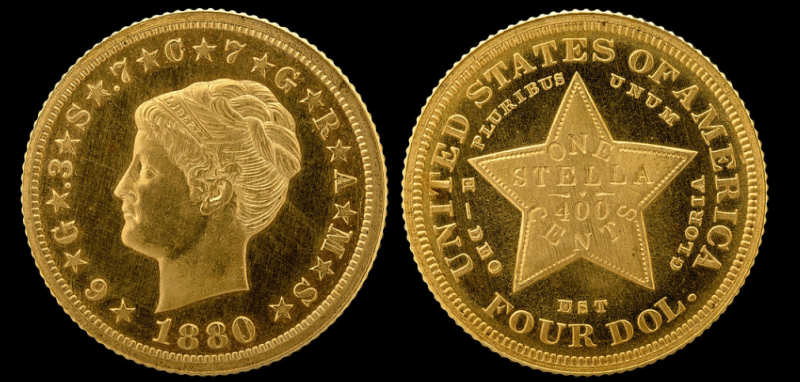 Obsolete Coins: Stella ($4 Gold)
| Adrien
Adrien's Coin Blog
March 17, 2019
-----------------------------------
Obsolete Coins: Stella ($4 gold)
The Stella is a $4 gold coin "issued" in the united states from 1879-1880. I put issued in quotation marks because it was never actually issued. The Stella, like so many other coins, only made it to the pattern stage of production. Here is the story of the Stella.
The Stella was not made as a pattern for the demand of a $4 gold coin, as there was no demand. There was no need. This, right off the bat, is an unnecessary coin concept. But there was one thing that saved the idea: joining the Latin Monetary Unit.
Quick info: The Latin Monetary Unit was a 19th century system that attemped, and failed, to unify mutiple european currencies that could be used in any one of the countries that signed. The Stella could also be used in America. Charles Barber designed the Stella.
The Stella was a concept that would be the $4 coin that could be used with the LMU. These patterns were created and singed during the period from 1879-1880. All of the examples that exist are proof strikes. Many of the high quality examples sell for hundreds of thousands and even millions of dollars. Two different designs obverse were produced: one with flowing hair; in the other the hair is coiled. Both bear the same inscription: "★6★G★.3★S★.7★C★7★G★R★A★M★S★". The reverse star had the inscriptions ONE STELLA and 400 CENTS, while the reverse rim had the legends UNITED STATES OF AMERICA and FOUR DOL. There is one thing special about the Stella, it has the inscription DEO EST GLORIA ("To God is the glory").
Five examples of a pattern quintuple stella denominated at 20 dollars were produced in 1879 as well. These coins used a modified version of the then-current Liberty Head (Coronet) design of the double eagle, replacing the stars on the obverse with "★30★G★1.5★S★3.5★C★35★G★R★A★M★S★", and the motto IN GOD WE TRUST on the reverse with the same DEO EST GLORIA found on the reverse of the stella. Only 425 examples of the Stella were made. All 1880 coins are rare; 16 or 17 examples are known.
So, what went wrong?
The LMU was looking a lot like it was going to fail and the Stella proved itself unnecessary because of the odd denomination. The half eagle was already in circulation and it had been for decades.
The Stella was bound to fail from the begining. 
Let me know what you think about this coin in the comments!
Thank you!
Adrien!