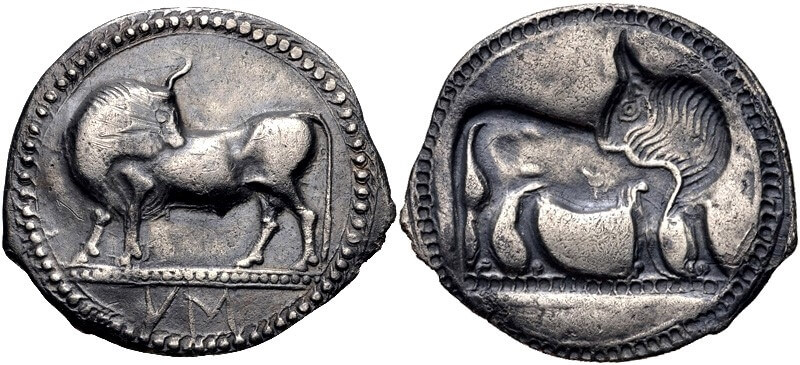 Sybaris, an Incuse Design
Sybaris, an Incuse Design
   The Greek colony Sybaris was founded in southern Italy by the Achaens and Troezens about 720 B.C. The colony was established on fertile land and quickly became a prosperous city. Sybaris eventually became the most important colony in Italy during that time. The city was situated between two rivers, the Crathis and the Sybaris. The Sybarites soon developed colonies of their own, Laus and Scidrus. In 510 B.C., Sybaris was completely destroyed by the Crotons. The Crotons leveled the prosperous city and enslaved the inhabitants.
(view attached map)
   Sybaris and many colonies in southern Italy started minting their own coinage about the mid-6th century B.C. Many of these coins featured an incuse design, in which the precise alignment of the dies created the mirrored design. Some researchers believe that the Greek mathematician Pythagoras, who traveled to Italy during this time, may have helped develop this concept of minting coins. This design was used by the Sybarites, the Crotons, the Metapontines, and by the Poseidonians.
   During the period 530-10 B.C., the Sybarites minted their incuse coins in the following denominations: stater/nomos, drachms, triobols and obols. Each obverse denomination depicts a bull standing left with its head reverted. The stater and drachms carry the incused bull on the reverse. This bull design could "... be a symbol of fertility, or the river god Crathis." (1) The bull stands on a dotted exergue line on both obverse and reverse. Below the exergue, staters and drachms can either have VM or V. YM or VM can be found in the field above the bull.
From CNG:
Lucania, Sybaris. Circa 550-510 BC. AR Nomos (30mm, 7.90 g, 12h). Bull standing left, head right; VM in exergue / Incuse bull standing right, head left. SNG ANS 828-44; HN Italy 1729. VF, toned, a few old scratches and scrapes on the obverse. (view attached image)
Works Cited:
http://wildwinds.com/coins/greece/lucania/sybaris/t.html
http://www.magnagraecia.nl/coins/Lucania_map/Sybaris_map/Sybaris.html
http://www.wildwinds.com/coins/greece/lucania/sybaris/i.html
http://www.italythisway.com/places/articles/sybaris-history.php
http://www.britannica.com/place/Sybaris
1. Davis, Norman. "Greek Coins & Cities"
2. Jenkins, G. K. "Coins In History Ancient Greek Coins"
3. Numismatic Museum, Athens. "Coins and Numismatics"
4. Sayles, Wayne G. "Ancient Coin Collecting II"
Notes from the ANA 2015 Summer Seminar An Overview of Ancient Greek Coinage.