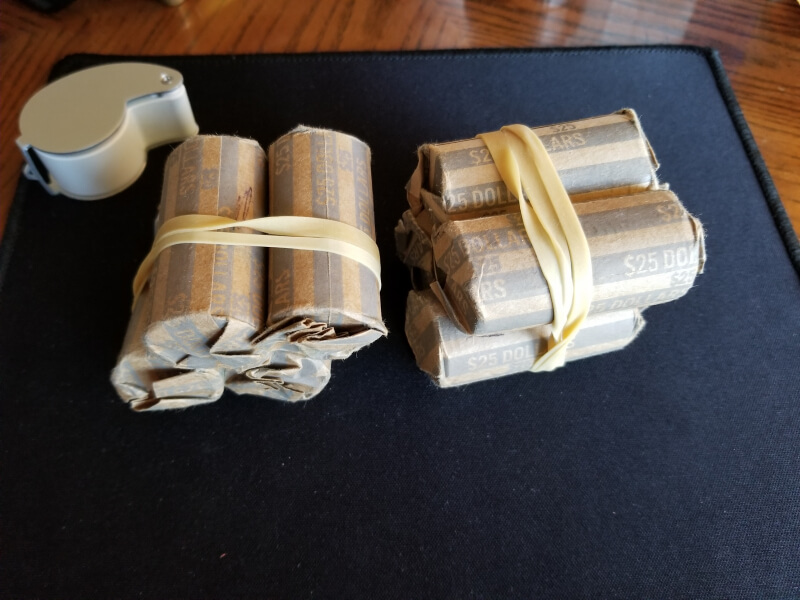 A Vicarious Coin Roll Hunt, or two...
I've been coin roll hunting on and off since about 1977. I've always preferred older original bank rolls and vintage 'customer' rolls, and maybe my favorites are U.S. Mint rolls. Long story short, I took a lot of time off from getting rolls from my local bank and searching them. I've only started searching local newer bank rolls again in the last few months! After an honest 20 years of only searching U.S. Mint rolls and vintage rolls from my collection or more recently acquired...turns out, I still LOVE it! Lol!!! No surprise there :-)

One of the best things about searching rolls from my bank(s) is that it's essentially free! I am really only paying (face value) for the coins I decide to keep. Since I am able to return all the searched coins I'm not keeping. I am of course older now, luckily I am also doing ok financially and so if I want to turn some of my cash savings temporarily into coin rolls for hunting...I do just that.

I realize there are plenty of YN's here and others who just aren't in a position or have the option for whatever reason to go get rolls from their bank to search on a whim or when the urge strikes... I'm not bragging, I absolutely understand how fortunate I am at the moment to have banked with the same branches for decades and also live literally just a few miles from the Denver U.S. Mint!

I am now considering placing an order for a full box of coins to search from one of my branches. They take care of me after 30 years of banking with them, they don't complain or care which branch I visit to either get or return coins! Some of the tellers whom have known me for a very long time now let me know when I walk in if they've got anything interesting for me! I figure if I'm going to buy my first ever box of coins...go big! So I'm likely to place an order this week for a box of small dollars to search, $1000! One of the bank managers told me that the boxes don't always show up when requested, but lol they don't have anybody requesting boxes of small dollars at the moment...it's also VERY likely that the box will contain many rolls of the new small dollars with the Hubble Space telescope and I have been extremely excited about getting my hands on some amazing specimens of those since they were announced.

So here you go...I invite you to do some vicarious small dollar coin roll searching with me! Earlier this year I actually searched a couple of my 2000-P Sacagawea Mint Rolls from my collection and I have a few left still to search for amazing specimens, mules, Cheerios dollars (technically a pattern coin), or Wounded Eagles!!! Just one mule would be just fine with me lol!

But during the last few months I have searched a bunch of customer wrapped small dollar rolls as well. Turns out that the most common thing I run across in those is really nice Susan B. Anthony dollars (still hoping for a 1979 wide rim!) and Sacagawea or Presidential Dollar proofs! Just a few more proofs and I'll have a an entire small dollar roll (25) of circulated proofs, some much nicer than others but still super fun stuff!

I will add that I enjoy searching rolls of pennies every bit as much as searching these more expensive rolls! So if you can take 50 cents and go get a roll of pennies to search...I'll vicariously happily and excitedly join you for that as well! :-)
Be safe out there and enjoy the hunt and the learning, however you're doing it!!!