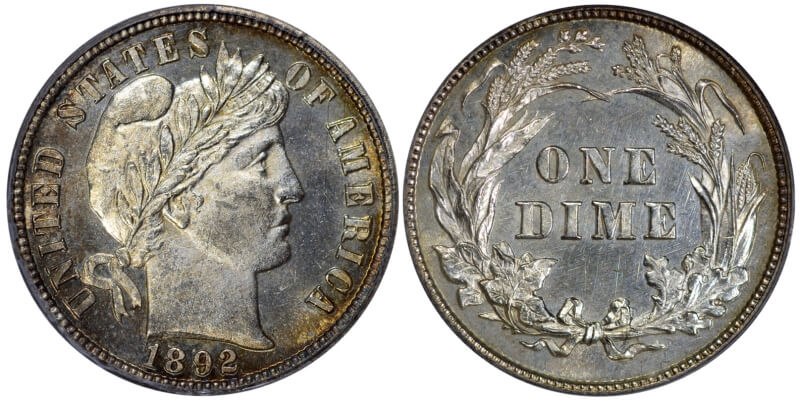 As I read through the blogs posted here, one of my favorite reads is when Kepi writes about her Mercury Dimes. While the coin I'm writing about here is not a Mercury Dime, it is very reminiscent of her dimes in terms of toning and beauty.
Barber Dimes are not typically mentioned in the same sentence as Mercury Dimes, but my latest acquisition posted here is an exception. Many of the readers of my blogs heard me tell of a dealer friend that has my five year want list. On that list was a Barber Dime to replace a rather flat looking MS-63 dime currently in my type set. Last week my friend was in attendance at the Garden State Numismatic Association show. I knew of my friends attendance but my expectations of him finding a coin from a smaller show (about 50 tables) were realistically low. When he called about this dime, I was quite surprised and when I finally got the coin in my hand I was stunned! Never have I seen any Barber coin quite like this one!
This coin is graded MS-64 by PCGS in an old green holder. As I examined the coin I was surprised to see the mirrored fields of a proof or proof-like coin. The devices are frosty and very sharply struck. The toning accentuates the design features like no other Barber coin I have aver seen. All in all this coin is a keeper and I am very happy to add it to my collection.
In the end, I guess I should never underestimate smaller shows as you can often find these little gems in the most unlikeliest of places.