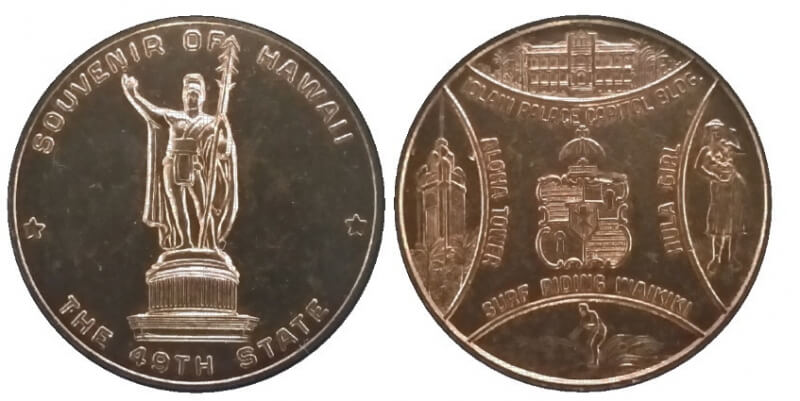 One of my passions is Hawaii statehood medals,which includes the Hawaii the 49th state medals!
The Territory of Hawaii was vying to be the 49th state to join the United States of America. As you well know Alaska became the 49th state and soon afterwards Hawaii became the 50th state.
There was a period of time where many individuals and organizations believed Hawaii was to be the 49th State.
Today, there are numismatic reminders of this period: So-Called Dollars HK-722 (nickel-silver), HK-722a (bright bronze), and HK-722b (antique bronze) varieties. These So-Called Dollars is available in two forms (if you can find them): Original and Holed.
I believed holed specimens were created after President Dwight D. Eisenhower signed the Alaska Statehood Act on July 7, 1958 allowing Alaska to become the 49th state on January 3. 1959. The holed specimens were in reaction to this event and was one method to physically obliviate Hawaii's 49th state bid from the medal (the other was to destroy the medal in its entirety). But why waste a medal? Just drill a hole to remove the 49th...
This is were an issue arises. As you should be aware NGC implements Details Grading for holed specimens. As a result, the NGC population for the HK-722 varieties are ridiculously low for original (unholed) specimens. The NGC population are:
HK-722 population is 1.
HK-722a population is 4.
HK-722b population is 0.
Original unholed specimens are a rarity. So much so that in the Hibler Kappen book, So-Called Dollars: An Illustrated Standard Catalog, its HK-722 plate "con" is a holed specimen.
In my included images, you will see an image with 5 specimens in my collection:
HK-722 - Two holed nickel-silver specimens
HK-722a - Two original bright bronze specimens
HK-722b - One original antique bronze specimen
Unfortunately, my original HK-722b received a NGC Details grade due to surface damage from bronze disease.
Another interesting image is the original printing of the Hawaii 49th State
brochure in my Hawaii statehood collection. I've only seen one other copy and it was in the National Archives.
(link to the copy)