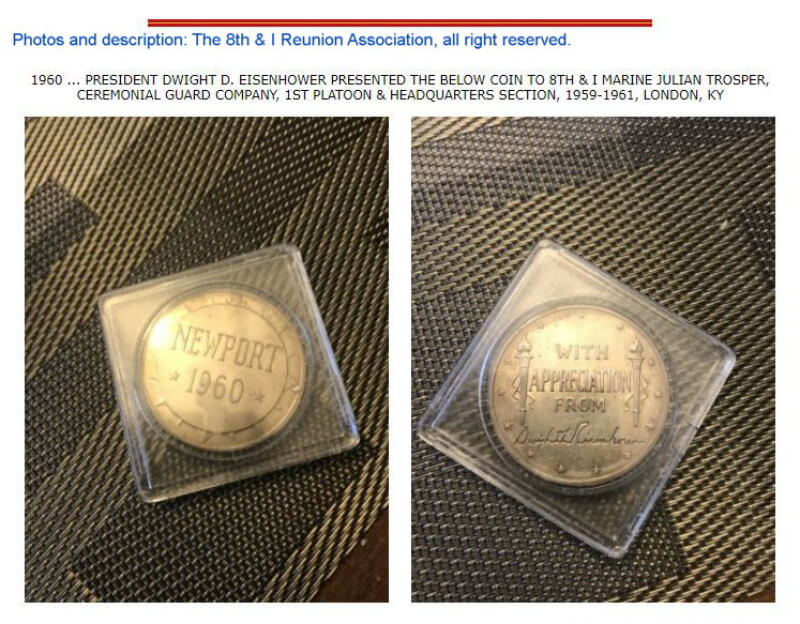 Numismatic Research is Fun!
On this post, I'm continuing to  share additional  notes on my numismatic research  on "Special Medals for United States Government Agencies". 
On the subject of "List item #5", that was provided as part of  Frank Gasparro's 1965 confirmation hearing as Chief Engraver and Sculptor of the US Mint, it's incorrectly states that these medals were presentation pieces for dignitaries abroad.
What is the evidence that makes this an  incorrect statement?
First-up is the President Eisenhower Appreciation medals.  I point-out the 8th & I Reunion Association. This association is an US Marines organization  who served in Marine Barracks on 8th & I Streets, SE, Washington, DC. This association shares memories  of their US military service, one of which was to provide presidential protection detail at Newport, Rhode Island.
Newport, Rhode Island was the Summer White House of President and Mrs. Eisenhower in the years 1958 and 1960. Several of these US Marines received the Newport, Rhode Island of the President Eisenhower Appreciation medals.
President Eisenhower also directed his secretary to gift of a letter and Newport medal (see photo).
President Eisenhower's logbook with Newport medal (see photo).
Lastly, a 1960 periodical that mentions the Newport medal (see photo).
In closing, the evidence shows that the Newport medal were CONUS awarded/gifted.  The Newport medals were awarded/gifted to US Government employees (US Marines ), a friend , and to Newporters.
Do you know that I have a listing of individuals who received the Newport medal?
It's fun to be a numismatic researcher (part-time), as I have a full-time engineering career that I also enjoy.
To be continued...