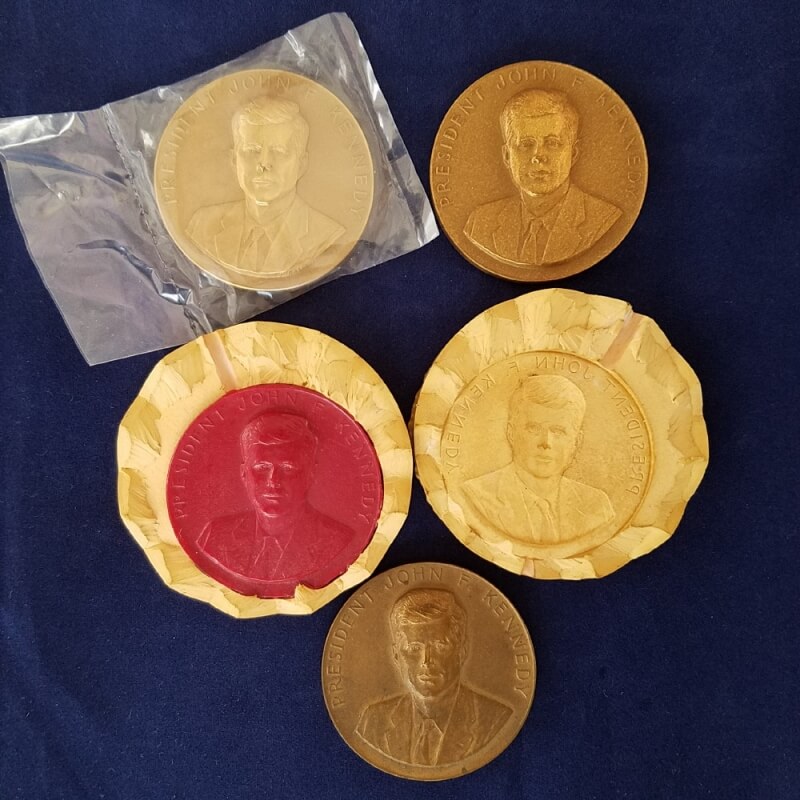 Robert L. White Pedigree - Kennedy POTUS sGm
Collectors of John F. Kennedy memorabilia should recognize the name Robert L. White. His name is synonymous as the owner/collector of the most significant private collection of artifacts and documents relating to and/or belonging to the late President John F. Kennedy. His collection was greeted with controversy when items were cosigned for auction. Many of the artifacts/documents where national treasures that he either purchased from or was bequeath to him from President Kennedy's longtime personal secretary. Many of those items were returned to the Kennedy family or turned over to the National Archives.
https://www.archives.gov/publications/prologue/2006/summer/camelot.html

It was astounding that I came upon a medal being offered for sale without a hint of its pedigree. The documentation that accompanied my Kennedy Appreciation Medal allowed me to make the unbelievable connection to the Robert L. White collection that was auctioned in 2005 after his death.
http://www.guernseys.com/Guernseys%20New/jfkauction.html

The medal, wax copy, and mold was part of the Robert L. White collection (bottom items in the image). The other two medals in the image is in my collection. I included these medals as a member of the POTUS sGm series and cataloged these medal as:
New naming convention --- Gomez-C5-01 (Class 5 medal with uses a single married obverse and reverse die pair). Previously JFK-C5-01. Only 300 medals were struck by the Bureau of the Mint.

A video I created in 2016 - >> https://youtu.be/2I8aoCxmzCo

The medal was originally and first cataloged by Edward C. Rochette (previous ANA President and numismatic author) in his book titled, Medallic Portraits of John F. Kennedy, 1966.