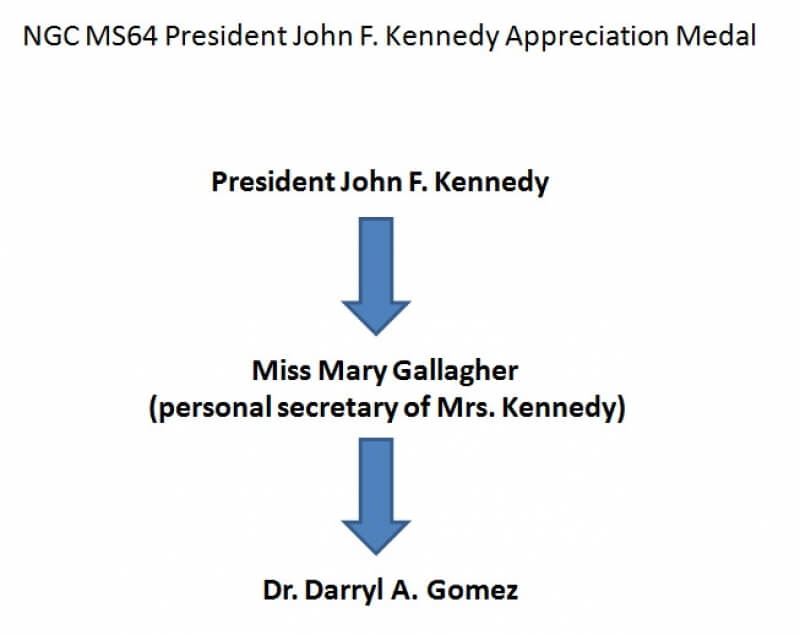 Two degrees of Separation: Mary Gallagher POTUS sGm Specimen
One of the not well-known characteristics of collecting the POTUS sGm series is the ability to establish the provenance (unbroken chain of legal ownership of acquired) of specimens.

This unbroken chain of of legal ownership is often misconstrued as pedigree in numismatics. Pedigree is normally singly tied to a single famous owner, single event, single collection, single book plate, single hoard, etc...

In this shared NGC MS 64 example, it is the unbroken legal ownership chain from President Kennedy-to-Mary Gallagher-to-Darryl Gomez that is not normally considered in coin/medal collecting. The number of "-to-" provides the degrees of separation, in this case two.

It is this unbroken legal ownership chain to President Kennedy that makes it differ from a singly pedigree to President Kennedy or Mary Gallagher
Note that the toning on the auction listing and NGC MS 64 are the same on both reverses.

This is a "new type" of numismatic collecting which I have identified in my writings about the POTUS sGm series.